UFC on FX 4 Results: Top 10 Lightweights in the UFC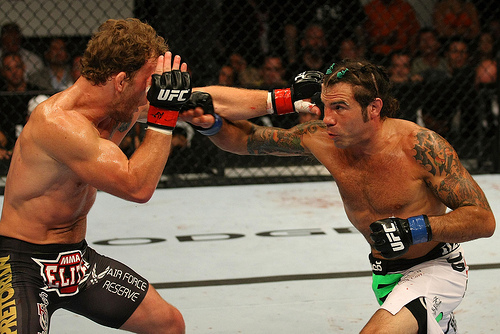 (Photo by Nick Laham/Zuffa LLC/Zuffa LLC)
In the rapidly shifting UFC lightweight division, contenders move in and out of the top 10 on a regular basis. Some fighters suffer surprising losses and quickly vanish. Others leave the list because they've changed weight classes.
No matter what reason someone leaves our list, it makes room for a fresh face or two.
Last night, two top-tier lightweights battled it out in the main event of UFC on FX 4, as Gray Maynard was able to land enough shots on the evasive Clay Guida to earn a split-decision victory. How did the win affect his placement in the list?
Did Guida's desire to avoid contact also cause him to avoid being ranked?
This is a countdown of the top 10 lightweight fighters in the UFC.
Begin Slideshow

»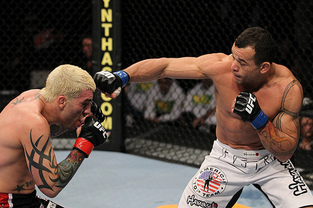 Photo by Al Bello/Zuffa LLC/Zuffa LLC via Getty Images
Last Fight: Decision win over Rafael dos Anjos at UFC 139
Next Fight: vs Khabib Nurmagomedov at UFC 148 on July 7
It is time to give criminally underrated lightweight Gleison Tibau his due.
The Brazilian has gone 7-2 in his most recent Octagon appearances. Those two losses are made up of a horribly controversial decision to Melvin Guillard, and a close decision against Jim Miller.
Tibau has looked great in his last several appearances, which include wins over Rafael dos Anjos and Kurt Pellegrino. Other notable victories inside the Octagon have come against Josh Neer, Caol Uno, Jeremy Stephens and Terry Etim.
Riding a three fight winning streak, Tibau's next fight is a stiff challenge in the form of undefeated prospect Khabib Nurmagomedov.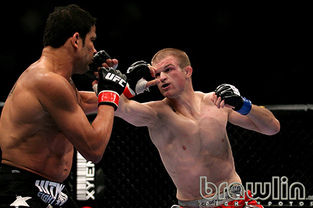 Courtesy of Brawlin Fight Fotos
Last Fight: TKO win over Nik Lentz at UFC on Fox 2
Next Fight: TBD
To this day, I will not acknowledge the judges of UFC 119 with anything short of disdain.
Evan Dunham is a superstar on the rise who was undefeated and in search of his fifth consecutive Octagon appearance. Across the cage from him was former UFC lightweight champion Sean Sherk.
Dunham made Sherk pay for every takedown attempt by threatening with a guillotine on the way down, and immediately returning to his feet. In the stand-up portion of the fight, Dunham shined brighter than ever before, nearly finishing Sherk in the third round. One bad decision later, Dunham has his first loss, and I'm still sick over it.
The only true black eye on Dunham's (should be 14-1) record is a TKO loss to Melvin Guillard. Since that time, Dunham has picked up dominant performances over Shamar Bailey and Nik Lentz.
The injury bug has plagued him, as bouts with George Sotiropoulos and Edson Barboza have fallen to the wayside. If he can stay healthy, Dunham remains a threat to anyone in the division.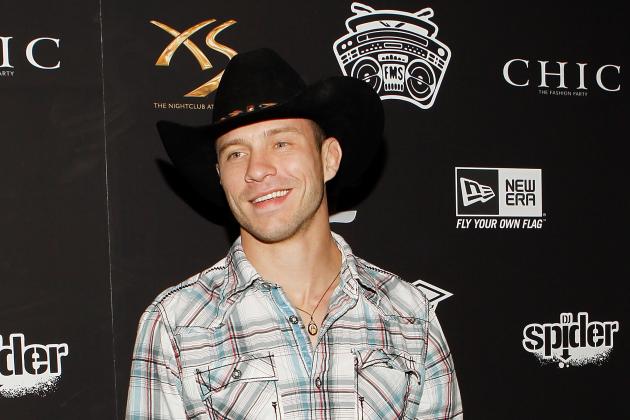 Isaac Brekken/Getty Images

Last Fight: Decision win over Jeremy Stephens at UFC on Fuel 2
Next Fight: TBD
A winner of seven fights in his last eight attempts, Donald Cerrone's sole loss in the UFC came when he ran into the buzzsaw that is Nate Diaz at UFC 141. Cerrone didn't go down without a fight, but ultimately the younger Diaz brother would win a clear cut decision.
Cerrone is one of the most successful stars to transition over from the WEC, however, three of his four career losses have come in title fights, although his overall record under the Zuffa banner sits at an impressive 12-4.
It is surprising that the next bout for Cerrone has not been announced, as he typically gets into the cage with a short turnaround. However, don't be surprised to see Cowboy on the card at UFC 150, as it takes place in his home state of Colorado.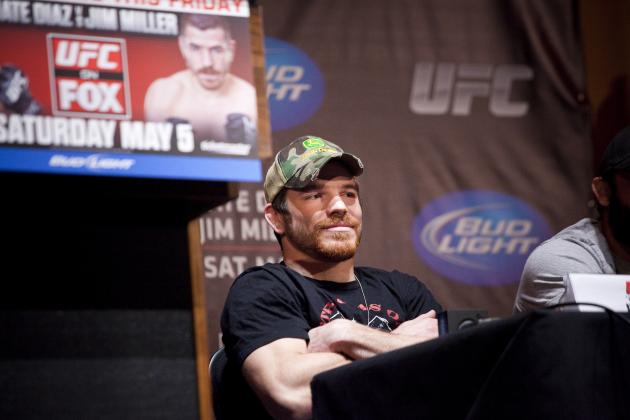 Michael Nagle/Getty Images

Last Fight: Submission loss to Nate Diaz
Next Fight: TBD
Jim Miller does not want to be called a gatekeeper, however, he has become the very definition of elite gatekeeper.
Through Miller's impressive career, he has picked up big wins against rising stars on their was to the top, like Charles Oliveira and Melvin Guillard. However, when facing a truly elite fighter, Miller has fallen short on four occasions.
All four of Jim Miller's career losses have come at the hands of fighters destined for greatness.The fighters who have felled the New Jersey native include Benson Henderson, Frankie Edgar, Gray Maynard and Nate Diaz.
Let's summarize: all losses came from the current champion, the most recent champion, the most recent No. 1 contender and the next No. 1 contender.
Don't worry about Miller losing in two of his past three fights. He is an outstanding fighter who can hang with nearly anyone in the UFC's stellar lightweight division.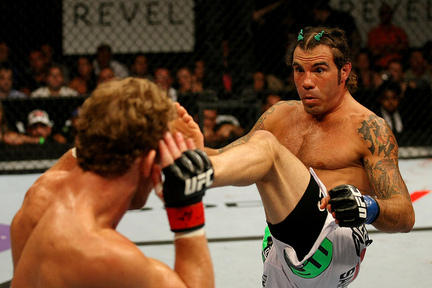 (Photo by Nick Laham/Zuffa LLC/Zuffa LLC)
Last Fight: Split decision loss to Gray Maynard at UFC on FX 4
Next Fight: TBD
Constantly move and cause frustration! That was the game plan of Clay Guida when he met Gray Maynard last night at UFC on FX 4. It was a brilliant game plan that worked well. By the end of the fourth round, Maynard was furious, flustered and ready to put his chin in harms way just so he could finally get close enough to do some damage.
Ultimately, Guida's movement was seen more as running away than as strategically creating angles. He would lose a split decision in a fight that was a lot closer than people seem to realize.
Guida seems to come up short when it really counts, as his losses to Maynard, Diego Sanchez are reigning champion Benson Henderson could have gone either way. Like Miller, he has firmly planted himself in elite gatekeeper status.
With a split decision loss to Maynard, a fighter who was predicted to dominate, it's hard to drop The Carpenter too far down the list.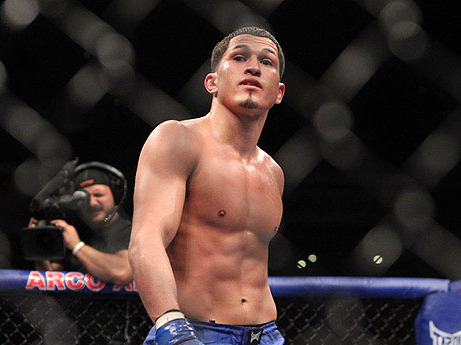 Courtesy of MMAweekly.com
Last Fight: Knockout win over Joe Lauzon at UFC 144
Next Fight: TBD
Anthony Pettis is doing a good job of making fans forget about his miserable performance against Clay Guida in his UFC debut. With follow wins over Jeremy Stephens and a highlight-reel knockout of Joe Lauzon, fans have attempted to thrust Pettis back into the title picture.
The loss to Guida is the sole black mark on Showtime's record in his past seven bouts.
Talks of a battle against Donald Cerrone at UFC 150 were quickly squashed when Pettis' manager stated that Showtime underwent shoulder surgery and would be unavailable so soon.
Aside from a fight with Cerrone, fans have also clamored for a battle against Nate Diaz in a title eliminator bout. That contest seems unlikely as Diaz wants to wait for the shot he earned by submitting Jim Miller at UFC on Fox 3 earlier this year.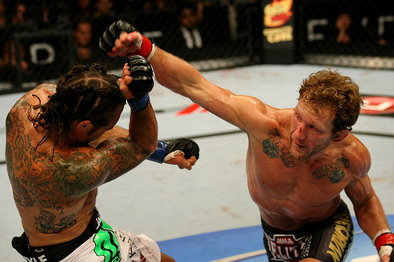 (Photo by Nick Laham/Zuffa LLC/Zuffa LLC)
Last Fight: Split decision win over Clay Guida at UFC on FX 4
Next Fight: TBD
Although Dana White thinks the battle between Gray Maynard and Clay Guida sucked, it doesn't lessen the fact that Maynard just won a battle against a longtime contender in the UFC's slam-packed division of lightweights.
With wins over Frankie Edgar, Nate Diaz, Kenny Florian and now Guida, it's hard to picture "The Bully" being kept out of the title picture for long. One more win over a quality fighter will allow the current Henderson/Edgar/Diaz triangle to work itself out and give Maynard enough momentum to ask for a third shot at the belt.
Could a battle with fellow-contender Anthony Pettis be in order later this year? Stylistically, it's a match that benefits Maynard, as Guida showed us the blueprint to beating Showtime in their 2011 battle.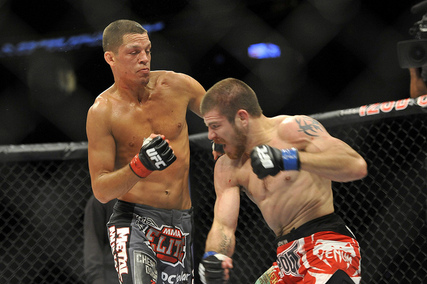 Joe Camporeale-US PRESSWIRE
Last Fight: Submission win over Jim Miller
Next Fight: UFC lightweight championship at date TBA
Nate Diaz has been on a roll since returning to the UFC lightweight division. In his first fight back, he outboxed and then submitted legendary striker Takanori Gomi. He followed that up with a ravaging of surging contender Donald Cerrone.
Most recently, Diaz submitted grappling ace Jim Miller in the headliner of UFC on Fox 3. The guillotine choke earned not only a submission of the night bonus, but also a future date with the UFC lightweight champion.
Despite the possibility that a second fight in 2012 might not be in the cards, Diaz appears to be willing to wait for his title shot against the winner of Henderson/Edgar II, which occurs on August 11 at UFC 150.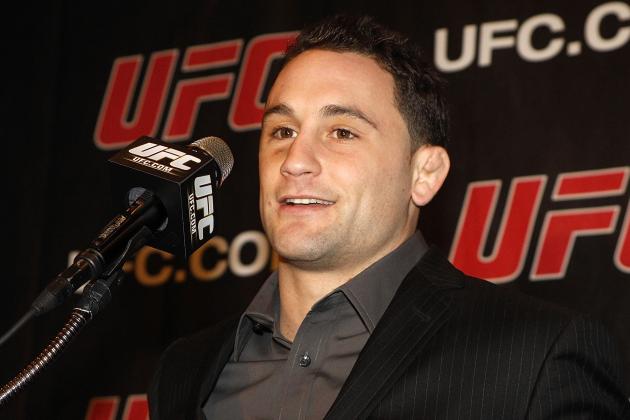 Michael Cohen/Getty Images

Last Fight: Unanimous decision loss to Benson Henderson at UFC 144
Next Fight: UFC Lightweight Title fight vs Benson Henderson at UFC 150
Frankie Edgar is an unflinching underdog who refuses to listen to naysayers who think he belongs at featherweight. But after twice beating BJ Penn and then knocking out Gray Maynard, it's hard to suggest that "The Answer" is doing anything wrong.
Edgar lost his championship in a close fight with Benson Henderson back at UFC 144, and although it was originally announced that he would not get an immediate rematch, a campaign from the former champion changed the minds of Zuffa brass.
Already avenging the only other loss on his record, Edgar will try to even the score with Bendo when they meet at UFC 150.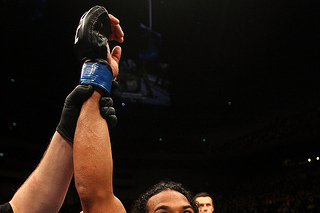 (Photo by Al Bello/Zuffa LLC/Zuffa LLC via Getty Images)
Last Fight: Unanimous decision win over Frankie Edgar at UFC 144
Next Fight: vs Frankie Edgar at UFC 150
In case there was any doubt that the impressive batch of WEC imports could compete with UFC lightweights, Benson Henderson capturing the UFC lightweight championship should have put them to rest.
Henderson is both technically sound and crowd pleasing. His style has led him to four Fight of the Night awards and gold in two Zuffa-owned organizations.
While fans hope to catch a rematch of the 2010 Fight of the Year between Henderson and Pettis, they will have to wait for a different rematch to take place first. Henderson's first title defense will be against the man he defeated back at UFC 144: Frankie Edgar.
Can Benson Henderson best the former champion once again? Find out at UFC 150 on August 11.