Euro 2012: Biggest Roadblocks to a Historic Spanish Repeat
June 21, 2012

Jamie McDonald/Getty Images
Spain didn't look incredibly sharp during group play, something that will have to change if they expect to complete the historic Euro-World Cup-Euro title run. 
The Spaniards still may be the favorite to win Euro 2012, along with the Germans who made it out of the group of death at 3-0.
But, Spain cannot worry about Germany just yet, as their first obstacle, France, is a much more pressing matter.
France are as talented as any other side in this tournament and are sure to challenge Spain.
The French played fairly well defensively, allowing just three goals in group play.
Their offense was suspect, however, particularly in their 2-0 loss to Sweden to cap off group play, but the French stars at their best are enough to beat a Spanish squad that has been inconsistent to this point.
Franck Ribery is the playmaker of French squad, and he must be stopped if the Spaniards expect to beat France.
If Spain allow him enough space to find his younger teammates in the midfield and near the box, France will be well on their way to sinking the Spanish.
In the end, if the Spaniards play near their potential, they will advance past France.
If that happens, they will likely face Cristiano Ronaldo and the red-hot Portuguese in the semifinals.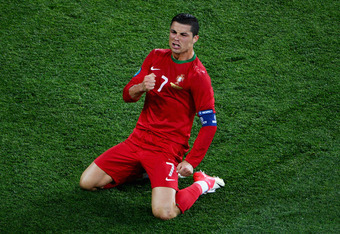 Lars Baron/Getty Images
Ronaldo appears to be back at full form, which is bad news for Spain, as he may be the most talented player in the tournament.
If Ronaldo continues his hot streak against the Czech Republic and catches fire against Spain, that will most certainly spell trouble for their title defense. 
The key to slowing down Ronaldo will be stopping his connection with Nani and the rest of the Portuguese midfielders.
Both squads are expected to advance to the semifinals, and if they do it will be one of the most anticipated matches in the whole tournament—and also one of the toughest obstacles in Spain's title defense.
When this match is all said and done, and if Spain can stop Nani and Ronaldo, they will likely have to face the German juggernauts in the Euro final matchup everyone is hoping for.
Mario Gomez is on track to earn the player of the tournament award with three goals already. 
Aside from Gomez, Bayern Munich midfielder Bastian Schweinsteiger has been pure gold for Germany as well.
Spain must stop this Bayern Munich duo that has been unstoppable thus far to take the cup.
Soccer fans are hoping they will be rewarded with a Germany-Spain final, but Spain's biggest roadblock to make it there will be themselves.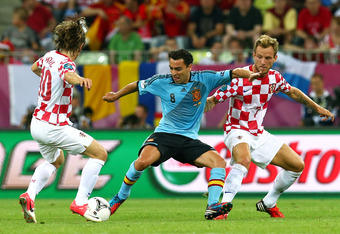 Alex Grimm/Getty Images
As I alluded to earlier, Spain hasn't looked like the team we are used to seeing to this point.
Usually possessing one of the most potent offenses in the world, the Spaniards have really only had one good offensive game, which came against their softest opponent in Ireland.
Fernando Torres, Spain's star striker, appeared to make it back to full form, netting two goals in the match against the Irish, but he disappeared again against Croatia.
Midfielder Xavi, who is supposed to be one of the best players in the world, hasn't looked like himself thus far.
Spain's normally brilliant attack starts in the midfield, but they had a tough time gaining steam in group play.
If the Spanish are to complete the Euro-World Cup-Euro three-peat, the passing must be more crisp, the finishes more forceful and the overall play sharper.
In order to complete the title run, Spain will have to earn it by overcoming three very talented squads.
They will face serious external roadblocks in France, then (in all likelihood) Portugal and Germany, but if they aren't able to overcome their internal roadblocks, they can forget about defending their title all together.