‪The Biggest Brainfarts in Sports History ‬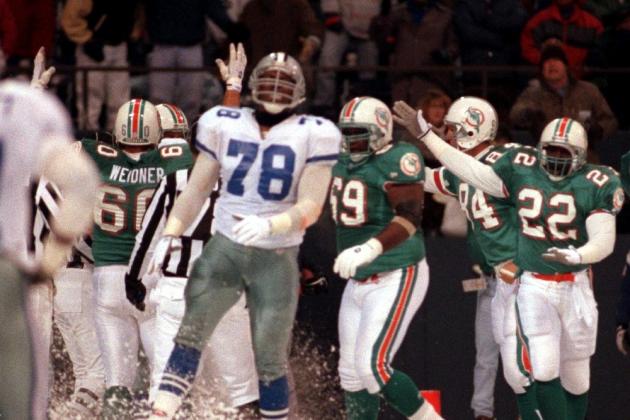 Image via blog.mysanantonio.com
Mental toughness has always been the beating heart of the sports world. Sure, fluid hips and quick feet get the scouts drooling and the fans frothing, but it's an athlete's ability to master himself that truly builds his legend.
However, in the heat of the moment, even the most stable and trusted individuals can lose their cool and royally destroy their team's chance for victory. Be it a baffling pass to an opponent, ridiculous misconception of timing or an intensely blown call, these gents are remembered most for their notorious screw-ups.
The world has quickly started associating these memorably frustrating occurrences with one beloved term...Brain Fart.
Sometimes, the pulsating meat inside that cranium just shuts off, presenting us with some early afternoon entertainment.
Here are 30 of the biggest brain farts in sports.
Beano won't take care of this problem.

Begin Slideshow

»
Look Ma, no triple double.
As if Ricky Davis wasn't already an inefficient baller oozing with arrogance, the self-entitled scorer decided to turn it up a notch...bam!
One rebound short of his first career triple-double in a 2003 game against Utah, Davis decided to toss a shot off his own basket to secure the final rebound.
A sign of things to come for the talented guard.
Despite five national championships with Ohio State, Hall of Fame coach Woody Hayes will always be remembered for one memorable strike in the 1978 Gator Bowl.
After Clemson nose guard Charlie Bauman intercepted quarterback Art Schlichter's pass and returned it deep toward the OSU sideline, he got up and stared down his enemies.
Hayes wasn't pleased and immediately exploded into a fit of rage. A boxing career seemed the next step after his following-day firing.
Eventually dubbed Sausagegate by comedy pundits, this notorious whack became the talk of baseball back in 2003.
During the routine sausage race that has become a mainstay in Milwaukee, hefty journeyman first baseman Randall Simon took one memorable swing at the Italian sausage (Mandy Block).
A three-game suspension and $2,000 fine would result, with the Chorizo eventually being added for (what we believe to be) extra protection.
Only DeSean Jackson would force us to call this excessive arrogance before a brain fart.
As fast as he burns his competition, Philly's No. 1 target disrespects the game.
Instead of working on his psyche with Buddhist monks, Jackson has decided to release a rap album. How promising.
An injury like this better come with a victory.
But of course, the 1997 Pro Bowl-bound Gus Frerotte sprained his neck by ferociously slamming his head into padded cement after scoring a touchdown against the New York Giants during a 7-7 tie.
Truly inspiring.
In Game 5 of the 1987 Eastern Conference Finals, legendary point guard Isiah Thomas made one crucial mistake that cost his team the victory.
With seconds remaining, Thomas' quick inbound pass was robbed by funky Larry Bird, who then passed it to Dennis Johnson for the game-winning layup.
The Pistons would lose the series to the Celtics, 4-3.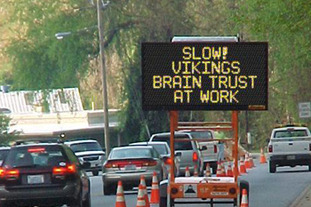 Image via blog.lib.umn.edu
The 2003 NFL draft was a unique one for the quirky Vikings, who "secured their guy" two picks after their original selection.
And not because they traded down (which was the intent), but rather, because of their inability to work the clock. Rarely do these general managers, with months to prepare, screw up this badly.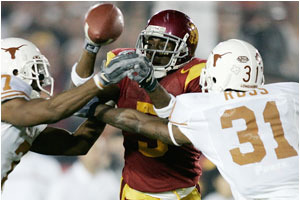 Image via sportsillustrated.cnn.com
After bursting for 35 yards off a Matt Leinart pass and reaching the Texas 18-yard line, electric tailback Reggie Bush decided to attempt a move we hadn't seen mastered since the '82 Big Game between Stanford and Cal.
His failed lateral (later questioned as a forward pass) was recovered by Texas strong safety Michael Huff. It wasn't the only questionable call.
Poor old Steve Bartman. It's about time for forgiveness, Cubs fans.
In reaching for a foul ball in the eighth inning of Game 6 of the 2003 NLCS like most fans would, and several others around him clearly were, Bartman became a Chicago-wide villain.
Bad timing and horrible execution on everyone's part sparked a change in momentum, in which the Cubbies would lose a 3-0 lead in the game and a three to two lead in the series to the Marlins.
Perhaps it's time to blame Mark Prior's future injury problems instead.
Perhaps the most jacked and physically intimidating referee in sports, Ed Hochuli rarely seems to fail at making the right call.
But he clearly didn't believe Jay Cutler's untouched fumble was indeed a fumble, allowing Denver possession on the 10-yard line after the "incomplete pass."
Denver would score, convert a two-point conversion and strike down the angry Bolts, 39-38.
As if Jeff Van Gundy's "Why are they fouling?" comment wasn't obvious enough, let's revisit Russell Westbrook's head-scratching actions in Game 4 of this year's NBA Finals.
17.3 seconds left in the game, five seconds left on the shot clock, one point guard eager for victory.
Foul...
Teenage Mutant Ninja Turtle man just couldn't help himself.
A lesson to all early celebrators...don't do it.
It was the 2006 Turin Olympics, Lindsey Jacobellis with a comfortable lead in the Snowboard Cross finals, arrogance taking over.
And oh yes, "she tweaked out in air."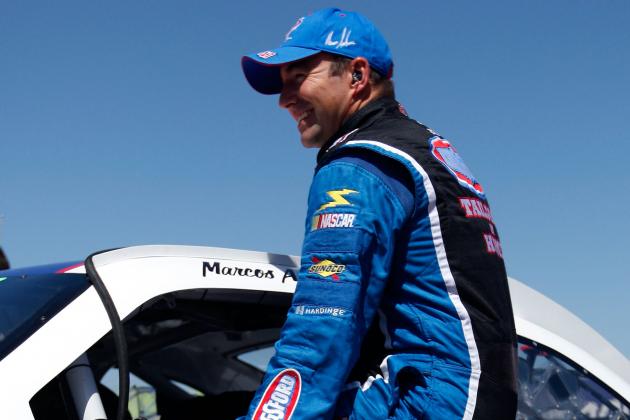 Chris Graythen/Getty Images

This champion Australian racer may not be smartest driver in the sports world, but he's certainly the thriftiest.
With a lead at the Infineon Raceway back in 2010, Marcos Ambrose decided to shut his car off to save fuel. Unfortunately his vehicle didn't seem too eager to start back up.
Before he knew it, Ambrose was stuck in seventh with a bevy of critical viewers glaring in.
Perhaps the most blatantly horrific call in Major League history, Tim Welke's out call of Jerry Hairston at first base during the sixth inning of a game between the Dodgers and Rockies needs several revisits.
On second thought, no worries, Welk; we'll blame it on the awkward angle.
During the group stage match against the United States national team at the 1994 FIFA World Cup, Colombian defender Andres Escobar scored one unfortunate own goal that would eliminate his squad and cost him his life.
A heartbreaking story for the former gentleman of football.
Nearing the end of the '02 season opener between the Browns and the Chiefs, 10 seconds left on the clock, the Browns clawing to a 39–37 lead, Chiefs quarterback Trent Green dropped back and was trampled by the entire Cleveland defensive line.
Dwayne Rudd believed he had sacked Green with no time on the clock and secured a victory, ripping off his own helmet and chucking it in celebration. Little did he know, Green had lateraled the ball to tackle John Tait before getting stuffed.
Tait was tackled at the 26-yard line, an unsportsmanlike penalty was assessed and the Chiefs had a last shot. Morten Andersen with the short field goal...victory Chiefs.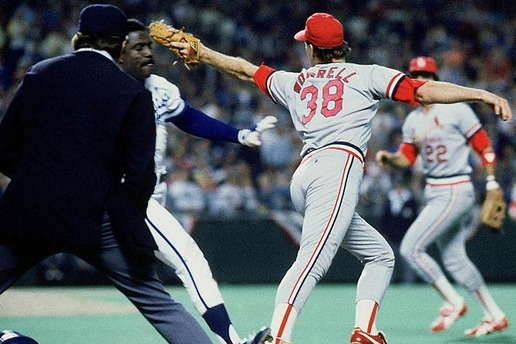 Image via worldseriesdreaming.com
Game 6 of the 1985 World Series was a memorable one indeed, if only for the wrong reasons.
With the St. Louis Cardinals leading the Kansas City Royals three games to two and 1-0 in the eighth inning, Jorge Orta hit a chopper to first baseman Jack Clark, who routinely tossed the ball to pitcher Todd Worrell.
Safe!
But in reality far from it. Enjoy.
The Royals would naturally win Game 7.
As a hard-fought battle between the Georgetown Hoyas and UNC Tar Hells in the 1982 Championship Game was coming to a close, one player decided to cool his engines a bit.
During this moment of limited comprehension, Hoyas guard Freddie Brown passed (or rather handed) the ball to Tar Heels forward James Worthy. UNC with the victory.
We've yet to understand the psyche behind this lapse, but we forgive you, big guy.
Far more impressive than the 7,392 assists he secured as a professional point guard was Maurice Cheeks' classy assistance of the national anthem back in 2003.
Thirteen-year-old Natalie Gilbert was clearly caught in the moment, but never had to fret considering she had Mo Cheeks there to aid her fall.
Instead of kneeling the ball at the end of their 1978 rivalry game to win 17-12, the Giants decided to bruise through the defense for several more yards.
Unfortunately, the sturdy combination of quarterback Joe Pisarcik to fullback Larry Csonka failed on this day. Herman "you play to win the game" Edwards would return the fumble for a touchdown, securing a 19-17 victory.
2010 was heartbreak all over again, as rookie punter Matt Dodge made the biggest mistake of his life and punted to DeSean Jackson with seconds remaining and the teams tied at 31. Eagles win 38-31 after the returned score.
It was the NFL's first tie in six years, Eagles against the Bengals, the result a 13-13 tie on November 16, 2008. But wait, Donovan McNabb didn't even know the game could end in a draw.
"It's part of the rules and we have to go with it."
Words of wisdom following pure ridiculousness.
He had over 2,700 hits in his 20-year career and won a batting title in 1980, but Bill Buckner will always be remembered most for his blunder in the 1986 World Series.
It was Game 6, the Sox up by two runs in the bottom of the 10th, tensions soaring. But for some reason, manager John McNamara decided not to replace a defensively-hindered Buckner with Dave Stapleton like he had many times before.
In the end, would we even remember Buckner if it wasn't for his notorious mistake? Nope.
A Pro Bowl defensive tackle for the Cowboys during the '90s, "Big Cat" Leon Lett is remembered most for two notorious mental breakdowns...and not the emotional kind.
The first and most innocent was in Super Bowl XXVII. After recovering a fumble and running it back toward the endzone, Lett decided to become a diva wide receiver and place the ball on the goal line. As he held it out, Bills receiver Don Beebe came from behind and stripped it, resulting in a touchback. With the Cowboys up 52-17, the play wasn't too crucified.
But the next and most crucial was on snowy Thanksgiving Day of 2003. With the Cowboys up 14–13 and 15 seconds remaining in the game, the Dolphins attempted a 41-yard field goal. It was blocked, but as it rolled around in the powdery tundra, Lett decided to jump on it, fumble it and allow the 'Fins to pick it up and score. Victory Miami.
It's just part of the game.
Indeed it is, but that doesn't take away from how historical this could have been.
With only 26 wins in his career, this could could have been a highlight for Armando Galarraga, who now finds himself signed to a minor league deal in Houston.
We'll always remember his epic 28-out perfect game.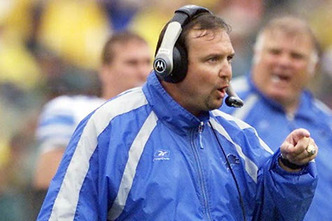 Image via gabepress.wordpress.com
Headlining his 5-27 record as Detroit head coach from 2001-2002 is one memorable decision that cost Marty Mornhinweg's Lions an overtime chance.
After winning the overtime coin toss during a '02 game against the Bears, Mornhinweg decided to kick the ball off in hopes that the wind could affect the outcome. The Bears would drive down the field, kick a field goal and win.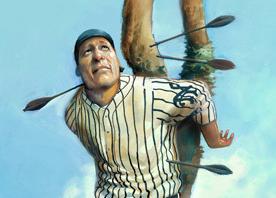 Image via sportsillustrated.cnn.com
As a 19-year-old (the youngest in the NL at the time) for the New York Giants, Fred Merkle came up to bat in the bottom of the ninth inning with two outs and the score tied at one during a September, 1908 game against the Cubs. And of course he singled, sending Moose McCormick to third (from first).
With men on first and third, Al Bridwell then singled again, sending McCormick home. But of course, Merkle headed into the dugout to celebrate before ever touching second.
Cubs second baseman Johnny Evers intelligently pranced to the base and secured the force out, eliminating the run and victory.
Because of darkness, the game would be called a tie and eventually replayed. The Cubs would win the makeup game, 4–2, and the National League pennant.
A three-time world champion and the first speed skater in history to win four consecutive world all-around championships and eight consecutive international all-around championships, Dutch long track speed skater Sven Kramer found himself in a hole he couldn't climb out of at the 2010 Vancouver Olympics.
After Kramer finished first in the 10,000-meter finals with a time of 12:54.50, he was shockingly disqualified for failing to change lanes during the later laps. Incorrect directions from coach Gerard Kemkers led to the phenom's sudden demise.
Or maybe calling a reporter stupid.
Nearing the end of Michigan's second consecutive Championship game (1993), down 73-71 to UNC, star forward Chris Webber brought down a rebound and accidentally walked. Of course the refs missed it, but this was only the start.
C-Web then sprinted down the court before calling a timeout with 11 seconds left in the game. The only problem was his team's lack of any timeouts left.
A resulting technical foul would essentially secure the game for North Carolina.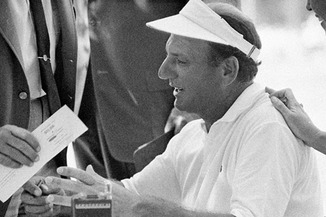 Image via sports.espn.go
April 14, 1968 is a day that will live in infamy for Roberto De Vicenzo, and not because it was his 45th birthday.
Two strokes off the lead in the final round of the 1968 Masters, De Vicenzo stepped his game up and forced an 18-hole playoff by tying Bob Goalby after 72 holes.
But on the 17th hole, the Argentine phenom had secured a birdie-3, which his partner Tommy Aaron wrongfully scored as a four. De Vicenzo had blindly signed his scorecard, and as a result lost the Masters to Bob Gloatby.
Oh you knew this was coming.
When the Colorado Buffaloes scored on the final play of their 1990 Big Eight Conference game against the Missouri Tigers, few could believe their eyes...or the sideline judges.
Five downs led to one enormous asterisk next to the the '90 national champs.