NBA Draft 2012: How Orlando Magic Can Use 2 Picks to Keep Dwight Howard
June 21, 2012
Chris Trotman/Getty Images
The Orlando Magic must use the NBA draft to lure Dwight Howard to sign a contract extension past the upcoming 2012-13 season. Orlando just hired Rob Hennigan as the team's new general manager, according to Yahoo! Sports, and there will be a lot of pressure on him to execute a successful draft.
Orlando Sentinel insider Brian Schmitz tweets that Hennigan's job will be to trade Howard, but there are other options to keep him.
The Magic hold the No. 19 and the No. 49 spots in the draft which opens plenty of scenarios.
First, they could draft players who would make Orlando better contenders in the Eastern Conference. The latest NBADraft.net mock draft predicts the Magic will select Ohio State big man Jared Sullinger with the No. 19 pick. The issue with Sullinger is that he's been red-flagged by NBA doctors, which has caused his draft stock to fall.
If Sullinger falls to late in the first round, Orlando should absolutely take a risk on him. It's a bigger risk than you think, because if Howard leaves and Sullinger's back issues are real, they're in a tough spot going forward. The reward could be fantastic if Sullinger can overcome his back issues and play like the lottery pick that he was expected to be.
With Sullinger starting at power forward, Orlando would have three great scoring options between him, Howard at center and Hedo Turkoglu at small forward. Besides those three, Orlando would also have Glen Davis coming off of the bench. Davis can play all three positions and averaged just under 10 points per game with the Magic last season. 
NBADraft.net compares Sullinger to Carlos Boozer, and should that turn out to be true, Orlando would have the big men necessary for a run at an NBA title.
Another option for Orlando would be to trade both the No. 19 and the No. 49 pick to try and move up in the first round. This would not be easy since the No. 49 pick doesn't have a lot of value, but the Magic would still be able to move up a few spots if they thought a prospect that they were interested in would get taken before No. 19.
Two prospects that could persuade Orlando to trade up would be North Carolina's Tyler Zeller or John Henson. Zeller is expected to be taken by the Milwaukee Bucks at No. 12, while Henson is projected to go two picks later at No. 14 to the Houston Rockets.
Both are great low-post players that could make a big impact playing alongside Howard.
Drafting Zeller would give the Magic two massive options on the floor, making things very difficult for opposing big men. Zeller averaged 16.3 points and 9.6 rebounds per game last season with Tar Heels, and shot well from the free-throw line. We all know of Howard's horrific free-throw shooting, so being able to play Zeller late in the game would be a big advantage for Orlando.
Henson is also an interesting player since he's a great defender and has a great scoring ability as well. The problem with Henson is that he's a twig. He's 6'10'' and only weighs 216 lbs. No matter where he goes, he needs to add more muscle because he'll get overpowered in the NBA at the low post.
Howard has won the NBA's Defensive Player of the Year award in three of the last four seasons and adding a defender like Henson would only make the Orlando defense even better.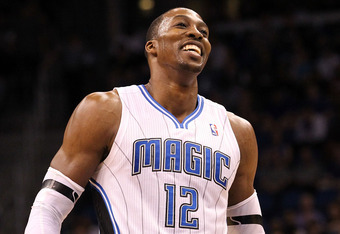 Sam Greenwood/Getty Images
The final option would be to trade both of the draft picks for someone that could aid Howard.
There is a lot of concern that Jameer Nelson won't exercise his player option for the upcoming season, as he's already extended the deadline, according to Josh Robbins of the Orlando Sentinel. This would create more problems for the Magic, and force them to acquire a new point guard. Orlando could decide to select North Carolina's Kendall Marshall if he's still available at No. 19, but a trade is more likely.
Who could Orlando seriously acquire by trading the two draft picks (and probably another player or two)? Could they create a package to acquire a player like Golden State guard Stephen Curry?
Curry is a young guard that would fill the void should Nelson leave. He averaged nearly 15 points per game in just his third season in the NBA. Acquiring Curry would provide a spark to the Magic offense while adding a potential superstar for the future.
The advantage of trading for a mid-tier guard like Curry is that the Magic might not have to give up that much. The two draft picks would definitely be included and possibly a player such as J.J. Reddick or even the aforementioned Davis.
As I've mentioned, there are ways to convince Dwight Howard to stay just with their draft picks. Now all the Magic have to do is to execute one of them.