Detroit Lions: 5 Predictions for Final Roster Cuts in 2012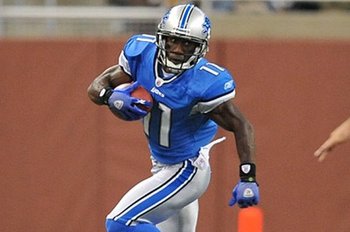 detroitlions.com
The Detroit Lions are due to start training camp in Allen Park on July 30th, 2012. Rookies and veterans will report, and Martin Mayhew and Jim Schwartz will get down to the business of assembling the final 53-man roster.
Final roster cuts are still more than two months away, and based on all the positive reviews from OTAs, it's hard to believe anyone will get cut. But some inevitably will.
Everyone looks good now, but players will eventually fall behind the pack.
Some won't look nearly as good with pads on, and familiar faces will become expendable.
Here are predictions for five likely roster cuts. Obviously this could change with injuries or late offseason acquisitions, but as it stands now, these choices make the most sense.
5. Ben Graham
foxsportsdetroit.com
The former Australian rules footballer filled in nicely last season when Ryan Donahue went down with a quad injury.
In fact, on performance alone the two are about dead even. Graham averaged 44 yards on 28 punts for Detroit while Donahue averaged 42 yards on 49 punts before he was injured.
The Lions really can't go wrong with either of these guys. Unfortunately, the reality is that the Lions aren't going to keep two punters on their final roster. One of them has to go.
My guess is Graham will be the odd man out.
While he has great NFL experience—he's played on four NFL teams and in a Super Bowl—he's nearly 40 years old. Punters have a longer NFL life than most, but with an equally talented 24-year-old as the opposition, the Lions will likely opt for youth.
Donahue was also the Lions' choice to replace Nick Harris, a great punter in his own right who was often the lone bright spot in many ugly Lions losses.
Detroit saw enough in Donahue to make a reliable veteran like Harris expendable. I can't imagine they'd cut ties with him now, unless the quad injury becomes a chronic problem.
The Lions will stick with the original plan and Donahue will make the cut.
I'm sure they'll keep Graham on speed dial, though.
4. Stephfon Green
Detroit signed Stephfon Green as an undrafted free agent after the 2012 NFL draft.
While his career at Penn State might not have been legendary, some of his highlights are. He's definitely shown flashes of greatness.
But so have many RBs on the Lions' roster. In fact, there's currently seven of them.
Out of those seven, James Bryant, Joique Bell, Keiland Williams and Green are the most vulnerable.
Bryant and Green are also the most unproven.
Luckily for Bryant, he's the only legitimate fullback on the roster (Will Heller doesn't count) and he could be a beast on special teams. So, he probably stays.
Green needs some seasoning before he's ready for the NFL anyway. Given is proclivity for disciplinary problems at Penn State, he needs to show that he's matured.
The Lions will cut him, then quickly sign him to their practice squad. With his speed and skill set, he could be someone that the Lions stash as an insurance policy for Jahvid Best.
He certainly has similar home run potential.
3. Chris Greenwood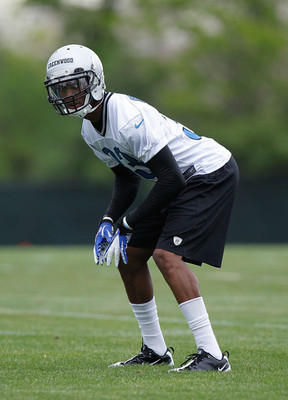 zimbio.com
When the Lions traded up to get someone named Chris Greenwood in the fifth round of April's NFL draft, mouths were left agape all over Motown.
Then everyone found out who Greenwood was. His measurables were off the charts and, coming from Division III Albion College, he was a great local story.
It was a feel-good draft moment, and as a result Greenwood is a player everyone is now rooting for. That doesn't mean he's ready for prime time, though.
Greenwood certainly has the physical tools, but there is no indication he's ready to compete on Sundays—on defense or special teams.
The Lions currently have nine cornerbacks on their roster and they'll probably only keep six. Fellow rookies Dwight Bentley and Jonte Green have impressed so far in camp and haven't missed any time.
Greenwood has missed some time and is very raw. He's a multi-year project.
Like Stephfon Green, the Lions will be best-served cutting Greenwood and signing him immediately to the practice squad. He'll still practice with the team and will have time to raise his game to NFL-ready levels.
He should be safe on the practice team. The only way other teams could steal him is if they intend to sign him to their active rosters.
He's not there yet, so it shouldn't be a problem.
2. Stefan Logan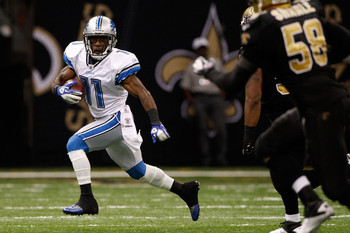 Photo via zimbio.com
Logan became expendable with a subpar performance last season. According to ESPN, the Lions were ranked 26th in the NFL in punt return average with 7.9 yards per.
Logan did better with kickoff returns—the Lions ranked 14th in the NFL with 24 yards per—but overall he took a step back from his previous performance in 2010.
Worse yet, he failed to make an impact. He didn't have any return touchdowns and his longest return was only 42 yards. Twenty-five other teams had at least one return longer than that.
Logan is a niche player who doesn't make contributions to the Lions' offense. If he cannot excel at that niche—returns—then his value is minimal. Especially when the Lions have a number of other players who could provide an upgrade.
Titus Young, Ryan Broyles and rookie receiver Patrick Edwards (MLive.com) are candidates to take over return duties.
Edwards has to make the final cut, but you get the point. There are a number of viable options.
Even though the Lions have been giving Logan some extra time at receiver and running back this offseason, it's hard to see his impact in either aspect of the game warranting a roster spot.
They have too many needs to waste a final spot on a one-trick pony. Particularly if that one trick is no longer great.
1. Jason Fox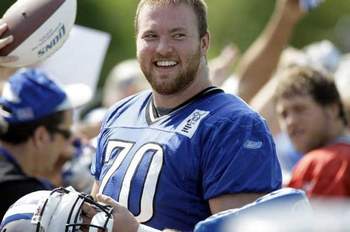 freep.com
The writing was on the wall as soon as the whistle blew on the Lions' 2011 season. This would be a do-or-die offseason for Jason Fox.
Detroit drafted Fox in the fourth round of the 2010 draft with expectations of him backing up, and eventually replacing, veteran left tackle Jeff Backus.
An unending rash of injuries derailed those hopes, and Fox has only seen action in four games in two seasons.
When the Lions drafted Riley Reiff with their first-round pick in this year's draft, Fox must have known his days were numbered. Reiff is now the heir apparent to Backus, and Fox is left to fight for a roster spot.
An ominous sign is that Fox has already missed a decent chunk of minicamp for what Jim Schwartz calls "soreness" (Detroit Free Press).
They will shut him down and try to save him for training camp. But even with the extra rest, his inability to stay healthy really hurts his chances for success.
The emergence of Johnny Culbreath, who came to camp in great shape and whose blood pressure issues from last season are behind him, might signal the end of Fox's career in Detroit. According to the Detroit Free Press, Jim Schwartz already said he's had a "'really good off-season.'"
The Lions should cut Fox and let him demonstrate his durability on another team.
Keep Reading

Detroit Lions: Like this team?