NL Best of the Night: Jason Heyward Slugs Two Homers in Braves' Home Run Parade
June 21, 2012

Al Bello/Getty Images
One of the most surprising aspects of the 2012 Atlanta Braves is how productive their offense has been thus far. 
Last year, the Braves were one of the worst-hitting teams in the majors. They had the fourth-worst team batting average in the National League and were among the bottom third of major league clubs in runs scored.
Despite those offensive struggles, Atlanta was still good at clubbing home runs, finishing eighth in the big leagues with 173. The Braves haven't shown quite as much power this year, ranking 12th in the majors (but fifth in the NL) with 64 homers. 
However, you might have a hard time convincing New York Yankees pitchers that the Braves aren't hitting as many home runs this season. Atlanta smacked five homers out of Yankee Stadium on Wednesday afternoon, en route to a 10-5 victory and a series win.
Two of those shots were hit by Jason Heyward, who continues to show improvement after a disappointing sophomore season. The short right field at Yankee Stadium allows for some cheap fly balls to sneak over the wall, but Heyward's reached deeper parts of the ballpark with his two homers.
Watch video of Heyward's two home runs here.
Demonstrating how small Yankee Stadium is, Heyward's home runs were actually two of the shortest among the nine long balls hit in Thursday's game, according to ESPN New York's Wallace Matthews. Hey, they looked far on video.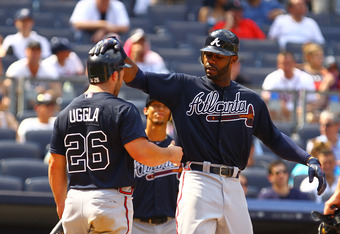 Al Bello/Getty Images
With the double-shot of power, Heyward has 10 home runs for the season. He hit 14 in all of 2011 and 18 in his rookie year of 2010. His slugging percentage has increased to .480, the highest it's been since May 11. 
So what's the difference for Heyward this year? Is it just a matter of being healthy and not fighting a sore shoulder? Or has his approach at the plate changed too? 
"He's fouling off pitches," teammate Freddie Freeman told the Atlanta Journal-Constitution's David O'Brien. "I think he fouled off a ball on the [at-bat] where he struck out that seemed to be this far [about two feet] outside.
"He's reaching everything. When he gets it in the strike zone, like he did with [Boone] Logan, he's going to do damage with it no matter what the pitch is, no matter what side it's from."
Freeman went on to explain that hitting a slider off a left-handed pitcher for a home run shows how locked in Heyward is right now. 
Whatever the reason for his turnaround, Heyward is providing the Braves with another threat in the middle of their lineup that they didn't have last season. With Dan Uggla, Freddie Freeman and Heyward in the 4-5-6 spots of the batting order, Atlanta now has a deeper lineup that presents opposing pitchers with that much more to fight through in a given game. 
Follow @iancass on Twitter