Los Angeles Galaxy vs. Vancouver Whitecaps Live Blog: Play-by-Play Analysis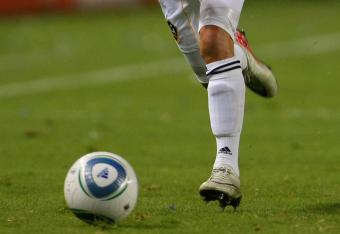 Victor Decolongon/Getty Images
Bruce Arena's Los Angeles Galaxy continue their 2012 Major League Soccer season on Saturday night when they take on the Vancouver Whitecaps at the Home Depot Center in Carson, Calif.
The Galaxy are currently 5-8-2 (17 points) and have an uphill battle to climb just to get back in the chase for a spot in the MLS Cup playoffs.
The Whitecaps are 7-3-5 (26 points) and will look to chase San Jose and Real Salt Lake with a win this weekend.
Kickoff is scheduled for 7:30 p.m. PT and will be televised locally by KDOC and KWHY. The live blog will start at approximately 5:15 p.m. PT.
Keep it right here on Bleacher Report for continuing coverage of the 2012 MLS season and all things world football.
Thank you everyone for following this Live Blog on Bleacher Report. Stay tuned for a recap of this match here on b/r and the View from Victoria Street. Good night, everybody!
90' + 4' - One last go for Vancouver. And that is cleared.
Three goals, three points? Why not?
FINAL
LOS ANGELES GALAXY 3
VANCOUVER WHITECAPS FC 0
90' + 3' - David Beckham just doesn't have the legs. Can't fault the effort, though. Here's Beckham again. Now it's Keane.
90' + 2' - Free kick for the Caps, in their attempt to steal some chickens. That is deflected. That's too high, but it will a corner for Camilo.
90' + 1' - A.J. DeLaGarza with a stop on Darren Mattocks. There's a save by Josh Saunders. I think that may have been his first of the night. A first time for everything.
90' - Substitution Los Angeles Galaxy
IN 9 Chad Barrett
OUT 10 Landon Donovan
How many minutes here? Four.
89' - This LA Galaxy backline is doing work. And again, David Beckham is walking the tightrope. It would be a shame for Allen Chapman to send Beckham off this late in the match. It wouldn't be smart.
88' - Workmanlike first half. Defensive second half. That has been the story of this match. And some fans are already leaving to beat postgame traffic.
87' - This is Michael Nanchoff. Throw-in Vancouver. Goal kick, LA.
86' - Corner for Vancouver. The set piece chances are piling up for the Whitecaps. Can they convert one? Not this one, as Josh Saunders is there to make the collection.
85' - Bonjour. And Landon Donovan gets tackled cleanly.
84' - Throw-in for LA. But first a sub.
Substitution Vancouver Whitecaps
IN 13 Michael Nanchoff
OUT 7 Sebastien Le Toux
I don't think Le Toux was a factor tonight. Good call to not consider him, Jurgen...
83' - Beckham and Keane still can't connect. Juninho with a push. Free kick now for Vancouver. Camilo to take this one...an overhead attempt from Darren Mattocks? Not on your life!
82' - I think Frank Anderson was being sympathetic to this Vancouver team on that call; it has been that tough of a night.
81' - At this point it is looking like a lopsided victory. A would-be goal for Robbie Keane is called back due to offsides.
80' - Another swing of the set piece slot machine for David Beckham. Too low. And Robbie Keane nearly got an open look. Some arguments in the middle, but Vancouver get possession, to the disgust of the Galaxy fans.
79' - Here's Sean Franklin, and Bryan Jordan's a bit indecisive here. Another Whitecaps foul.
78' - Oooh, just missed by a few meters. It bent a little too far to the left. This will be a throw to Vancouver, and Joe Cannon has to make a point-blank kick save.
77' - Robbie Keane wins a free kick. Is the turf turning into Vancouver's 12th man? No, it was a push from Lee Young-Pyo. Beckham to take.
76' - This LA Galaxy announcer is one heck of a comedian. Jordan was a bit annoying in the Galaxy's last win over Vancouver at home. Can he do it again?
Long ball from Saunders. Well, David Junior Lopes is actually doing his job right tonight.
75' - Substitution Los Angeles Galaxy
IN 6 Bryan Jordan
OUT 18 Mike Magee
74' - Here's Dunivant, and that's a 50-50 ball from Saunders. Back to Lee Young-Pyo. A slight delay in play as Mike Magee is hurt.
73' - That was a poor attempt at a header by Bonjour. Goal kick to Saunders. Bonjour, long ball. Adieu, long ball. Rinse and repeat.
72' - A long cross. This will be a corner for Camilo, who has yet to dial in tonight. Mike Magee with the clearance. Another corner.
71' - I think it's time for David Beckham to try not to do too much until the scoreline is 5-0, if it gets there. And he needs to be careful...21,529 in attendance tonight.
This article is
What is the duplicate article?
Why is this article offensive?
Where is this article plagiarized from?
Why is this article poorly edited?