AFC North
Required Reading: Links to the Best in AFC North Coverage, 6/21 Edition

Ray Lewis should be as fearsome as ever, according to Bleacher Report's James Reagan.
Jamie Squire/Getty Images
June 21, 2012
Today's AFC North Required Reading includes Pittsburgh Steelers running back predictions, why Ray Lewis is nowhere near done yet, the toughest games on the Cincinnati Bengals' schedule and a rookie Cleveland Browns defensive lineman trying to make a name for himself.
James Reagan of Bleacher Report gives us his reasons why Baltimore Ravens linebacker Ray Lewis will continue to be dominant in 2012.
Baltimore Ravens running back Ray Rice had his high school jersey number, No. 5, retired by his alma mater New Rochelle High School, reports the Baltimore Sun.
Bleacher Report's David Campbell breaks down the toughest games on the Cincinnati Bengals' schedule this year.
Barbara Bruno of Bleacher Report gives us the eight side effects caused by the Cleveland Browns bringing Brandon Weeden onto their roster.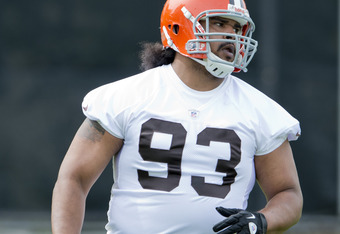 Browns rookie defensive linemen John Hughes wants to make an impact.
Jason Miller/Getty Images
Tom Reed of the Cleveland Plain Dealer spoke to Browns rookie defensive lineman John Hughes, who is looking to impress critics who believed he was drafted too early.
Bleacher Report's Nick DeWitt makes 2012 stat predictions for every Pittsburgh Steelers running back.
For the Pittsburgh Steelers, that run game will rely most heavily on Isaac Redman, a fact ESPN's Jamison Hensley breaks down here.
Like the new article format? Send us feedback!