Euro 2012: Stars Who Need to Turn Around Poor Form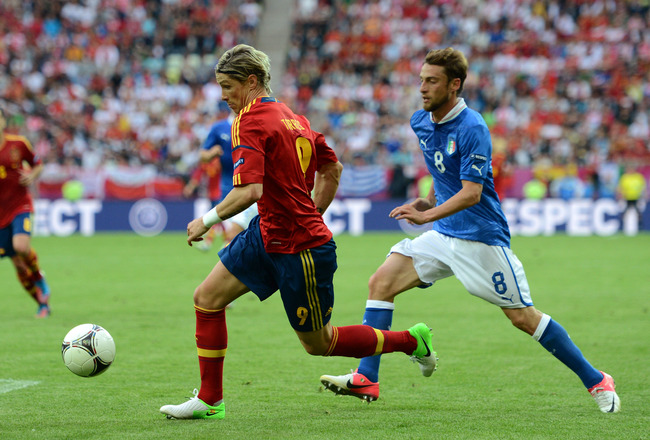 Jasper Juinen/Getty Images
The knockout stage is finally upon us at the 2012 Euro.
Some squads were able to limp into the quarterfinals, but are still far from being at full form, while a few other sides saw a reemergence of their stars to propel them out of the group stage.
Portugal saw star striker Cristiano Ronaldo come back from the dead to finish second in the group of death.
If he continues his strong play, the Portuguese will be a force to be reckoned with in the knockout stage.
Meanwhile, Italy used a brilliant goal from star striker Mario Balotelli in the final minutes to sink the Irish and advance.
Balotelli will need to keep his emotions in check and keep his mind on the pitch if the Italians plan to play on.
Mario Gomez has found the net three times as the German football machine has been firing on all cylinders.
The Germans at 3-0 are the team to beat at this point, and the side that plans to beat them will need their stars to be shining brightly to complete the task.
As the pressure ratchets up, here are the stars that will need to be at full form for their sides to advance:
France: Franck Ribery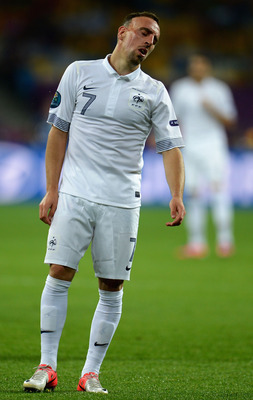 Lars Baron/Getty Images
France only managed a lousy three goals in their three group play matches.
They stumbled into the quarterfinals after a 2-0 loss to Sweden, which earned them a date with the defending Euro and World Cup champions, Spain.
This kind of dull offensive performance won't cut it against arguably the most dangerous team in the world.
The French offense needs to improve quickly—and it all starts with the Bayern Munich star midfielder Franck Ribery.
He only has one assist to this point and no goals.
Ribery doesn't necessarily have to score, but it is his creativity that will make this offense hum.
If he can do a better job at finding his young but talented teammates like Samir Nasri and Jeremy Menez, or perhaps find the net himself, the French will stand a much better chance at knocking off Spain.
England: Wayne Rooney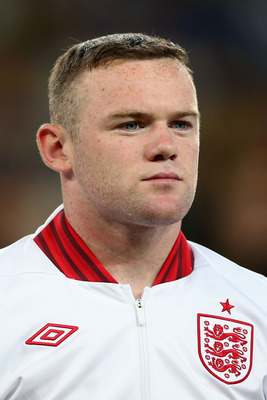 Scott Heavey/Getty Images
English star striker Wayne Rooney was forced to sit out the first two matches of the tournament, but came on to find the net and seal a first place group finish for the Three Lions.
He showed a bit of rust early on as expected, but has appeared to find his way back near full form.
But Rooney being near full form won't help his side going forward.
Ukraine aren't on the schedule anymore, as Rooney's squad will now face the Italians, who are playing their best football of the tournament.
England had better hope that all of the rust was shaken off of their star in his first match back, as his goal-scoring brilliance will be needed in the knockout stage.
Without Rooney, England played to a draw against their strongest opponent in the group.
It is clear that Rooney will need to be the difference if the Three Lions are to advance.
Spain: Fernando Torres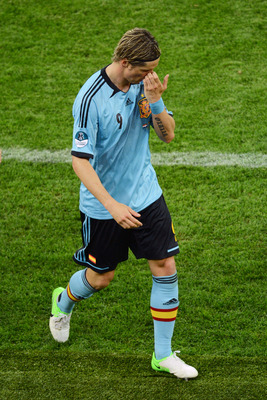 Jasper Juinen/Getty Images
After a disappointing showing in Spain's first match with Italy, Fernando Torres bounced back from being a non-factor to score two goals against Ireland.
Football fans and experts alike declared Torres to be back at full form, and it looked like he was.
But in Spain's final underwhelming result against Croatia, Torres again disappeared.
Ireland and Croatia are out. Now, only the big boys remain.
Although Spain are still one of the favorites to take the Euro cup, that dream will not be realized without improved and consistent play from Torres.
He proved against Ireland that he is the biggest scoring threat for Spain, but he also proved against Croatia and Italy that when he isn't playing well, his side will look very average.
It isn't all on Torres, as he will need some help from the other stars around him, but he will be vital to Spain defending their title.
Spain: Xavi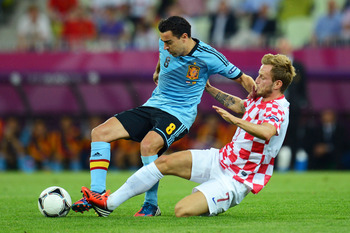 Shaun Botterill/Getty Images
Xavi is one of the best midfielders in the world, but he hasn't looked like it so far in the 2012 Euro.
He was named player of the tournament at the 2008 Euro, but is yet to register a single point (neither a goal nor an assist) in this year's championship.
The creative Barcelona mid has traditionally been a catalyst to Spain's usually beautiful form of football.
But now, passes that would normally end up being sent to the net are failing to connect, as the usually fierce Spanish offense appeared timid during group play.
Xavi and the Spanish midfield needs to up the aggression to make plays happen in order to advance.
But, if the Spaniards perform like they did against Croatia, France will end their title defense in the quarterfinals.
To prevent that, Xavi must be better.
Czech Republic: Petr Cech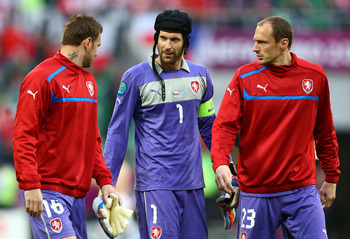 Clive Mason/Getty Images
The Czech Republic emerged as the surprise winner of Group A, despite conceding four goals against group favorite Russia.
They looked solid against what are likely lesser opponents in Greece and Poland, but that will not be enough to stop Portugal.
The Czechs aren't the biggest offensive threat left in the tournament, so the key to topping Portugal will be keeping them out of the goal.
Star goalkeeper Petr Cech has been hampered by an injured shoulder throughout the tournament, but will need to shake it off and be as sharp as ever to halt Ronaldo and the Portuguese.
He will also need some serious help in the form of improved play by his defenders to help carry the weight of trying to stop the Portuguese attack.
In all likelihood, the Czech Republic will need their keeper to play the game of his life to advance.
Keep Reading