Heat vs. Thunder: X-Factors That Will Have a Major Impact on Game 5
June 21, 2012

Mike Ehrmann/Getty Images
The Miami Heat get their first chance to close out the Oklahoma City Thunder tonight in Game 5 of the NBA Finals. Even though momentum is clearly on Miami's side after rattling off three straight victories, the pressure remains on the overly-criticized Heat as they look to finish the job.
While LeBron James, Kevin Durant and the rest of the superstars are going to shine like always, it's games like this where the unsung heroes have a major impact on the outcome. Let's take a look at three players who will fall in to that category in Game 5.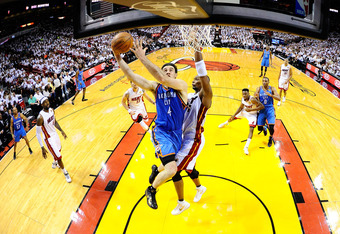 Pool/Getty Images
Nick Collison
Collison had his best performance off the bench in Game 1 with eight points and 10 rebounds, helping lead the Thunder to their only win so far. That's not a mistake. Oklahoma City needs his contributions in the paint where Miami has a weakness.
A lack of offensive production from Kendrick Perkins and Serge Ibaka makes Collison's play off the bench even more important. He must find a way to create problems for the Heat's interior defenders to create more space for Durant and Russell Westbrook.
The Thunder need to start getting more contributions from their post players to have any chance of making a comeback. A big game from Collison would boost his team's chances of returning home on a positive note.
Derek Fisher
In huge games like the one both teams face tonight, it's always an advantage to have a veteran like Fisher, who has been through more than his fair share of battles. His influence should help the young Thunder maintain control of their emotions.
Fisher isn't the well-rounded point guard he was during his prime, but he still plays an important role for Oklahoma City. Along with helping the younger players adapt to the big stage, he never turns down a big shot and the Thunder will need a few of those tonight.
The team's inexperience has played a major role in this series, especially near the end of Game 4, when Westbrook committed a bad foul. Fisher has to ensure everybody is in the right frame of mind to play loose tonight since all the pressure is on Miami.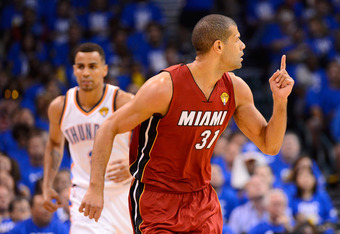 Ronald Martinez/Getty Images
Shane Battier
Battier struggled in Tuesday's game, scoring just four points. His play throughout the series, however, has been a pleasant surprise for the Heat. He's given the team some much-needed depth and looked like a man on a mission to win his first NBA title.
His most important task in the potential series-clinching game will be defending Durant. With James' level of health uncertain after a Game 4 scare, Battier will probably see more of the Thunder's main scoring threat to help keep James fresh.
Although Battier has never shied away from a challenge, this would be the biggest one of his professional career. The Heat don't want to give Oklahoma City any glimmer of hope, so Battier needs to step up and make sure the series ends tonight.