Philadelphia Eagles: 2012 Stat Predictions for Each Wide Receiver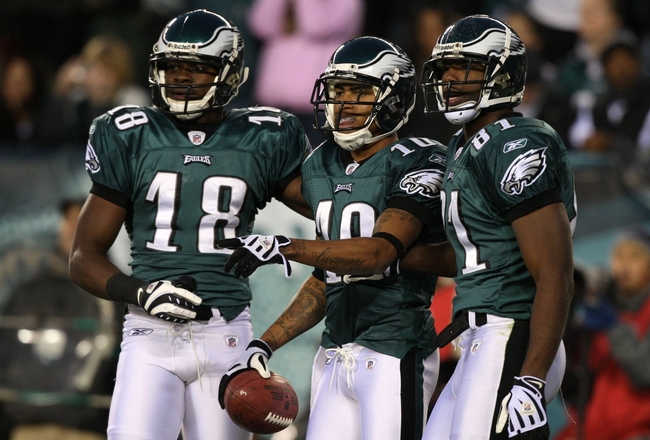 Jim McIsaac/Getty Images
Training camp is set to get underway in less than a month, so it's only fitting that we start to look ahead instead of looking back.
The 2011 season is history—2012 will bring more hope and joy to Philadelphia Eagles fans than usual.
A lot of that can be directed towards the explosive offense, one that could bring back the fireworks from 2010. A happy DeSean Jackson, a healthy Jeremy Maclin and a determined Michael Vick are all poised to have breakout—if we can use that term—seasons.
The receiving corps in particular seem to be raring to go. Not only did the Eagles retain their "Big Three" by re-signing DeSean Jackson, but they added rookie red-zone threat Marvin McNutt to shore up their biggest weakness.
All signs point towards success, but how much success?
Here are statistical predictions for each Eagles wide receiver from No. 6 to No. 1.
Chad Hall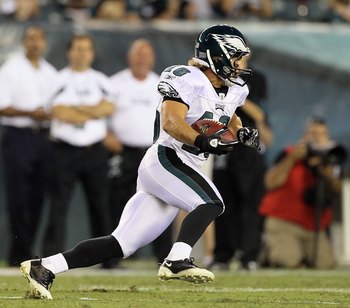 Jim McIsaac/Getty Images
2011 Statistics: 3 REC, 20 YDS, 1 TD, 6.7 AVG
Let's set the record straight—Chad Hall is more likely to make the roster than both Mardy Gilyard and Damaris Johnson at training camp.
Hall has rarely seen the field in his first two seasons as an Eagle, and as the sixth receiver on the roster, that is unlikely to change. He'll make a couple of catches here and there in garbage time, but he'll only see quality playing time if a couple of wide receivers go down with injuries.
Prediction: 7 REC, 62 YDS, 1 TD, 8.9 AVG
Riley Cooper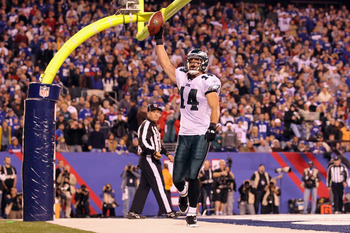 Cooper celebrates the game-winning touchdown against New York.
Al Bello/Getty Images
2011 Statistics: 16 REC, 315 YDS, 1 TD, 19.7 AVG
Riley Cooper has never been and will likely never be higher than fourth or fifth on the totem pole at his position. That being said, with the exception of a couple of exasperating drops, he showed last season that he is capable of playing on the outside for short stretches of time.
The climax of Cooper's season was when he caught the game-winning touchdown pass from Vince Young to beat the Giants in Week 11. That was one of two games in which he had at least five catches, with the other occurring two weeks later in Seattle.
He'll most likely be in sparingly this season, because he has so many people in front of him. That being said, when he is in—and he'll play more often than Hall—expect him to be a serviceable fifth wideout.
Prediction: 19 REC, 302 YDS, 2 TD, 15.9 AVG
Marvin McNutt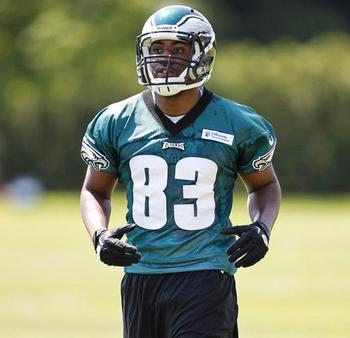 Photo courtesy of CSN Philly.
2011 Stats: N/A (college)
I think the Eagles might have got the steal of the draft by selecting Iowa wideout Marvin McNutt in the sixth round. He has NFL-ready skills, he's a red-zone threat and he's the prototypical outside possession receiver the Eagles have been looking for.
McNutt will see a decent amount of time playing both in the second slot position—in four wide receiver sets—and on the outside when he replaces DeSean Jackson or Jeremy Maclin for any reason. He won't put up big yards because he doesn't necessarily have elite speed, but he'll get plenty of red-zone action and make the most of it.
Prediction: 46 REC, 587 YDS, 7 TD, 12.8 AVG
Jason Avant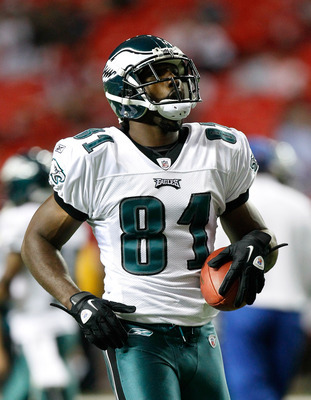 Kevin C. Cox/Getty Images
2011 Statistics: 52 REC, 679 YDS, 1 TD, 13.1 AVG
Jason Avant has been Philadelphia's slot receiver since he entered the league in 2006 and will remain in that role throughout the entirety of 2012. What isn't set in stone, however, is whether the Eagles will decide to keep the 29-year-old past the final game of this season.
Even though Avant had his best statistical season in 2011, bonehead drops and fumbles along with the inability to make red-zone plays has hurt his stock dramatically entering 2012. For this reason, I don't think you'll see many bonehead moves out of Avant as he makes a strong case for returning to the team in 2013.
Prediction: 66 REC, 726 YDS, 4 TD, 11.0 AVG
Jeremy Maclin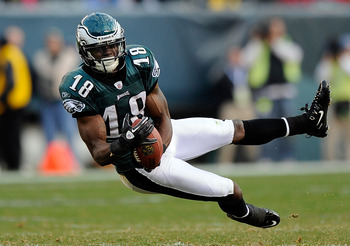 Patrick McDermott/Getty Images
2011 Statistics: 63 REC, 859 YDS, 5 TD, 13.6 AVG
Plagued by a strange offseason illness, Jeremy Maclin got off to a slow start in training camp and missed more time later in the season. The 24-year-old only had three good performances, which were spread out over Week 2, Week 6 and Week 17.
Now, however, the former first-round pick looks ready to rebound. Not only does quarterback Michael have confidence in No. 18, but strange illnesses and rumors won't be surrounding the wide receiver as he prepares for training camp, the preseason and finally the regular season.
It all makes sense that he will bounce back nicely in 2012.
Prediction: 80 REC, 1098 YDS, 9 TD, 13.7 AVG
DeSean Jackson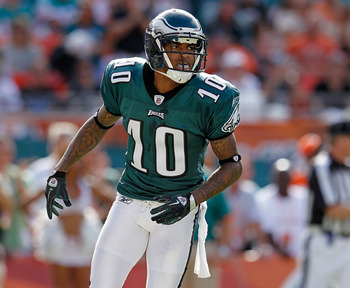 Mike Ehrmann/Getty Images
2011 Statistics: 58 REC, 961 YDS, 4 TD, 16.6 AVG
After two straight 1000-yard seasons in 2009 and 2010, DeSean Jackson responded in 2011 by stinking up the joint.
For the most part, at least.
Not only was he running incorrect routes and giving up on plays, but he was unwilling to go over the middle to catch balls and put himself out there for the betterment of the team. Most of that can be attributed to his contract situation, which is something all Eagles fans should sympathize with.
The guy deserved way more than what he was being paid and it showed on the field.
This year, however, DeSean has no excuses. He received the mega-deal he'd been asking for and is now locked up for five years. The Eagles will see a whole new Jackson, one who will stretch the field, make those game-changing plays and take pressure off his teammates.
Overall, it's going to be a great year for the Philadelphia Eagles wide receivers.
Prediction: 65 REC, 1202 YDS, 10 TD, 18.5 AVG
Keep Reading

Philadelphia Eagles: Like this team?