WWE: Will Christian Have One More Main Event Run Soon?
June 22, 2012

Gallo Images/Getty Images
Christian deserves another main event run and not out of sentiment or as a token of appreciation, but because he would thrive there.  
The problem is, he may not get one because of WWE's stubbornness and overreliance on certain stars.    
His current role as Intercontinental Champion is a perfect fit temporarily, allowing him to remain somewhat prominent while a crowded main event scene bumps him out.  Christian can flourish there as he has as a tag team specialist and anything else he's been asked to do.
The question is, is he destined to reside in mid-card status for the rest of his career or will he get another shot at a world title?
Why He Should Get Another Main Event Run
Christian gives WWE everything it should want in a wrestler: fantastic matches, varied and crisp ring work, charismatic performances on the mic and a strong fan following.
With a wrestler like John Cena, you sacrifice a lack of high-caliber ring work for star power and charisma.  The reverse is true for a guy like Davey Richards.
Christian isn't going to draw like Cena, but he is a merging of the sports and the entertainment side of the business.  
He showed the world what he was capable of, if given the chance, delivering one of the best feuds of 2011 against Orton.  He can be funny, a convincing actor in and out of the ring and has enough Peeps behind him already that there isn't a risk associated with offering him a spot in the main event.    
Once they decide to let Sheamus' current World Heavyweight title reign end, Dolph Ziggler may be next in line.  WWE needs to also figure a way to include a Christian title run as well.  
Christian vs. Ziggler or Christian vs. Daniel Bryan could lead to some incredible ring work and compelling stories.  
Nearing 40, Christian isn't going to carry the company.  However, he can serve as an exciting major champion for a brief time.  
Before Christian's body begins to slow him down, before he begins the slide into retirement, WWE needs to utilize his talents at the top.  
Why He Won't Get Another Main Event Run
The main event scene is only going to get more crowded and WWE isn't likely to make room for someone who they feel that they've already given an obligatory title run to out of respect. 
In the early part of the 2012 calendar, WWE has leaned heavily on part-timers like The Rock and Brock Lesnar.
If big names like these don't get in Christian's way back to the top, it'll be John Cena that does.
Even without a title, Cena has been the main event at a number of pay-per-views.  He's been their franchise player and WWE has centered the product around his rivalries.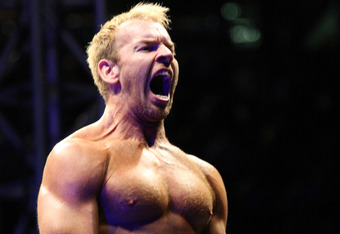 Gallo Images/Getty Images
Unless Christian is chosen as Cena's next foe, he may be left out of the limelight.  
As Dolph Ziggler, Daniel Bryan and Cody Rhodes become more popular and convince the company that they are the future, Christian is likely to get pushed aside to make room for these rising stars.  
Christian is in many ways just as talented as many of the men he will get passed over for.  He just needs the WWE to recognize that.