US Olympic Trials 2012: Thursday Event Schedule, TV Info, Preview and More
June 21, 2012

On Thursday, elite American athletes are set to compete in the U.S. Olympic Track and Field Trials in Eugene, Oreg., and in the U.S. Olympic Diving Trials in Seattle.
In terms of nationwide competition, it doesn't get any better than this.
Though most of the exciting track and field action kicks off on Friday, Thursday marks the official beginning with the finals in hammer throwing. And on the diving side, you can look for the synchronized diving final.
Here's everything (and more) you need to know about each event and how to make sure you don't miss a single moment of the qualifying action.

Why Olympic Trials?
In the case of track and field, swimming and gymnastics events, the countries participating in the Olympics are only permitted to enter a certain number of athletes. 
The trials are the means of determining the best of the best in each of the events. It's like the U.S.'s private Olympics in order to figure out who will be the best able to bring home the gold. In the case of some sports, like swimming, it's kind of a given that certain athletes will represent the U.S. For example, Michael Phelps—unless he totally bombs in the trials—will be in London in August.
In other sports such as the hammer throw, the field is wide open, which makes Thursday's trials even more significant.

Thursday's Schedule of Events (in ET)

Hammer Throw—Thursday, June 21 (via Tracktown USA)
| | | |
| --- | --- | --- |
| Time | Event | TV |
| 2:15 p.m. | Women's Trial |  N/A |
| 3:15 p.m. | Women's Trial | N/A |
| 4:15 p.m. | Women's Final | Comcast SportsNet (Regional, Ore.)  |
| 6:15 p.m. | Men's Trial | N/A |
| 7:15 p.m. | Men's Trial | N/A  |
| 8:15 p.m. | Men's Final | Comcast SportsNet (Regional, Ore.) |
| | | |
Synchronized Diving—Thursday, June 21 (via NBC Sports)
Women's 3-meter finals: 10 p.m.-12 a.m. ET, NBC Sports
Men's 10-meter finals: 12-2 a.m. ET, NBC Sports

What is Hammertime?
First and foremost, it is the U.S. Olympic Trials kickoff event, held at the Nike World Headquarters in Beaverton, Oreg.
The hammer throw is kind of like shot put, except instead of throwing a giant ball with your bare hands, you throw a heavy metal ball attached to a  wire. So instead of a hammer head, there's a ball at the end of the wire. The event has been a fixture at the Olympics since 1900, and whoever can throw the ball the farthest wins. 
According to the hammer throw's official website, the men's hammer weighs 16 pounds and is almost four feet long, and the women's hammer is 8.8 pounds and is 3/4 of an inch shorter than the men's hammer.
Hammer throwers are surrounded by netting (in order to protect participants from being struck by a wayward hammer, of course) and they must execute their throws from inside a seven-foot-wide circle. Usually, they swing the hammer around their heads a few times in order to gain momentum, and then they spin within the circle three or four times before throwing.
The men's and women's contenders will each participate in a qualifying event, and if they advance further, they will participate in the final hammer throwing event. The finals will be televised regionally in Oregon.
The trials aim to showcase 12 athletes in each men's and women's qualifier, and nine athletes will remain for the men and the women in the finals. The final three will qualify for London 2012. 

What is Synchronized Diving?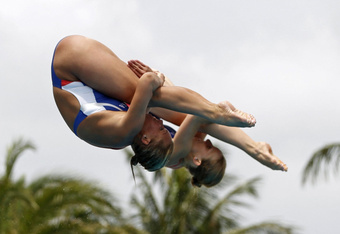 This, unlike the hammer throw, is a bit more familiar to most of us. It's been part of the Olympics since Sydney 2000, and according to iSport.com, it is defined as an event in which two divers perform similar dives at the same time.
Men are required to perform six dives, and two of them must have a degree of difficulty of 2.0. Women perform five dives, and two of them must have a degree of difficulty of 2.0. The remaining dives are up to the team's discretion and should showcase forward, backward, inward, reverse and/or twisting movement. 
Whichever team earns the highest cumulative score in the preliminaries, semifinals and finals wins. 

Hammer Thrower to Watch: Britney Henry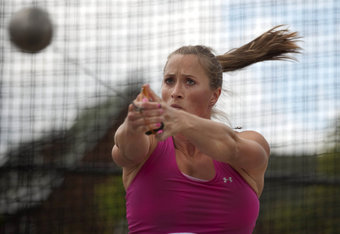 This 2007 graduate of the University of Oregon will have to improve upon her personal best of 233 feet and 10 inches, since the Olympic "A" standard—which you must exceed in order to qualify for London 2012—is 234 feet and seven inches, according to The Register-Guard's Bob Clark.
Though she's been satisfied with her performances in her 2012 competitions, Henry knows she needs to be better in order to finish in the top three on Thursday.
She told Clark:
I'm prepared to make my first [Olympic] team is the best way I can describe it. I've been training to be one of the best, and I'm prepared to do my best and go out there and finally wear the red, white and blue.
Regardless of how she finishes on Thursday, she'll continue training for the 2016 Olympics in Rio de Janeiro.

Synchronized Divers to Watch: Abby Johnston and Kelci Bryant
After the preliminary and semifinal trials in Seattle, these two held a slim lead over Kassidy Cook and Christina Loukas, coming up with 637.80 total points. Cook and Loukas finished with 631.29 points and fell behind after falling out of sync on their toughest dive in the preliminaries.
Now, in order to come out on top, Johnston and Bryant must sustain their momentum in the finals on Thursday night. It's going to be a tight race, but one of these two women's pairs will most likely be the best the USA has to show in London.