Manny Pacquiao Wants Rematch vs. Timothy Bradley After WBO Review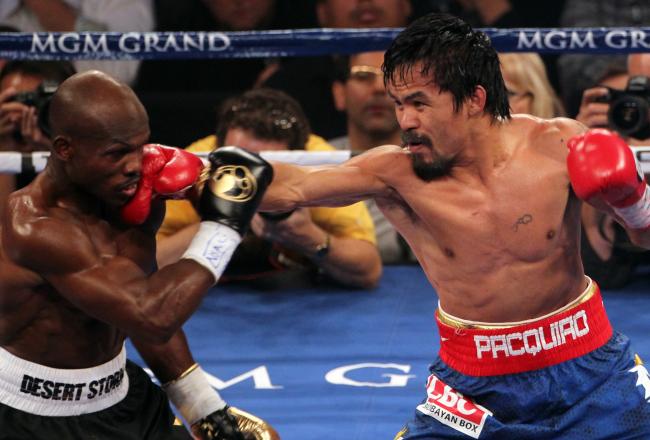 Jeff Bottari/Getty Images
A WBO review of Timothy Bradley's victory over Manny Pacquiao confirmed what most boxing fans have been saying all along: Pacquiao should have won the fight. The official result won't change, but the former welterweight champion wants a rematch to settle the score.
Dan Rafael of ESPN reports that Pacquiao said he wouldn't want the belt handed back to him and has an automatic rematch clause for a chance to win it back. All five WBO judges scored the first bout in his favor during the review.
Taking on Bradley again would be the right move for Pac-Man. Even though the vast majority of people involved with boxing believe he defeated Bradley, the official record still shows the bout as a loss. That fact alone should fuel Pacquiao's fire.
The former WBO welterweight champion was coming off a lackluster performance against Juan Manuel Marquez heading into the Bradley fight. Needless to say, Pacquiao needs a dominant showing in his next fight to prove he is still one of the top two boxers in the world.
There's no better way to do that than by getting revenge against Bradley, who remains undefeated despite the controversial ruling. Not only would a victory get him his title back, but it would also help the sport get past one of the most puzzling decisions in its history.
Who would win a potential rematch?
The other reason a second Bradley fight makes sense for Pacquiao is a lack of other potential opponents. Floyd Mayweather still doesn't seem like a realistic option, and nobody else is really deserving of the high-profile bout.
Even though it was a questionable decision, Bradley did enough to convince two judges he beat the eight-division champion. That's enough to warrant another fight with Pacquiao to prove if he can go the distance and win more decisively.
The rematch is a really good opportunity for both boxers to prove something. Moving on to different opponents wouldn't generate nearly the same type of hype as a rematch. Needless to say, boxing needs bouts like this to stay in the spotlight.
That said, it all comes down to Bob Arum. The powerful promoter will ultimately decide the best course of action for both guys.
Pacquiao should do whatever it takes to convince Arum a rematch is the right way to go. He will get a lot of guaranteed money no matter what, but beating Bradley would bring satisfaction to him, his native country and boxing fans around the globe.
This article is
What is the duplicate article?
Why is this article offensive?
Where is this article plagiarized from?
Why is this article poorly edited?