St. Louis Cardinals: 11 Best Team Commercials of All Time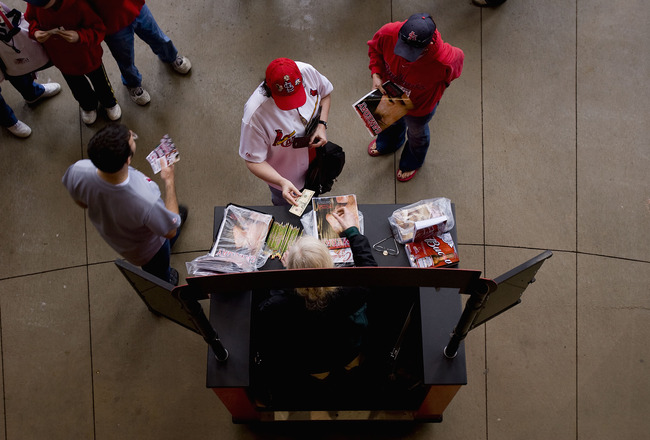 Dilip Vishwanat/Getty Images
Every year the St. Louis Cardinals come out with a series of commercials promoting the team. Typically, they are all hilarious.
The commercials are almost always filmed on off-days during their annual spring training camp in Jupiter, FL.
Just for fun I've compiled a few of the all-time best ones, so sit back and get ready to laugh.
There's a New Sheriff in Town
This commercial with Brendan Ryan is one of everyone's favorites. The funniest part is that as Ryan spins to grow his mustache, Ryan Ludwick and Skip Schumaker are looking at him like he's crazy.
Yadi's Gold Glove
In this commercial, Colby Rasmus tosses Gold Glove catcher Yadier Molina his glove and in turn winds up with gold all over his hand.
Pass the Hot Dog
This video features Adam Wainwright again, but in this one he's not happy. Must have been a rough outing. They brought in Jason Isringhausen to seal the deal.
Matt Holliday Home Run Challenge
Matt Holliday shows off his skills in this funny piece featuring Colby Rasmus, Jon Jay and Jaime Garcia.
The Fungo
In this one, Red Schoendienst gets himself into some trouble.
The Powdered Donut
In this video, Jason Motte is disappointed that the powdered donuts are gone, but there's an easy solution.
Pick a Number
I've always wondered if this is pretty close to what trying to pick a number as a new Cardinal is actually like.
Get Your Beard on
In this particular case, you stick with what works and that's exactly what these Cardinals did.
No Stealing Second
Fredbird learns a lesson many potential base thieves have learned in years past.
Top Prize—on Playing with LaRussa
This commercial definitely deserves top billing. The list, originally intended for 10, has been expanded just to make room for this one.
Keep Reading

St Louis Cardinals: Like this team?