Mike Miller has been a valuable addition to the Miami Heat's quest for an NBA championship.
However, the time has now come for he and the team to part ways.
Miller averaged just 6.1 points per game this season while taking home $5.4 million in salary. That $5.4 million is money the Heat could desperately use to shore up some serious holes in their roster.
Miami, although in the NBA Finals and now just one win away from being crowned champions, still lack a worthwhile center and point guard.
Amnestying MIke Miller, who is owed $5.8 million for next season and $6.2 million in 2013-14, frees up funds to target an upgrade at one of those positions.
One name often mentioned in relation to Miami is veteran Phoenix Suns point guard Steve Nash. He has made it clear his time in Phoenix is over and that he is willing to take a pay cut in order to finally add that elusive championship to his already Hall of Fame worthy achievement list.
Nash's court vision would transform Miami from elite to all-time. It would give them four legitimate superstars in their starting lineup. When is the last time any team could boast such an illustrious core?
The answer is never, Miami would be setting a precedent and would also run the league with ease. One of their major issues this season has been offensive malaise creeping in at times. The Heat offense, built around the individual talents of LeBron James, Dwyane Wade and Chris Bosh is prone to stagnation when none of the three can find a way to score and the rest of the team is reduced to standing in the corners watching missed shots.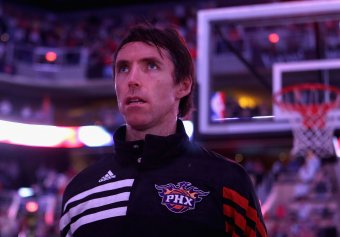 Christian Petersen/Getty Images
With Nash, the Heat would be able to expect someone who can run a recognized offense and keep the scoreboard ticking over.
The other Heat issue is bench scoring. That is what Mike Miller's role is supposed to be, though at 6.1 points per game, he is hardly performing it exceptionally well.
Injuries have taken their toll on the sharpshooter's talents. Just watch Miller try and make it back down court quickly and read the pain written all over his face.
One possibility for the Heat is to amnesty Miller and make a run at some more bench production.
The best fit? Jason Terry.
He tortured Miami in the 2011 Finals and would be a vital addition despite his 35 years of age. He averaged a staggering 15 points per game this past season while coming off the bench, playing under 32 minutes each night. He would not command a bank-busting salary to play on South Beach either.
For the Heat, the chance to improve is on the table. They just have to make the call with Miller in order to make the next step towards all-time greatness.