The Jacksonville Jaguars Will Win Super Bowl XLVII If...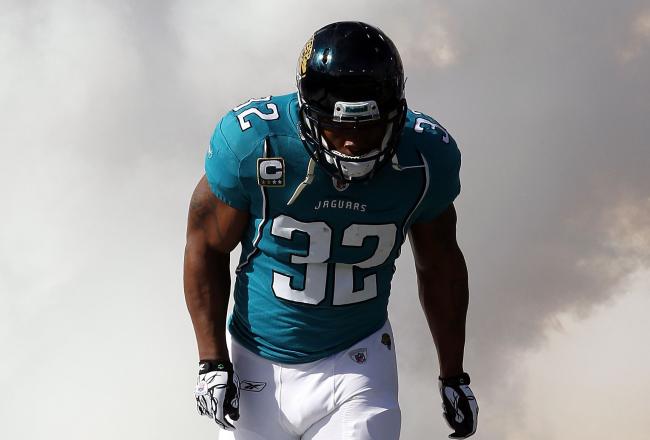 The only Jaguar that's visible most Sundays
Sam Greenwood/Getty Images
Today, my week-long series on what each team in the AFC South has to do to win the Super Bowl wraps up with the Jacksonville Jaguars.
I'm not going to lie to you, this is a tough case to make. It is not, however, nearly as difficult as the case I made for the Colts yesterday. I firmly believe the Jaguars are one player away from being a serious contender. Unfortunately, that one player is a quarterback.
Can the Jaguars go from five wins in the regular season to four in the postseason? They can if they take the following steps.
1. They have to definitively solve the quarterback question.
I'm not going to turn this into a "bash Blaine" party. Regardless of where you stand on Blaine Gabbert, no one disputes that he's the biggest question mark on the Jaguars nor that he was the weakest link on the team last year.
There is precious little correlation between regular season success and postseason success in the modern NFL. The year-end "mini-tournament" that is the playoffs has become an almost random crap shoot. The one thing all the teams that have made the Super Bowl in recent years have in common is great quarterback play.
Since 2007, the quarterbacks to play in the Super Bowl were Brady, Peyton Manning, Eli Manning, Roethlisberger, Warner, Brees and Rodgers. While 2007 Eli Manning was easily the worst of that bunch, he was great in the playoffs and was outstanding in 2011.
The Jaguars aren't going to win the Super Bowl without good play from their passer. Yes, the Ravens' model or the 49ers' model could conceivably work. After all, both teams were close and even should have won their conferences. Both of those teams were significantly better on defense than Jags. More on that thought in a moment.
No, if the Jaguars want to compete at the highest level, they need a breakout year. If it's Gabbert suddenly becoming better than league average, fine. If it's Chad Henne elevating his game to that of a top-12 quarterback, that will work, too. I actually find that far more likely.
The bottom line is that the Jaguars aren't going to the playoffs or anywhere else unless they get answers under center.
2. The defense must develop an identity.
The Jaguars had a well-rounded defense in 2011. They finished fifth overall in DVOA. They were fifth against the pass and fifth against the run. That's good, but it wasn't great.
I mentioned the 49ers and Ravens earlier. The 49ers were first against the run. The Ravens were first against the pass. Both teams were good against the other element, but that's in part because they made offenses one-dimensional.
The defense was also wildly inconsistent in 2011. The Jaguars defense, for as good as it was, allowed more points than the Titans, Browns, Eagles and Seahawks. None of those teams made the playoffs. Much of that was due to the offensive struggles of the team, but a lot had to do with inconsistent play.
The Jaguars defense was 30th in the NFL in variance from week to week. That means you never knew what they were going to do from one game to another. They held seven opponents to 16 points or less.
That's good.
They gave up 30 or more points four times.
That's bad.
For a team with quarterback issues, the defense can't be "sneaky good." It can't be "solid." It has to be dominant. That means shutting one side of the other offense down completely, and it means showing up every week.
3. They need to find a new star.
The Jags have all the wattage of an Easy Bake Oven. This team can't be Maurice and the 21 Dwarfs anymore.
The Jaguars don't need stars to sell tickets or any such nonsense. They need stars because stars make plays that win games.
Jacksonville needs highlight reels featuring someone else.
Other than old MoJo, the Jaguars' second-leading touchdown scorer was Jason Hill with three.
No one on defense had 10 sacks.
No one forced more than a handful of turnovers.
Jacksonville has talented players. Marcedes Lewis, Jeremy Mincey and Derek Cox can all play. None of them are stars.
To borrow a baseball metaphor, this team has a lot of high-average players, but no one with power. On both sides of the ball, the Jaguars have to have someone step up and make game-winning plays.
It's not about finding "clutch" guys. It's about finding guys who make the kind of plays that after the game, you can point to and say, "The turning point was when he made that strip sack."
When you add star-power to a solid roster, you generate wins in bunches.
I'm a defender of the 2012 Jaguars. They aren't a disaster. This is the kind of team that suddenly rises up and makes a run for the playoffs. They need several players to take a major step forward in order for it to happen, but it's not as impossible as the five wins from last year would imply.
Is this team going to the playoffs? No, I don't think it is, but that's mostly because I'm a Gabbert-denier. If you tell me the Jaguars are going to get decent quarterback play, however, I'll tell you to watch out.
They will surprise people.
This article is
What is the duplicate article?
Why is this article offensive?
Where is this article plagiarized from?
Why is this article poorly edited?