WWE: How to Make 5 Good Performers into Great Ones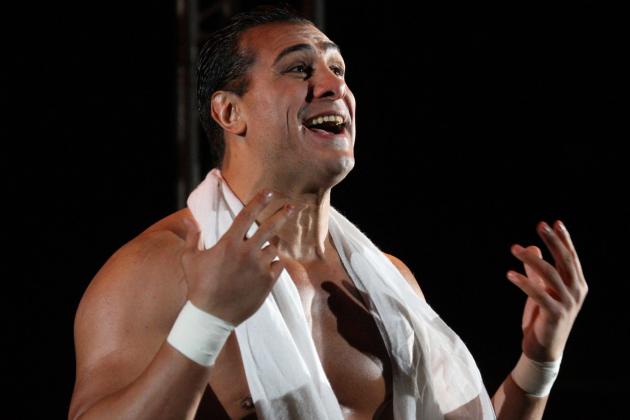 Gallo Images/Getty Images

I recently wrote an article about Alberto Del Rio and how he is on the verge of quitting/falling from grace in WWE's eyes; one of the things I touched on was how his character has not really progressed because, due to not having to pay his WWE dues (remember: Vince likes guys that he creates, regardless of outside game), he may not have felt any need to improve.
One of the most consistent comments I received was how, exactly, Del Rio could improve, given that WWE gave him the gimmick of the Mexican aristocrat. One could argue that Del Rio can't do more than what's given him.
That's bunk.
Many performers throughout WWE's history have been given a gimmick that may not have been that great, but they took it and made magic with it. Guys like Stone Cold Steve Austin, Undertaker, John Cena and JBL come to mind as ones who were given the template, but filled in the details in a manner most spectacular.
Let's take JBL, the closest comparison to Del Rio: His Wall Street Investor Super-Patriot gimmick was iffy at first, but his amazing promo skills and ability to draw mega heat took a lower-midcard performer to the world championship picture.
Del Rio, with a similar gimmick, has slowly been sliding into mediocrity.
So let's take a look at some of the current performers who, with a little creativity on their part and some more hard work (and maybe getting in the good graces of the powers that be so that they can get some more leeway with their character), could become big draws and—perhaps in the long run—world champions.
Call it "The Fix," if you will.
Begin Slideshow

»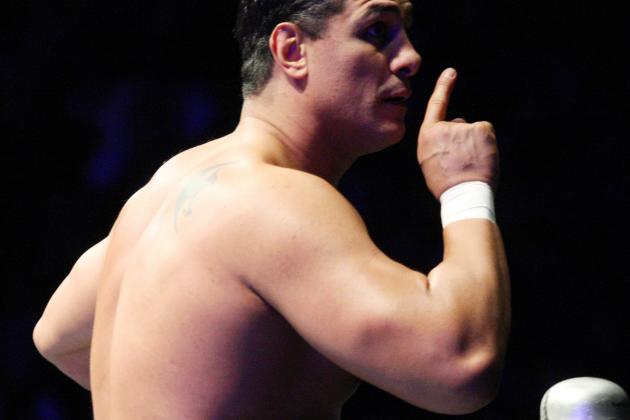 Gallo Images/Getty Images

THE FIX: Go back to being el hombre fenomenal
Naturally, I feel that it would be most appropriate to begin with Del Rio, since he's the inspiration for this article.
Del Rio's problem, more than anything else, is that he's boring. Not that he's bad, mind you; he has a good build, he's a terrific in-ring worker, and (despite his accent) he cuts decent promos. Guys like that have had a history of being hugely successful in WWE.
However, despite some early successes, Del Rio has not exactly set the world on fire.
What's really plaguing Del Rio is that he just seems to be content playing the Mexican aristocrat and leaving it at that. What he should be doing is living up to his original tagline: el hombre fenomenal. The phenomenal man.
What is phenomenal about Alberto Del Rio? Nothing. But what could be phenomenal about him? Well, a lot: He was one of the first heel performers that I can remember to debut against an established star (Rey Mysterio) and beat him cleanly by submission.
Del Rio, early on in his career, did not win underhandedly. He came in, he smiled, and he beat you.
Not since Kurt Angle and Brock Lesnar has a heel performer consistently won matches cleanly; however, after his early successes, Del Rio become a typical heel, often capitalizing on deception to win instead of pure talent.
That's the problem with Del Rio, more than anything. His character is an aristocratic, holier-than-thou villain who smiles as he beats you, giving off the air of a two-faced sociopath who values fancy things but not other people. However, he has become a generic cocky heel instead of the ruthless monster he could be.
If Del Rio is going to become interesting again, he has to show off the in-ring skill that made him famous. Not only that, but he has to become vicious and frightening in dismantling his opponents, all while smiling and riding his fancy cars to the ring.
When was the last time WWE has presented such a positively demonic character such as that? I can't remember one.
Let this be a challenge to you, Del Rio: Drop the typical cheating heel act; go back to squashing big-name babyfaces with arrogance and sadistic violence. If you do, you will be a champion and a legend.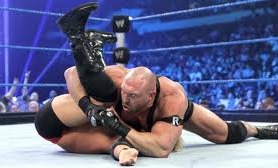 Photo courtesy of Facebook.com (Raw & Smackdown page)
THE FIX: Be more efficient in the ring
I know the obvious choice would be "get him some real competition," but the point of this article is more on what the performers themselves can do, not what Creative can do. So, instead of talking about Ryback's lack of a real feud, I'll touch on the likely root cause of his current stagnation: his in-ring skills.
Ryback needs to fight someone legitimate to make him into something special. However, that's not going to happen until other guys want to step into the ring with him. I know that stories have leaked about how people don't want to get into the ring with him, likely because he's dangerous (though I haven't seen official confirmation).
In order for people to want to get into the ring with him, he's going to have to focus on being more efficient. Notice I said "efficient" and not "violent" or "powerful," and for a reason: Ryback actually moves quite well in the ring for a jacked-up freak of nature, so his more basic moves tend to look more devastating than they actually are.
That is an advantage for him, since it could, in theory, allow for him to focus on being safe in the ring while at the same time looking like a destructive monster.
Look at Goldberg, the guy that most people are comparing him to: Goldberg's big-time moves were a spear and a suplex slam. A spear is simply a running football tackle, and while I imagine it would knock the wind out of you, I doubt that a spear would really cause serious damage if done correctly. However, when the guy doing the spearing is running full speed and the guy taking the spear sells it just right, it looks totally devastating.
Same with the suplex slam, which is essentially being held upside down and then falling to the mat with the guy doing the slamming on top of you; it likely wouldn't cause terrible damage, but it looks incredibly powerful.
Ryback should focus more on similarly basic moves that he jacks up to look more devastating; for instance, I remember him recently using a fall-away slam where he threw his victim into his partner in the turnbuckle. Awesome-looking move. Yet we still see his military-press-dropped-into-a-backpack stunner and other such moves, not to mention his ridiculous looking half-Samoan Drop, half-Muscle Buster Finisher.
Ryback, if he's going to get a real feud, needs to focus on using safe, smart moves in the ring and making them look devastating; people will buy into it, and other competitors will want to take him on in the ring.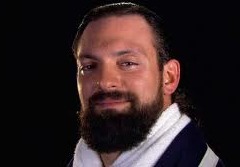 photo courtesy of wwe.com
THE FIX: Make the pompous grandiosity his secondary characteristic
I love Damien Sandow, and I hope that he becomes the main eventer I know he can become. But, as can be evidenced by the reactions he gets on SmackDown, he's not getting over as a heel as well as WWE might like.
Sure, he's getting heat, but when you watch the fans during a Sandow match or promo, it's obvious that a lot of them are sitting on their hands.
For Sandow to rise to the main event level, that needs to change. I believe that the main issue with Sandow is that, despite his gimmick being fresh and interesting, it's almost too much.
A heel who talks down to his audience in grandiose ways always gets over (i.e. 2008 Chris Jericho), but Sandow is almost overdoing it. The focus of his character is more on how pompous and intelligent he is than on what he actually plans to do about it.
He claims to be the "intellectual savior of the unwashed masses," but yet he refuses to compete in matches and spends more time wandering around with his fancy robe than he does competing. That's a shame, since Sandow has been a revelation in the ring; his ability to go from pompous to ruthless is fantastic, especially the way he pins opponents (the head-on-hand, the smirk…it's genius).
If he's going to save us from nonsense, he needs to find those ignoramuses (ignoramusii?) and pound the hell out of them. He needs to focus more on being a violent and destructive antagonist (which he excels at) and use that as the platform for his pedagogy, instead of the other way around. He needs to come down to the ring with his robe, efficiently dismantle his opponent, and then preach to the crowd about their ignorance.
Otherwise, he's a hypocrite. And when was the last time a hypocrite ever got over?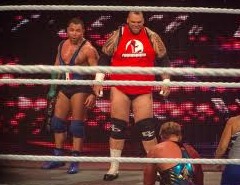 photo courtesy of en.wikipedia.org
THE FIX: Be funny and talented
Santino Marella is one of the most over superstars in WWE, and Brodus Clay is getting there. Their gimmicks are both similar in that they are, for the most part, comic relief who can also win matches.
That's fine, except when one of them holds a title; Santino has gone from loveable, hilarious underdog to a guy who jobs in 30 seconds while holding Raw's second-most important singles title.
Remember why Santino got over enough to be trusted with the U.S. Title? It's because, in his Elimination Chamber showdown with Daniel Bryan, he put on a hell of a show; Santino came oh so close to winning the title (even though we all knew he wasn't winning the strap), and people loved it.
People didn't love it because Santino is funny; people loved it because Santino is an excellent in-ring performer when he's given the chance.
I'm sure, given that Santino has been one of the most consistently over characters in the company over the past few years, that he could go into a Creative meeting and demand to be able to put on good matches and be amusing. He is one of the few guys who can do both.
Look at the guys who, historically, could both bring the funny and put on great matches: The Rock, Steve Austin, CM Punk, Kurt Angle, John Cena (sometimes)—all former world champions.
I'm not saying that Santino will become a world champion, but if they let him utilize his considerable in-ring skill and combine it with his charisma and sense of humor, he could make a lot more noise than you'd think.
Similarly, Brodus Clay's entire character has become a loveable dancing goofball; while it was fairly obvious that this gimmick was punishment for him tweeting about jobbing John Morrison out of the company, he has since gotten rather over with the crowd. But once he gets in the ring, all he does is squash his opponent.
One of Brodus Clay's main selling points on NXT was that he was a tremendous worker for a guy his size (he's not perfect, but he can work a good match for a scary-looking big man). WWE could let him dance, be goofy and then work a good match in the ring with someone in order to become not only entertaining but also credible.
How many big, scary, babyface performers are there in WWE other than Clay and Ryback?
It certainly wouldn't hurt to move Clay up the ladder into the upper-midcard scene, and it looks like they might be doing it with a pending Big Show feud. However, before they can make him believable, he has to remind everyone why he almost won NXT and got a spot next to Del Rio at WrestleMania.
It's not too late. Make us laugh, guys, but also wow us with your talent.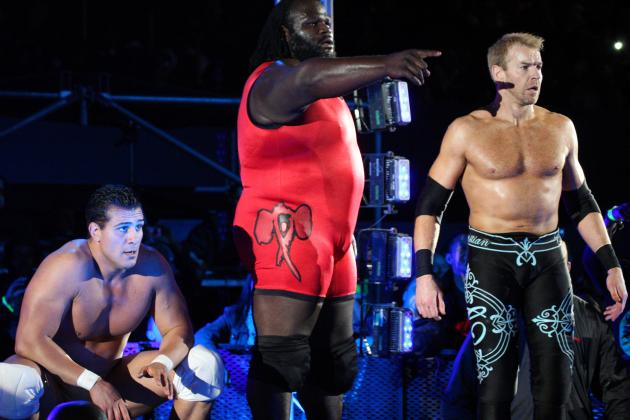 Gallo Images/Getty Images

I picked a handful of guys to focus on in these slides, ones with the most obvious fixes (in my eyes).
But there are, naturally, many more performers that could benefit from a few fixes here and there; if they do it, they could become huge players in the company.
Who are some guys that you think could be fixed, and how would you do it?