NBA Finals Schedule 2012: Keys to a Thunder Road Victory in Game 5
June 21, 2012

Mike Ehrmann/Getty Images
The Oklahoma City Thunder must change a number of things to avoid making Game 5 their swan song.
Three-point shooting and James Harden must be better, and Scott Brooks has to make sure his team stays focused. Focus will be required for the Thunder to overcome the series deficit and to ensure Miami doesn't go on any devastating runs.
I would think most people had this NBA Finals series going the distance. At the very least, six games seemed reasonable.
Now, Miami is on the verge of coronation in Game 5.
Let's see what the Thunder must do to bring this series back home.
Perimeter Scoring and Defense
Three-point shooting and perimeter defense will be a decisive factor in Thursday's Game 5.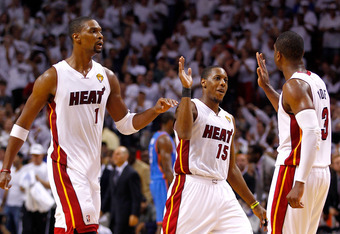 Mike Ehrmann/Getty Images
In Game 4, the Thunder went 3-for-16 (18.8 percent) from beyond the arc while Miami knocked down 10-of-26 (38.5 percent). Kevin Durant, James Harden and Russell Westbrook all must improve from three-point land, and the Thunder must stay on Shane Battier, Mario Chalmers and James Jones.
Closing out on shooters is the top priority. Making outside shots would be beneficial, but the Thunder are going to win this game on the defensive end—if they win at all.
Oklahoma City must rotate quickly on defense, know the whereabouts of Miami's marksmen and eliminate LeBron James' passing options when he drives. James' first look is (almost) always toward the perimeter.
Knocking down triples, and defending them, will allow the Thunder to manage momentum. More importantly, it will vastly improve the Thunder's chances of taking this series back to their home crowd.
James Harden
Harden is battling a bruised hand, but he will play in Game 5. Hopefully, for the Thunder's sake, he plays better than he has in recent games.
Harden is 13-of-37 from the floor in four NBA Finals games so far. He appears reluctant to shoot and, even when he does, things are just "off."
The Thunder need their third wheel to perform up to his potential in Game 5. His silky-smooth game is unique to this Thunder team, and they can't find his playmaking ability with any other player.
Without Harden, the Thunder will not win Thursday night. There's no other way around it.
He either provides an obvious advantage, or he puts the Thunder in a bad position.
Focus
Game 4 was the first time Oklahoma City came out firing in the first quarter. They were clicking on all cylinders, and they were obviously the better team through the game's first frame.
Instead of holding that momentum, they lost focus and Miami came storming back throughout the second quarter. That momentum continued into the start of the second half.
Oklahoma City has to keep their eyes on the prize Thursday night. They must play hungry and motivated on both ends of the floor. And when they get Miami down, they must keep them there.
At times in this series, the Thunder have definitely looked their age. They seem overwhelmed at times, and they struggle to stand up to the pressure.
Pressure hasn't been anything yet. Tonight's win-or-go-home scenario should provide all the motivation they need to step up to the plate.