Euro 2012: France's Squad Disharmony Will See Spain Ease Through to Semifinals
June 21, 2012

Lars Baron/Getty Images
History has an uncanny knack of repeating itself.
In the case of the French national team, squad disharmony is a recurring theme throughout major championships.
Under Raymond Domenech, the 2010 World Cup was riddled with internal conflict. This resulted in Nicolas Anelka being dismissed from the squad amid a player strike, as they finished at the bottom of their group.
Call it a French disposition, or perhaps you can call it desire. Whatever it is, it has proven to be detrimental in the past, and against Spain, it could prove fatal.
Following a lacklustre and unexpected 2-0 defeat to Sweden in Ukraine on Tuesday, the French turned the knife upon themselves in what's being described as a heated disagreement.
According to the French head coach Laurent Blanc:
Yes, it got a bit heated, but then everyone had a cold shower. It shows that there was a bit of electricity. I hope there will be against Spain, because we'll need it.
The most talkative of the those involved is current Chelsea winger Florent Malouda.
Past occurrences have shown the foreboding outcome that accompanies the most experienced member of the squad being so vocal:
What I saw awoke some demons in me and I didn't want to express myself. Because in the heat of the moment there was the risk of launching rockets and missiles. There are some things to sort out and sometimes you can really hurt someone with a comment that you make.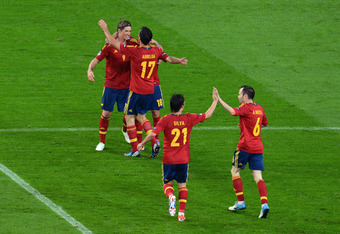 Shaun Botterill/Getty Images
Against a Spanish side that has never been anything but unified, France will struggle to land any telling blows.
One of Spain's greatest assets is the ability to maintain possession, reducing their opponents' chances on goal and frustrating them.
This style will only aim to bring to the fore any underlying frustrations in the French camp. Should the 1998 World Cup champions field a team of individuals, the scoreline could get embarrassing. 
If the comments of Florent Malouda are to be believed, the French players are more concerned with the individual than the collective effort:
Balance is fragile, and when you start thinking you're at the Euro to shine individually then the wheels can start to come off. You pay very dearly for every error at a Euro. There's personal objectives and then there are collective objectives.
If France are trailing at halftime against Spain, the wheels may indeed come off. 
The appointment of Blanc was seen as the step needed to move the national team forward.
Unfortunately, it seems to have only highlighted an issue that is endemic to French squads, and not solely contained to their football teams, either.
Perhaps the disagreements will galvanize the French efforts, as has been the case previously.
I could buy into this if it was against anyone other than the reigning World and European champions.