Should the San Francisco 49ers Show Dashon Goldson the Money?
June 21, 2012

Thearon W. Henderson/Getty Images
Dashon Goldson was one of eight San Francisco 49ers players to make the 2012 NFC Pro Bowl roster. He was also the only one not to show up for mandatory minicamp last week.
While most players who haven't signed their franchise tender didn't report to camp around the league, this takes on a special significance for the 49ers. They don't have much depth outside of Goldson at the free safety position and the relationship between their front office and the talented safety has been volatile in the past. 
That being said, most people expect Goldson to sign his tender and report to camp late next month. That doesn't really seem to be in question. After all, he isn't going to give up $6.2 million for 2012.
The major issue here is whether the 49ers plan to sign Goldson to a long-term contract or let him walk following the 2012 season. Despite having a Pro Bowl season in 2011, Goldson has been wildly inconsistent with his play during his career by the bay. This is evidenced by the lack of interest in the safety last offseason.
San Francisco has played it close to the vest with Goldson fully understanding his erratic play in recent seasons. There is no indication that they plan to change this approach just because the extension deadline is looming in less than a month.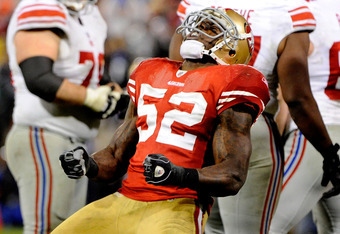 Thearon W. Henderson/Getty Images
They have to take a look at his whole body of work, not just a 2011 season that saw Goldson dominate as a dynamic duo with Donte Whitner at safety. If they were just going off last season he would already have a long-term deal inked.
San Francisco is also probably taking into account their salary cap situation beyond this season, which seems to be in good standing. As of now, San Francisco doesn't have one single player allocated to make more than $7.5 million in 2013. Of course this is going to change with contract restructurings and extensions, but that isn't too shabby.
This would seem to indicate that the 49ers are in position to give Goldson top safety money. However, that is just on the surface.
Patrick Willis, Carlos Rogers and Ahmad Brooks are all going to see substantial jumps in their salaries in future years. NaVorro Bowman, Michael Crabtree, Chris Culliver and Mike Iupati, among others, are also going to have to be extended sooner rather than later. 
Good organizations look to the future and I am relatively certain this is what the 49ers are going.
Is Goldson Worth it?
This is the million dollar question, pun intended. If the 49ers felt Goldson was worth top of the line money I am pretty sure that they would have come to some middle ground with the safety. As it stands, the two sides are far apart.
Matt Maiocco of Comcast Sports Net seems to believe that the Tennessee Titans extension with Michael Griffin will have some bearing on the Goldson negotiations.
Those numbers are almost identical to the figure I've heard from league sources in connection with a possible multi-year deal for Goldson. The sides continue to be in contact about working out a long-term contract.
To be clear, Griffin signed a five-year extension worth $35 million with $15 million of it guaranteed earlier this week. Maiocco also noted that Goldson was seeking about $8 million last offseason. It is unknown whether those demands have dropped at this point.
That's a lot of money for a one-time Pro Bowl performer playing a position that isn't considered incredibly important on the defensive side of the ball.
How Key is Goldson to the 49ers' Long-Term Success?
Short form answer is not too much. San Francisco runs a 3-4 defensive scheme that is predicated on top level play from their front seven. The importance to success for this unit relies heavily on strong play from the inside linebacker, pass rush and run-stuffing defensive tackle positions. The secondary, mainly the safeties, are a product of strong front seven play.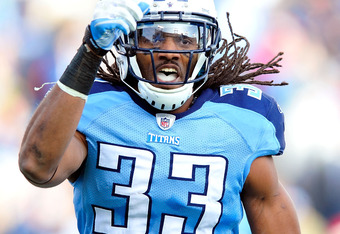 Grant Halverson/Getty Images
With Patrick Willis, Aldon Smith, Ray McDonald and hopefully NaVorro Bowman in the fold long-term, this unit is going to be perfectly fine.
Why pay a safety that lacks coverage ability in the range of $8 million per season when that isn't where the strength of the unit is going to be?
Conclusion
There is no threat of Goldson not suiting up for the 49ers in 2012, which would be a huge blow to their defense. If the safety doesn't sign an extension, he can play out the season and hit the market next March. Of course, San Francisco could just slap the tag on him again.
That being said, there would be no reason to. What will have changed in six months? Pretty much nothing!
As it relates to the 49ers, there will be a ton of options at free safety following this year. According to CBS Sports, the safety position is going to be stacked in the 2013 NFL draft with six players projected to go in the top two rounds.
In short, the 49ers could let Goldson play the 2012 season under the franchise tender and let him walk if he is still demanding upwards towards eight million dollars per year.