NBA Draft 2012: Ranking the Top 10 Big Men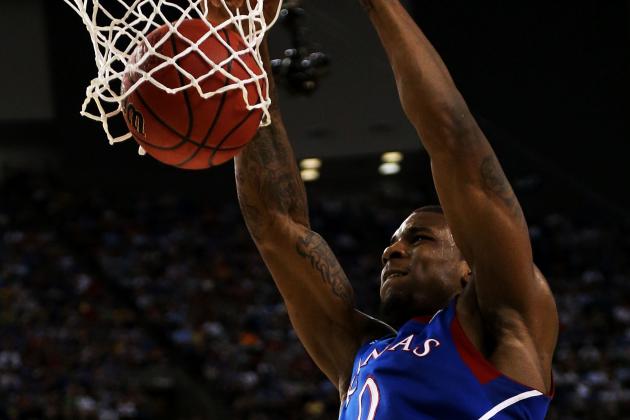 Ronald Martinez/Getty Images

A multitude of NBA teams are in need of a rookie behemoth, but which big men are the best of the best?
With the NBA draft just one short week away, teams in need of power forwards and centers will be looking at this selection of players as the cream of the crop.
These 10 giant draftees will be the new low-post muscle that their future teams have been looking for.
Begin Slideshow

»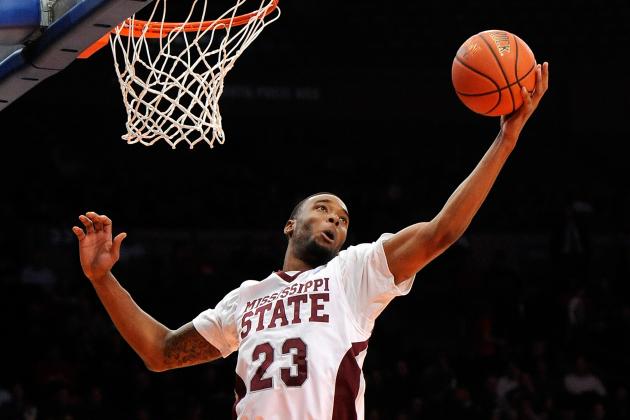 Patrick McDermott/Getty Images

At 6'11" and 230 pounds, Arnett Moultrie brings the perfect height to the power forward position but leaves a bit to be desired in the weight department.
If Moultrie intends to become a physical post player in the NBA, he'll need to add some bulk to his frame.
ESPN.com describes Moultrie as a long, athletic power forward with great quickness and versatility for a big man.
With excellent speed and quickness at the power forward position, Moultrie would be the ideal fit for a team that likes to get out and run.
His transition rebounding skills and all-around athleticism will make Moultrie an intriguing pick in the mid-to-late first round.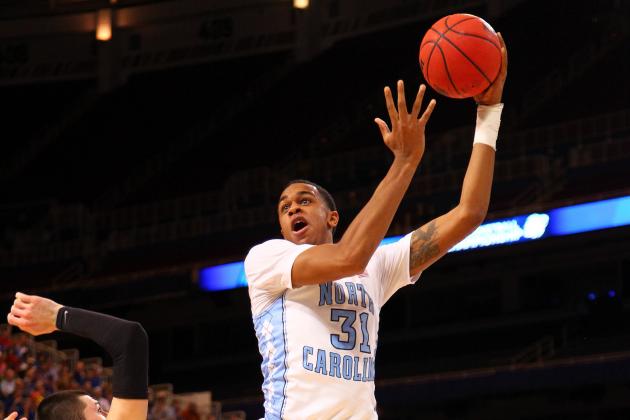 Dilip Vishwanat/Getty Images

John Henson suffers from a similar affliction as Arnett Moultrie.
At 6'11" and just 220 pounds, Henson needs to add more mass if he intends on becoming a truly valuable power forward.
Draftexpress.com predicts that Henson has the potential to become the next Marcus Camby in a best-case scenario, largely due to Henson's great shot-blocking instincts.
Henson has great defensive prowess and averaged 2.9 blocks in his final season with North Carolina.
His strengths lie largely in his athletic ability and agility for a power forward, according to WalterFootball.com.
If Henson can bulk up and become more physical in the post, he could be a quality starting option in the NBA.
Henson has decent offensive post moves and is a solid rebounder, but he will need to improve somewhat in both categories in order to reach his full potential.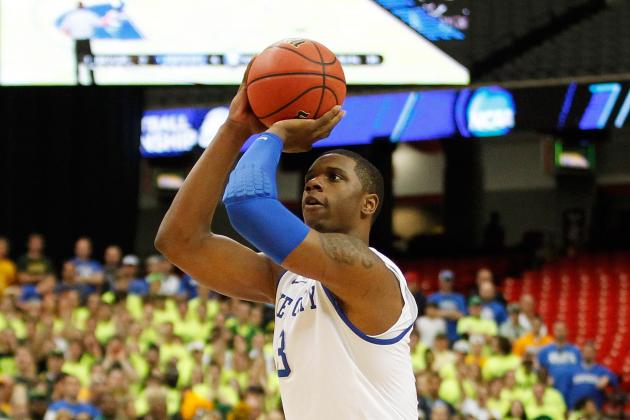 Streeter Lecka/Getty Images

Terrence Jones was the big man on campus during his first season at UK but was overshadowed by Anthony Davis in his sophomore campaign.
Jones still averaged 12.5 points per game and 7.0 rebounds per game on his way to helping the Wildcats win an NCAA championship.
Swishscout.com lists Jones' strengths as his size (6'10", 250 pounds), versatility, rebounding, ball handling and his offensive and defensive abilities around the rim.
Sounds like Jones is a sure thing, right?
He'll definitely need to improve on establishing himself as a power forward, as he has a tendency to settle for shots around the perimeter.
Jones has the athletic potential to become the next Josh Smith but often settles too much on his athletic ability rather than skill and fundamentals, according to Swishscout.com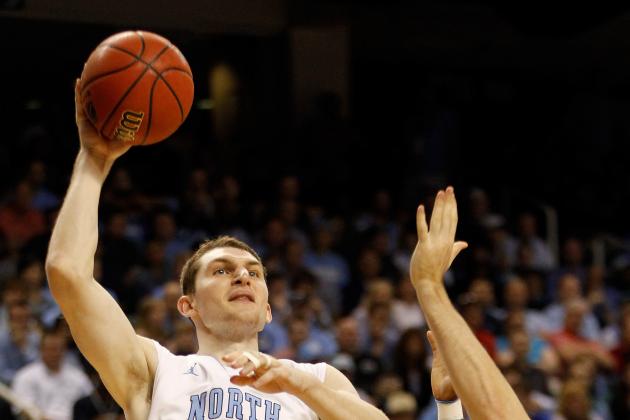 Streeter Lecka/Getty Images

The second big fella coming out of North Carolina on this list is 22-year-old Tyler Zeller.
Zeller averaged an impressive 16.5 points per game along with 9.3 rebounds per game in his senior season with the Tar Heels.
He also improved in just about every major statistical category from the season before.
His true center size at 7'0", 250 pounds makes Zeller an enticing big man who could potentially be a lottery pick.
One of the main drawbacks in Zeller's game is that he has already played four seasons in college and isn't likely to have a great deal more potential than what we've seen.
Several scouts note that Zeller is a very polished player, with great size and physicality, but he lacks some athletic ability compared to other players on this list.
Zeller's great fundamentals and true center stature should make him an effective player at the next level.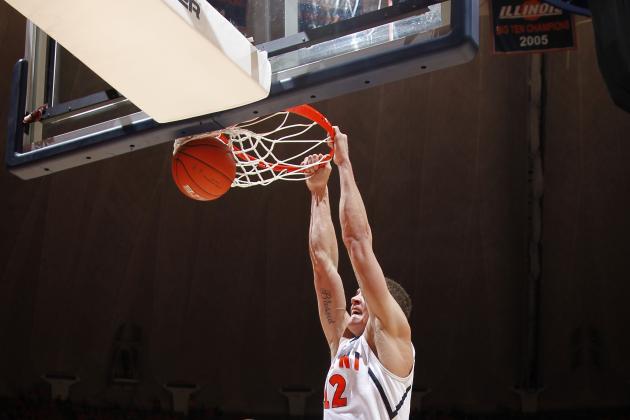 Joe Robbins/Getty Images

Meyers Leonard is another player with true center size at 7'1" and 245 pounds.
Leonard went from barely playing in his freshman season and averaging just 2.1 points per game to averaging just under 14 points per game and 8.2 rebounds.
This dramatic leap in statistics shows that Leonard is still developing and will have great potential as he enters into the NBA.
Swishscout.com highlights Leonard's shooting ability for a big man, as well as his rebounding ability, offensive post game and overall athletic ability.
It is also noted that Leonard can get bullied in the paint and will need to become more of a "banger" in the post.
With some great offensive intangibles and an all-around game that is still developing, Leonard should hear his name called relatively early in the first round come June 28.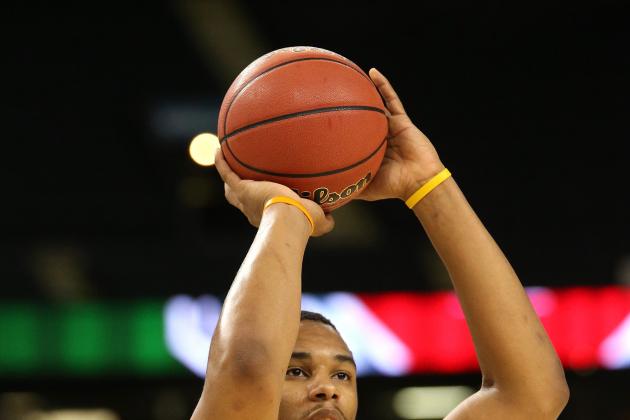 Ronald Martinez/Getty Images

At 270 pounds on just a 6'9" frame, Jared Sullinger is one of the most physically mature players in this year's draft.
However, his massive size may have been the cause of some of Sully's injury problems.
ESPN.com recently reported that Sullinger was medically red-flagged at the draft combine for a lower back condition.
This news will likely hurt Sullinger's draft stock, but there's no questioning Sullinger's remaining status as one of the best big men in the draft.
Sullinger was able to lead Ohio State in scoring during his two years in Columbus and was one of the premiere post players in the country.
He holds a bevy of offensive post moves and loves to live in the lower block as a very physical power forward, according to WalterFootball.com.
Sullinger will mainly need to improve on his athleticism but undoubtedly remains a great draft prospect.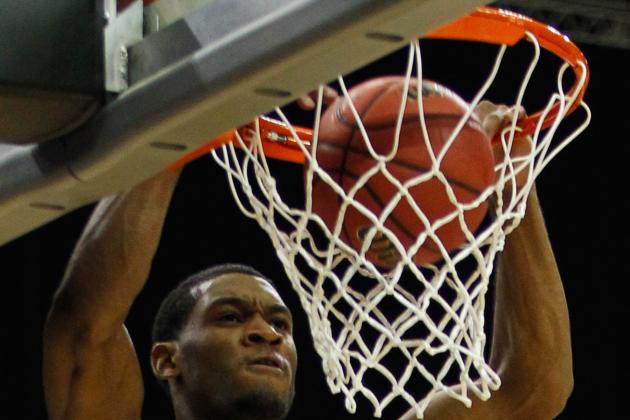 Streeter Lecka/Getty Images

At 6'11", Perry Jones III is one of the tallest on this list yet probably plays the smallest.
Jones did not play as a traditional power forward during his time at Baylor, but he remained a highly effective player for the Bears.
Swishscout.com has Jones's best-case scenario as developing into the nest Rashard Lewis, and his worse-case scenario as turning out as another Tyrus Thomas.
On potential alone, Jones could be considered one of the top three players in the draft, but his inability to cultivate himself into a consistently effective player will surround himself with question marks.
Jones is a long, athletic and versatile forward with great offensive and rebounding abilities, according to Swishscout.com.
The 20-year-old power forward is still a very "raw" player but could easily develop into a great NBA starter if he puts in the work.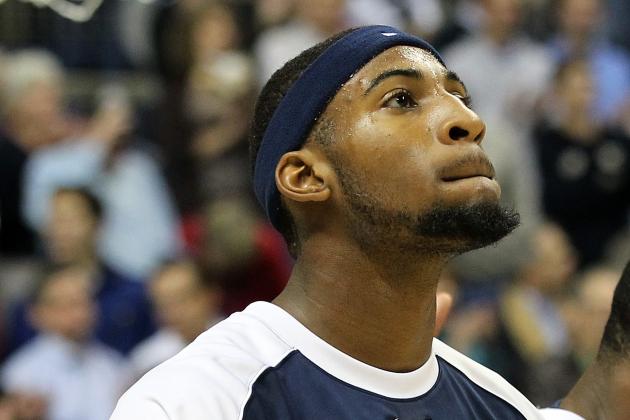 Jim Rogash/Getty Images

Drummond is another player who will be somewhat of a developmental project, but he has the tools to become an elite center.
Drummond has the best size of any center in the draft at 6'11", 270 pounds.
With such a large frame, it is hard to believe that Drummond has such incredible athleticism, but that is what has his draft stock so high.
Drummond is about as high-risk-high-reward of a player that will be seen in the draft.
He is seen as a large, imposing defender with a great ability to run the floor, finish at the rim and rebound around the basket, according to WalterFootball.com
Drummond is also listed as showing a lack of interest at points in the game and having an overall unpolished basketball game.
The Connecticut product is far from finished but certainly has the potential to be one of the next great NBA centers.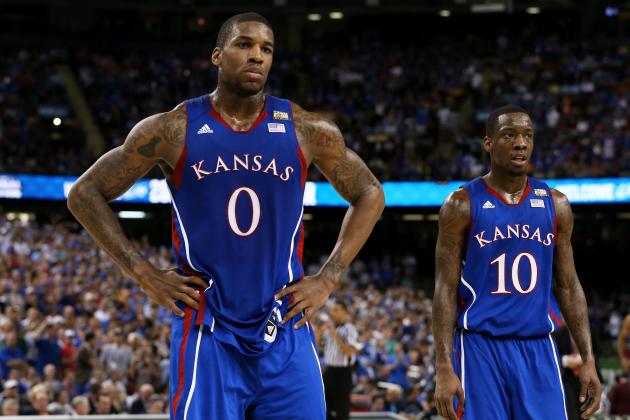 Jeff Gross/Getty Images

Thomas Robinson may have been the most improved player in all of college basketball last season.
The 6'9" forward nearly doubled his scoring and rebound totals from the previous season and was runner-up to Anthony Davis for Naismith Player of the Year.
As an NBA prospect, Robinson still trails Anthony Davis, but that doesn't mean he can't be a tremendous power forward at the pro level.
Scouting reports suggest that Robinson has an endless motor and is extremely effective in the post, despite being considered undersized by some.
Robinson has a ferocity around the basket that make him very hard to guard or keep off the boards.
T-Rob has great potential at the next level because of his endless athletic ability and work ethic, as well as what he has shown offensively at the collegiate level.
The Kansas forward is a virtual lock for a top-five pick on June 28.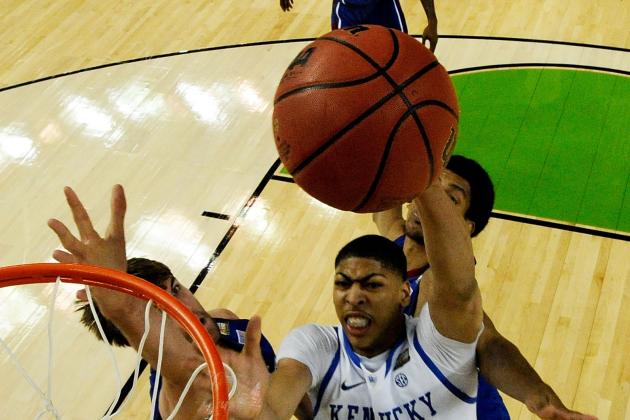 Pool/Getty Images

Coming into his freshman season at Kentucky, it was uncertain if Anthony Davis could live up to all of the incredible hype surrounding him.
One Naismith Player of the Year award and national championship later, it is apparent that Davis not only lived up to the hype, he exceeded it.
Now, Davis is the consensus No.1 prospect heading into next week's draft and will be pressured by even more hype entering his rookie season.
Judging by how he handled the limelight at UK, I don't see Davis having a hard time living up to his potential in the NBA.
Davis is one of the most shockingly impressive physical specimens we've seen in years, and his limitless athletic ability and unbelievable defensive prowess will allow him to flourish as he begins his NBA career.
All I can say is: Fear the brow.