Jerry Sandusky and Penn State: Once This Trial Is Over, Please Go Away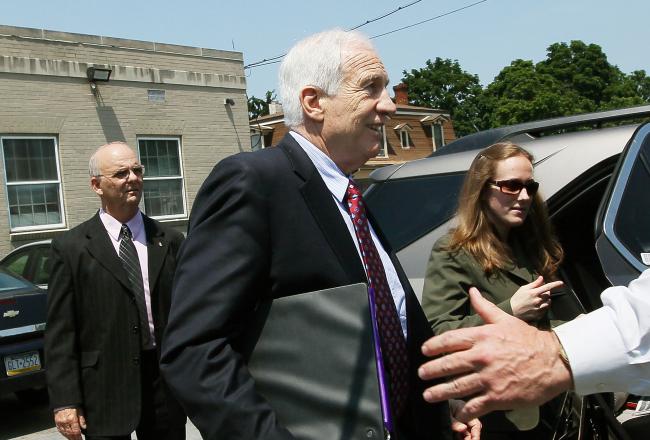 Out in the open air. For awhile longer, at least.
Mark Wilson/Getty Images
A Centre County, Pennsylvania jury will hear closing arguments in the trial of Jerry Sandusky Friday. Soon thereafter the jury will get the case. Some verdict will follow. And then, for me and for my own life, I hope both Sandusky and Penn State will just go away.
I graduated from the independent Dickinson School of Law in Carlisle, Pa., in 1996. Less than two years later, Penn State announced that it would merge with Dickinson Law, creating the clumsily named "Dickinson School of Law of the Pennsylvania State University."
What was in it for the law school? Money.
As the New York Times gently put it, the merger provided Dickinson Law "help on future capital campaigns." This, despite the fact that all parties concerned agreed that the law school was in no financial difficulty.
The merger was supposed to improve Dickinson Law's standing and reputation among law schools nationally. Where is it now?
In the 2013 US News rankings, it is tied for No. 76. Perhaps more troubling to its "hey, now we can say we are Big Ten alums!" graduates, Penn State's bought/paid-for law school is behind eight law schools in the Big Ten: Michigan, Northwestern, Minnesota, Indiana, Illinois, Iowa, Ohio State and Wisconsin.
Until this Nittany Lion shame came to light, I was able to alternately laugh off and ignore the forced affiliation with Penn State (where I never spent one day as a student) as a disappointing annoyance. I learned to treat my student loan-laden law degree—other than my mortgage, the largest debt I am personally obligated to pay—like I would a stock that tanked, or an expensive piece of art that was stolen. Until now.
Has the Jerry Sandusky case negatively impacted your opinion of Penn State?
I have no interest in going over the sordid, sorry, terrible details of what the prosecution has produced during this trial. Additionally, I am taking no position as to the guilt or innocence of Sandusky, though I will say that if he beats all the counts brought against him, I would very much like to represent him in the civil libel/slander suits he will have against many, many people.
Ultimately, though, whether Sandusky is punished for what he may/may not have done or whether he somehow beats the numerous and horrific raps, the bottom line is that I have no interest in being tarnished (to whatever minimal degree) by any of it.
The defense wins, the defense loses, I don't care…because I still lose.
Just having my name associated with Penn State now is a hurdle to be overcome, an affiliation to be whispered rather than spoken aloud—apologized for, even. So I hope that, however this trial ends, that it ends with Sandusky literally—and Penn State figuratively—slinking away silently to consider their sins. Please just go away. I have heard enough about both that man and that institution in the past eight months for a lifetime.
Of course, this is futile and wishful thinking. It is not that simple.
The trial will end, the media will leave Bellefonte, summer will drone on, and then before too long Penn State football will be ushering in their "new era" under Bill O'Brien. They will win some games, they will lose some games, and then it will begin.
"It" being the spate of "Penn State begins to heal" and "Pride returns slowly to Happy Valley" stories that lazy sportswriters write when they have nothing interesting to say. Truthfully, if you wanted to, you could write one of those stories right now.
Meanwhile, Pennsylvania taxpayers like myself will almost certainly be called on, directly or indirectly, to help defray the crippling costs of the civil lawsuits yet to come.
Count me out for all of it. I would prefer that Penn State quietly carry this stain like Hester Prynne's scarlet "A," if not for the rest of its existence, then at least for the rest of mine.
Once this trial ends, I want Sandusky and Penn State to go away. And stay gone.
This article is
What is the duplicate article?
Why is this article offensive?
Where is this article plagiarized from?
Why is this article poorly edited?

Penn State Football: Like this team?