The Home Run Derby All-Time Dream Team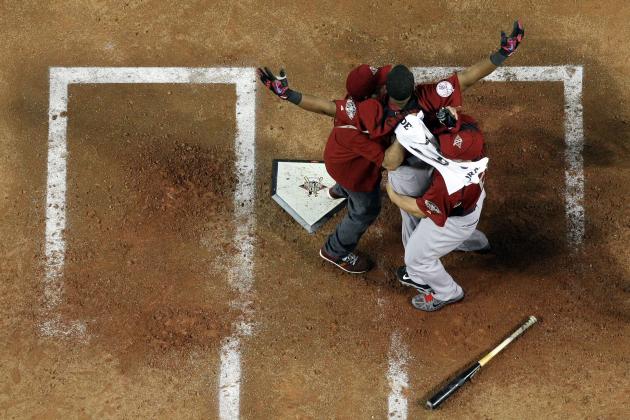 Christian Petersen/Getty Images

With the 2012 Home Run Derby just around the corner, fans always wonder who will be taking to the plate this year. We think about young guys, current superstars and rookie phenoms.
Just for fun, I thought I would share a rare group of individuals who could combine for one of the most exciting home run derbies ever. Only a couple of these will be guys you've watched in the past.
Others are players your grandparents might have watched. Movies have been made, books were written and legends were passed down for generations about some of them.
The Home Run Derby might have been after their time, but there's no doubt they would have been fun to watch.
So, in no particular order…
Begin Slideshow

»
The Say Hey Kid was a 22-time All-Star who would have lit the modern day Home Run Derby on fire.
With 660 home runs, Willie Mays falls at number four on the all-time home run list, and he did a lot more than that. He even led the league in stolen bases for four consecutive years.
He's not at the top of the list, but his personality and ability make him a perfect fit.
When it comes to Babe Ruth, it's easier to discuss the categories he didn't lead over the years. There aren't many of them.
They called him the Great Bambino for a reason and that very reason is why he would have been so great to watch in the derby.
On a good night, he could have walked away with it regardless of whom he faced. It's a shame we will never get to see it.
I know some people can't get past his PED use and personal character, but this is the Home Run Derby.
Regardless of how it happened, Barry Bonds can hit a baseball like few you will ever see.
The reigning home run champion participated four times and never put on a huge show like he was capable of. Put everything else aside and just enjoy watching the baseballs fly.
Teddy Ballgame might not have hit 40 home runs every season, but he was capable of getting hot and staying hot. That's a hot commodity in the Home Run Derby.
The big sluggers don't always win it, sometimes a guy who can find his groove quickly is all it takes.
Ted Williams is that guy. He was a good personality with a sense of humor who could keep things fun.
The Mick is no surprise here. Among many other things, he was known for his long ball and he would have been a great fit for the Derby.
Fans loved him and came out in droves for the opportunity to see him play.
Imagine if they had the opportunity to watch the great Mickey Mantle crush baseballs for a few minutes with some of the biggest names in the game.
Having Mark McGwire on the list may bother some of you, but anyone who sat inside Busch Stadium when he walked to the plate and smashed baseballs understands.
In the upper deck, high above left field, there is a section of seats called Big Mac Land.
It has that name for a reason.
Josh Hamilton has put on a great show in the Home Run Derby, the World Series and on every other stage in baseball where someone will throw him a pitch.
He has a hitter's eye like few others and will be a part of baseball history long after he leaves the game.
He's definitely had his personal struggles, but it makes watching him succeed all the more special.
This is a name that might surprise a lot of you. Stan Musial, a 20-time All-Star and three-time MVP, had only 475 career home runs.
Few players have ever been capable of getting hot and staying hot as long as Stan "The Man" Musial.
Given the opportunity in a Home Run Derby, he could easily be the sleeper that walks away with the prize.