England vs Ukraine: Rating Wayne Rooney's Return for the Three Lions
June 21, 2012

Alex Livesey/Getty Images
Considering that he was playing in his first competitive match since the Premier League season had drawn to a close in mid-May, Wayne Rooney delivered quite a good account of himself on Tuesday against Ukraine.
After serving a two-game suspension, reduced from an initial three-match ban by UEFA after Rooney's withering tackle on Montenegro's Miodrag Dzudovic in England's final European qualifying match last October, Rooney was back.
The rust showed in the first minutes of Tuesday's crucial Group D match, most glaringly when Rooney mistimed his leap for an Ashley Young cross from the left flank, sending his tame header bouncing past the right post of Ukrainian keeper Andriy Pyatov. Rooney didn't see too much of possession during those first minutes, when Ukraine unleashed a torrential attack on the Three Lions defense, pushing for a goal before the ear-splitting din created by their raucous supporters.
At 26, Rooney is in the midst of his prime, and well on the way to creating one of the finest careers ever seen from an Englishman—for both club and country. His 75 caps and 29 goals for England both should increase over the next five years, with the striker a very real threat to emerge as the all-time leader in both categories.
He's certainly a marked departure (in some respects) from the inordinately talented 18-year-old who took Euro 2004 by the scruff of the neck, showing no fear of the big stage as he scored four goals for England before injuring himself.
England had missed out on Euro 2008 after a disappointing qualifying campaign that had seen them emerge third behind Russia and Croatia, and Rooney, who had been recovering from injuries in the 2006 and 2010 World Cups (metatarsal and ankle knocks, respectively), almost looked as if yet another major championship might pass him by.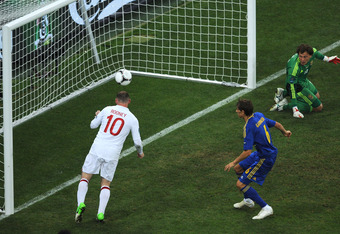 Christopher Lee/Getty Images
Ukraine needed a win to advance; England, which came into its final match in second place behind France in the group standings, could advance with a draw.
But Roy Hodgson's side, which has surpassed many pre-tournament expectations so far, exceeded their would-be boundaries once more with a 1-0 victory over the co-hosts which, compounded with France's embarrassing 2-0 defeat to Sweden, saw them emerge in first place. (If only United had gotten that kind of help from Queens Park Rangers on the final day of the Premier League, we might have seen a different league champion.)
And wouldn't you know it, the Rooney who had struggled so visibly to get into the game came up with the goal. It was vintage stuff from the United striker, who poked home a header at the far post after Steven Gerrard's driven low cross skipped through the Ukrainian defense and past the keeper Pyatov into the England No. 10's path.
It was his first goal since that European campaign in Portugal. Perhaps it's a sign that he might be ready to keep turning that proverbial clock back on its hinges, manipulating gears and levers one by one until he has them firing in an accordance that he deems sufficient.
All this at the gleaming Donbass Arena, recently reconstructed for these European Championships.
England is now ready for their next match on this unforeseen run, a quarterfinal encounter with old rivals Italy on Sunday.
The Italians have been in fine form during their own campaign thus far, emerging second-best behind Group C winners Spain, and they will be certain to give England all they can handle.
Azzuri striker Mario Balotelli, also well-known for his risible temper and inordinate skill level, is sure to be the talking point during the build up to Sunday.
In some ways, that should suit Rooney just fine. His play earned him the headlines on Tuesday. Coupled with a lion-hearted effort from England, it just may be enough to see off Italy.
And going into a tournament sans Rooney for its first two games, who would have expected that?