NHL Draft 2012: One Long-Term Need That Each Team Needs to Address at the Draft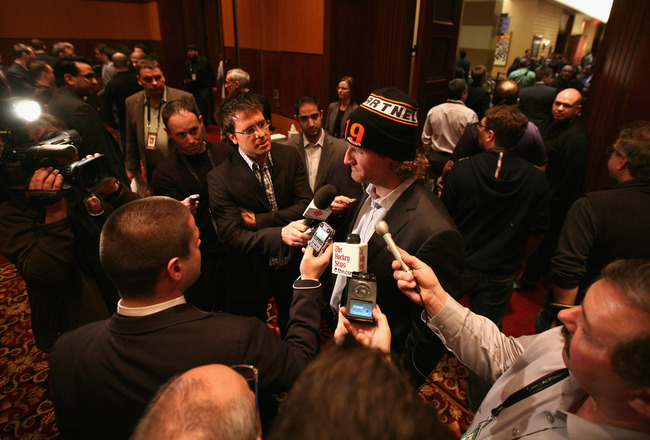 Bruce Bennett/Getty Images
With the NHL Draft only a few days away, many teams are putting the final pieces together in terms of what they want and need for next season. Some teams need offensive strength, some new goalies and some an all-star who can change an organization.
Here's a slideshow of long-term needs that each team will be focused on when they acquire new players in the 2012 NHL Draft.
Vancouver Canucks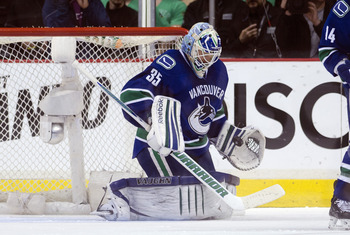 Rich Lam/Getty Images
The Vancouver Canucks were the No. 1 team in the league this past year, but they were knocked out in the first round by the Stanley Cup Champions, the Los Angles Kings.
Vancouver has a great roster, but their star Ryan Kesler won't be back until at least November from a shoulder surgery. The Canucks will have the 26th pick in the draft, and they should make sure that they try to acquire a center.
Kesler should be back with plenty of hockey left to play in the season, but Vancouver must make sure they find a center that can help fill the void in the meantime.
The Canucks also have the 57th, 147th, 177th and 207th picks. They have a very strong offensive team with the Sedin brothers and Alexandre Burrows, and another powerful forward would contribute to a team that has been a Stanley Cup contender for the past few years.
New York Rangers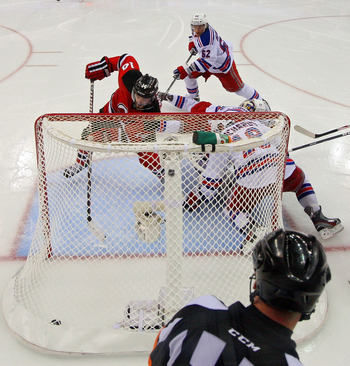 Jim McIsaac/Getty Images
This season, the New York Rangers were arguably the most feared team in the east. Their 51-24-7 record was astounding, but they were eliminated by the New Jersey Devils in the third round of the Stanley Cup playoffs.
If the Rangers want to continue to be successful, they'll need to find a way to score more goals. New York's defense was great during the regular season and Henrik Lundqvist had a remarkable season.
Shane Doan and Ray Whitney may be leaving their respective franchises, so don't be surprised if the New York Rangers take advantage of that situation and scoop up an offensive powerhouse.
St. Louis Blues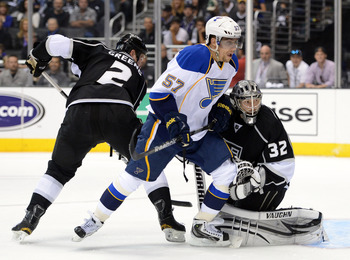 Harry How/Getty Images
The St. Louis Blues had a great season and also finished with one of the best home records in the league (30-6-5).
The Blues will have eight selections at the 2012 NHL Draft in Pittsburgh and it will be crucial that they draft someone that will help their team out in the long run. We are talking about a team that made the playoffs for the second time since the 2004-2005 lock-out and won the Central Division for the first time since 2000, so they're hoping to have a repeat of another impressive season.
St. Louis wants to keep the energy high on their squad. They already have consistent offensive players, and they're most likely to draft a defender. In the past 15 drafts the Blues have taken 10 forwards, so it might be time for a change. David Backes, T.J. Oshie and the rest of the Blues provide a definite offensive core, so the Blues could use another tough defenseman who can take care of business on the ice.
Pittsburgh Penguins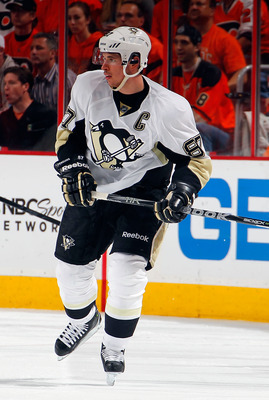 Paul Bereswill/Getty Images
It was a rival battle in the postseason when the Pittsburgh Penguins took on the Philadelphia Flyers, but the Flyers came out victorious. However, there's no doubt that the Penguins had a stand-out season despite their first round playoff exit.
Pittsburgh has offensive talent. And no matter how many critics Sidney Crosby has, the 24-year-old still wakes up every morning knowing that he has already won a Stanley Cup and an Olympic gold medal. He's a talented player and will help the Penguins succeed in the years to come.
What the Penguins really need in this upcoming draft isn't another Crosby or another Malkin. Rather, they need a defenseman who can skate well, skate fast and will defend the net with intensity.
Don't be surprised if Pittsburgh use their 22nd pick on a big guy with defensive strategies that will highlight the offensive team who won the Stanley Cup just three years ago.
Nashville Predators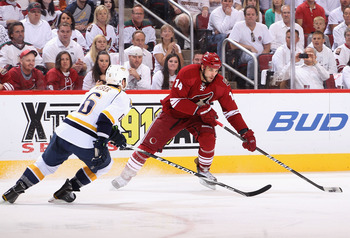 Christian Petersen/Getty Images
If Nashville was a better scoring team, they would have gone a lot farther this year in the Stanley Cup playoffs. They lack that all-star goal scorer who can be relied on to shoot game-winning shots.
During this year's draft, the Predators must find a forward who can score goals. Nashville has powerful players at all positions, and some critics went so far as to predict that they would win the Stanley Cup, but one more powerful forward might guarantee that the Predators make the playoffs again next season.
Drafting offense would no doubt improve the Preds' chances of it happening again.
Philadelphia Flyers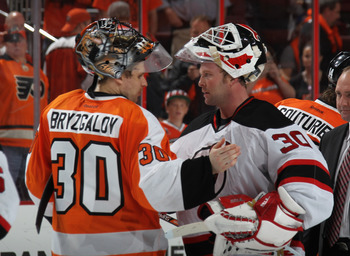 Bruce Bennett/Getty Images
Since last summer, the Philadelphia Flyers changed their team entirely. Jeff Carter and Mike Richards were traded and free agent goaltender Ilya Bryzgalov was signed to a nine-year, $51 million contact.
During this year's draft, the choices the Flyers make don't need to be so outrageous. All they really need right now is a defenseman who can replace Chris Pronger, who was listed out for the season back in November with severe post-concussion syndrome.
A nice fit for the Flyers would be Matt Finn, a top defenseman coming into the draft from the OHL. He's a dynamic skater with great mobility, who could really help the struggling Flyers squad keep their defense intact.
Boston Bruins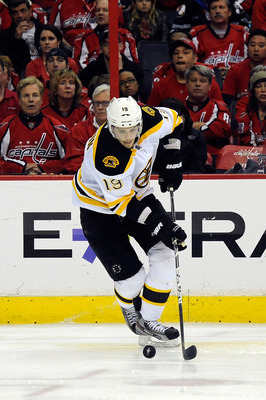 Patrick McDermott/Getty Images
The Boston Bruins will enter the 2012 NHL Draft with five picks. ESPN's James Murphy reported that the Bruins could very well draft a defenseman or a goalie.
"I think there's a lot of defensemen. I've said that before but there's a lot of good defensemen in this draft," general manager Peter Chiarelli said in a conference call. "So we're hoping—and if we don't get a defenseman, we'll be fine because there's always good players—but we're hoping that some will slip because of the number of defensemen."
The Bruins have been looking at defenseman Matt Finn from the NHL, a name that continues to pop up in conversation regarding the NHL Draft this year.
Detroit Red Wings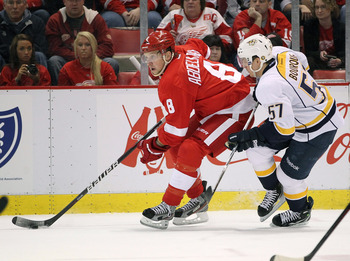 Gregory Shamus/Getty Images
The Red Wings have a powerful offense and this season they showed they are also one of the toughest teams in the league. However, in order to succeed in the 2012-2013 season, the Wings need another winger who shoots well.
Detroit could also use more size on their squad, so don't be surprised if they follow the trend of most NHL teams during the draft and go with a defenseman.
The Red Wings could also use another goalie to play back-up for Jimmy Howard. The Red Wings need to make sure that whoever they draft will be influential on their team for the next few years.
New Jersey Devils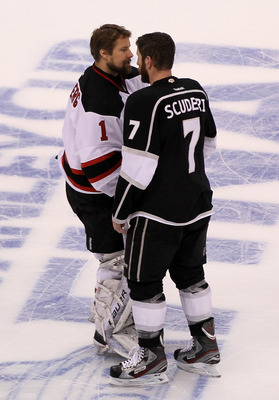 Jeff Gross/Getty Images
The New Jersey Devils could very well take a current OHL goaltender, Malcolm Subban, with their first-round pick. He's a superior player and just might be able to fill in for 40-year-old Martin Brodeur when he leaves the squad.
The Devils find themselves in a bit of trouble during the draft because they still don't know where their all-star forward Zach Parise will be at the beginning of next season. If they have any doubt in their minds that they might lose him, they should try to be safe and sign a forward who can pass the puck and play tough.
New Jersey proved themselves to be a solid defensive team, and were only two games away from winning a Stanley Cup. Odds are that the Devils will use their draft pick on a new goaltender or an offensive powerhouse.
Chicago Blackhawks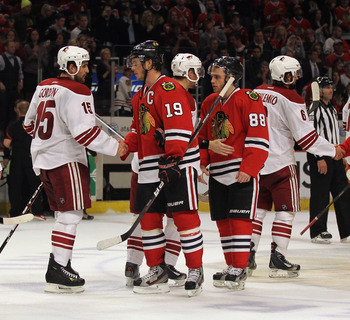 Jonathan Daniel/Getty Images
The Chicago Blackhawks are not the same team that won the Stanley Cup back in 2010, but they still have a stacked roster and a lot to look forward to when it comes to next season.
The Blackhawks are in need of one important position: goaltender. Since Niemi left, they haven't truly been able to find someone who fits the position. They need a long-term franchise goalie they can rely on. Corey Crawford is decent in net, but the Blackhawks may be eyeing Malcolm Subban from the OHL.
If Chicago can manage to acquire a successful, agile, franchise-like goaltender, they will find themselves in a very good position to make the playoffs next season.
Phoenix Coyotes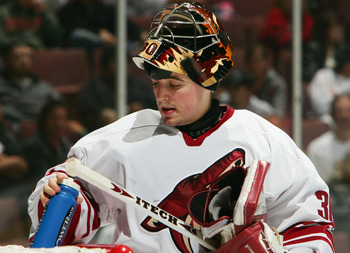 Donald Miralle/Getty Images
The Coyotes were eliminated by the Los Angeles Kings after five games and an intense playoff battle. Phoenix has a great core team and should see much success in the upcoming years.
If they want to continue playing well, they will have to find another offensive player to add to the job that Shane Doan and Ray Whitney have done.
With the 27th overall pick, the Coyotes have their choice between many great right wingers, left wingers and centers who could add to Phoenix's explosive offense.
San Jose Sharks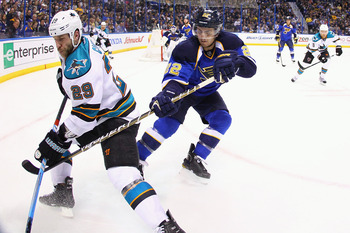 Dilip Vishwanat/Getty Images
The Sharks lack goal scorers and their penalty kill has been unreliable the last two regular seasons. San Jose must stop relying on Patrick Marleau and Joe Thornton to do all of the work. They have talent on their roster, but the players haven't been playing up to par.
During this year's draft, San Jose must land a goal-scorer, or at least a player who is highly successful on the penalty kill.
If the Sharks want to make the playoffs next season, they'll need to land a player that can change their franchise around and turn them into a high-scoring team.
Los Angeles Kings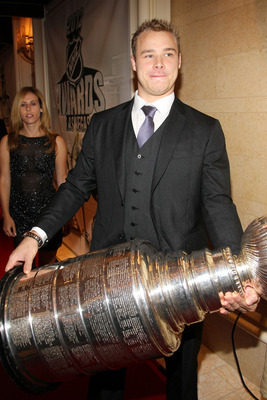 Isaac Brekken/Getty Images
The Los Angeles Kings have just won the Stanley Cup. I would almost rather skip over this team and let them continue celebrating before they need to focus on the draft, but their time will also come to fill positions that need it the most.
One thing the Kings might want is another forward. If they happen to lose Jarret Stoll or Dustin Penner during free agency, they'll need another player who is aggressive and can score.
There's one position that most definitely won't be focused on by the Kings during the draft, and that's goaltender. Jonathan Quick had a great season and an even better postseason. He should remain with the Los Angeles Kings for some time to come.
Florida Panthers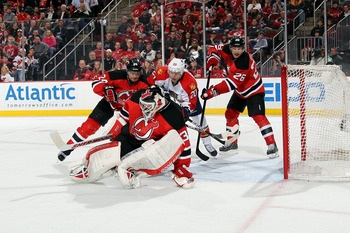 Bruce Bennett/Getty Images
The Florida Panthers made it to the postseason, but were eliminated by the New Jersey Devils in the first round.
After making the playoffs for the first time in 12 years, the Panthers must draft well this year in order to ensure future success for their franchise.
Kris Versteeg and Tomas Fleischmann are positive factors for Florida, so the Panthers might want to look for another goal-scorer to add more depth to their roster. The Panthers seem to be an up-and-coming team and hopefully for Florida fans, their hockey team's playoff drought has come to a halt.
Washington Capitals
Paul Bereswill/Getty Images
The Washington Capitals had a very weird year. They were faced with two different coaches and a season filled with intense match-ups and brutal battles. The Capitals made it into the postseason, but were eliminated by the No. 1-seeded team in the east, the New York Rangers.
The Capitals come fully equipped with defensively focused players and amazing scorers that are fast on the ice with great passing skills. Washington will remain a threat next season, and they might look to draft another defenseman or a young, up-and-coming player who can spice things up on the roster.
Ottawa Senators
Bruce Bennett/Getty Images
Many people didn't expect the Senators to make the playoffs this year, but they did. They're a talented bunch of players who have the desire to win, and they're tough as nails on the ice.
Ottawa's penalty kill needs much improvement, as they were ranked 20th during the 2011-2012 season. They need to draft a young, rambunctious player who can defend the puck
Jason Spezza and Milan Michalek do most of the work for the Ottawa Senators. They need a new player to highlight their talents, but also be there to help when big plays need to be made.
Calgary Flames
Mike Ridewood/Getty Images
The Flames need a player who can contribute to Calgary the way Mike Cammalleri and Jarome Iginla do.
Iginla is an offensive powerhouse when he's playing well, but the Flames need more depth if they want to make the playoffs next season. During the 2012 draft, they should look for a forward or a winger who is also a playmaker.
The team could use a bit more energy, so drafting a young player might not be such a bad decision.
Dallas Stars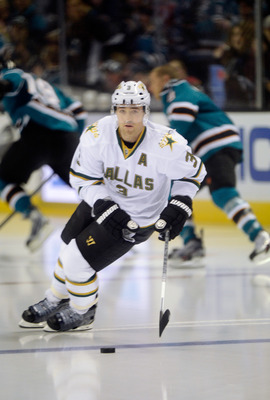 Thearon W. Henderson/Getty Images
The Dallas Stars are a decent team, but they need to find a new guy to take over the center role if they want to have any success next season.
They were very weak up the middle this year and the draft will give them an opportunity to find a man to play the role.
With the 13th overall pick, the Stars should be able to find a player to add more depth to the center. If for some reason the best centers fall through the cracks and the Stars are out of luck, they might opt to make a draft day trade in order to ensure they have a top-notch player for the center position.
Buffalo Sabres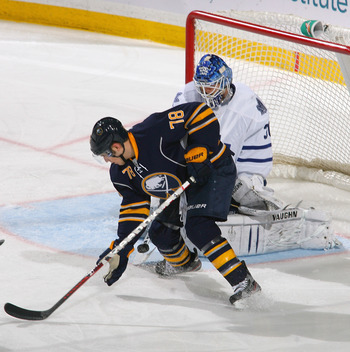 Rick Stewart/Getty Images
According to reports from The Washington Post, the Buffalo Sabres are currently in negotiations to pursue their trade options for the upcoming NHL draft.
GM Darcy Regier wants to make his roster better and the draft will give him the opportunity to set his priorities straight regarding his team.
"I'm not talking about a one-year fix, or a one-year player that's going to be looking at becoming an unrestricted free agent," Regier said. "If you have an opportunity to add someone who's either under contract or is a high-profile player at a ... reasonable cost, then certainly that's something we'll pursue."
The Sabres will try to draft a high-profile player with extreme talents. Don't be surprised if Buffalo is successful in the draft this year and makes the playoffs during the 2012-2013 season.
Colorado Avalanche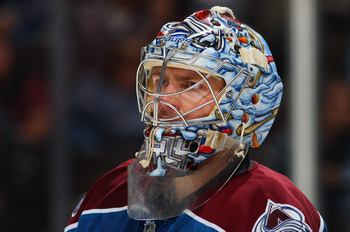 Doug Pensinger/Getty Images
The Colorado Avalanche didn't have much success this season, but they are a very young team. Their forward Gabriel Landeskog won the Calder Trophy this year and is the first Avalanche team member to win the top rookie award since Chris Drury in 1999.
With the draft only a few days away, the Avalanche need to equip their roster with beneficial team members.
They're not a high scoring team, so we might see the Avalanche draft somebody who is quick to the puck and takes a lot of shots.
Tampa Bay Lightning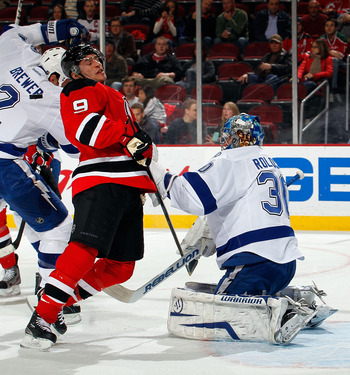 Paul Bereswill/Getty Images
Mattias Ohlund suffered a season-ending injury this year and it really hurt the Tampa Bay Lightning. If he is healthy he will contribute to his team, but drafting good players is essential for Tampa Bay.
The Lightning have the 10th and 19th overall picks, and if they're smart, they will add a forward and defender. They are still a developing team that needs help in several areas, but drafting a high-profile, well-respected, top-notch player will give them the confidence they need to push for the postseason next year.
Winnipeg Jets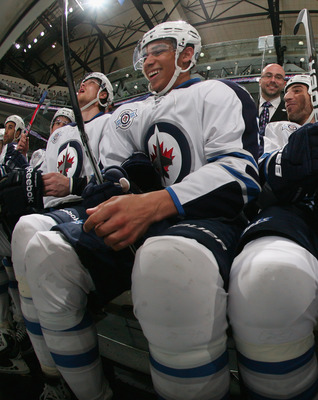 Bruce Bennett/Getty Images
The Winnipeg Jets might not have made the postseason this year, but they have a lot to be proud of and NHL fans everywhere should keep an eye on this up and coming team.
Evander Kane had a breakout season, but the Jets don't have the playmakers that they need to make them a fully-equipped NHL team.
Nine Jets players this season scored goals in the double digits, so the Jets might want to focus on getting a defender during the draft to guard the net and make plays on the other end of the ice.
Carolina Hurricanes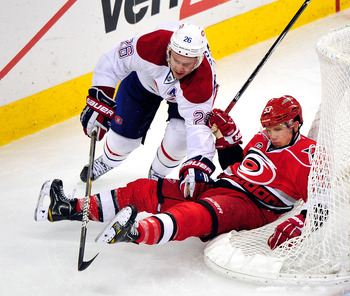 Grant Halverson/Getty Images
With the 8th overall pick, the Carolina Hurricanes will need to find a high-quality player who can add diversity and more strength to their roster.
The Hurricanes might also want to acquire a goalie later on in the draft, so that they have an efficient backup goalie for Cam Ward.
This draft will be an important one for the Hurricanes and they'll have to make sure they don't miss out on an opportunity that can tremendously improve their team, who struggled a bit this season.
Minnesota Wild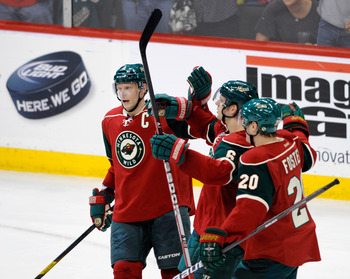 Hannah Foslien/Getty Images
The Minnesota Wild have the 7th overall selection in the draft, and they'll want to make sure it's a good one. They'll want to keep an eye on defenders and players that take a lot of shots.
It has been rumored that the Minnesota Wild are interested in New Jersey Devils left-winger Zach Parise. If they were to acquire Parise, it would undoubtedly add an all-star to their roster that they very much need.
Anaheim Ducks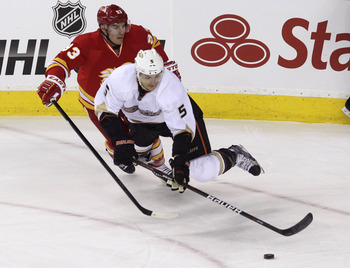 Mike Ridewood/Getty Images
The Ducks struggled for a majority of the season, so they'll want to come out big after this draft is through.
Anaheim will probably end up drafting a defenseman first. The Ducks are a team that had to suffer the loss of Scott Niedermayer and Chris Pronger, two incredible players.
With the No. 6 pick, the Ducks would be crazy not to go for a defender. It's what their teams needs the most.
Toronto Maple Leafs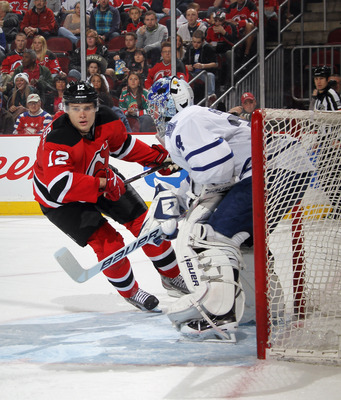 Bruce Bennett/Getty Images
With the No. 5 overall pick in the NHL Draft, the Maple Leafs can find themselves in a position to land one of the best incoming players. One of these options is a player who was the No. 1 overall pick in the 2012 OHL Priority Selection. His name is Alex Galchenyuk. In his rookie year playing in the OHL, he finished with 83 points and 31 goals in 68 games.
Galchenyuk is by far one of the best centers available in the draft. He would make a perfect fit in Toronto, where one of their main focuses is improving their defensive game.
New York Islanders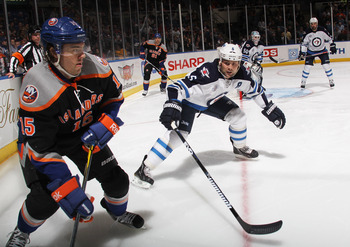 Bruce Bennett/Getty Images
Poor Islanders. It's hard not to feel for a team that is continuously the butt of the joke for hockey fans nationwide. However, don't forget, the Islanders once won the Stanley Cup four years in a row. So they've been around the block, and the franchise knows what it's like to win a championship. Needless to say, it hasn't happened in a while.
They have John Tavares, who is a great, young star, and while their roster is young, they are improving and should be more successful in the 2012-2013 season. When it comes to the draft, the Islanders will probably look for a defender who can stand out and compete against the best teams in the league.
Montreal Canadiens
Richard Wolowicz/Getty Images
If the Montreal Canadiens play their cards right, they could come out very successful after the NHL draft. The franchise has a goaltender in Carey Price, who they can revolve a team around. The Canadiens will have the third overall pick in the draft and will have the chance to draft one of the best prospects.
Two players they might look at are offensive players Filip Forsberg and Alex Galchenyuk. The Canadiens will want to score more goals next season, and picking one of the best prospects in the draft is one way to accomplish such a task.
Montreal could use a big, tough guy out on the ice to put some fear in the eyes of other teams.
Edmonton Oilers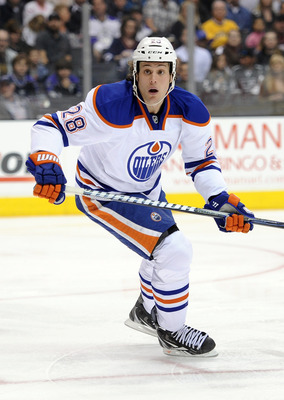 Harry How/Getty Images
The Edmonton Oilers have the No. 1 pick in the NHL draft. So basically, they have the pick of the litter. The Oilers have many talented players, most of them young. Ryan Nugent-Hopkins and Taylor Hall have proven to be talented and hard-working.
Unfortunately the Oilers had one of their worst seasons in franchise history, but they could turn it all around with the right moves during the draft. They could possibly trade the No. 1 pick, but they might just be better off taking Nail Yakupov, who is the top prospect this year.
He scored 49 goals in 65 games during his first year in the OHL and is an outstanding defensive player. Yakupov might be too good to pass up for the Oilers.
Columbus Blue Jackets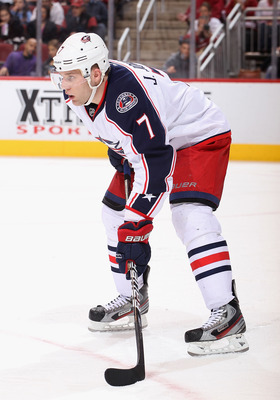 Christian Petersen/Getty Images
The Blue Jackets were the worst team in the NHL this year and will have the second pick in the 2012 NHL draft. Columbus must do a lot of improving over the offseason, and that includes bringing players onto the team who can make next season anything other than what the 2011-2012 season looked like.
The Blue Jackets need to figure out whether or not they're getting rid of Rick Nash, and they need to attain goal-scorers and defenders who have experience.
If Columbus wants any success next season, they will need to acquire players who are willing to be dedicated to improving a struggling franchise.
Keep Reading