6 Most Concerning NFL Injuries Heading into 2012 Fantasy Football Season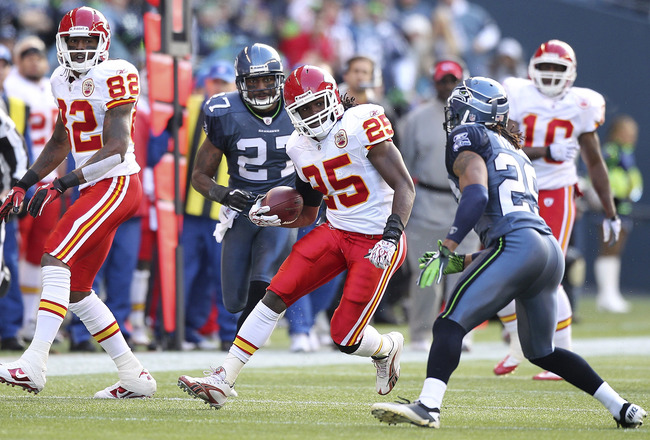 Otto Greule Jr/Getty Images
Injuries affect NFL teams and fantasy teams perhaps more than in any other sport. It's rare in other fantasy games for players to use the term "handcuff" or for there being an advantage in knowing depth beyond the starters on each team.
Injuries are the cold reality of the NFL, and knowing which ones will be fantasy-relevant and will most affect player production is important.
Dozens of top fantasy players suffer season-threatening injury each year, and each week fantasy owners are left checking injury reports. Last season, some stars returned from injury and got back to form before the end of the season such as Michael Vick, Arian Foster and Andre Johnson.
Others were injured as early as Week 2 and never returned. Here's a look at six players who will be making their 2012 debuts returning from injury and the concerns that fantasy owners should have while evaluating their potential production.
Adrian Peterson's Knee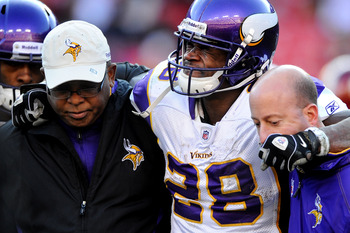 Patrick Smith/Getty Images
Peterson has been a dominant force in the NFL and fantasy leagues since his rookie season of 2007. He continued that trend in 2011, averaging an impressive 4.7 yards per carry. He also put up his fifth straight season of double-digit TDs.
But Peterson's season was cut short by ACL and MCL injuries and he finished out of the top five fantasy RBs for the first time in his career.
Peterson underwent reconstructive knee surgery on Dec. 30, 2011 and has begun rehabbing the reconstructed ACL and repaired MCL in his left knee. Coach Leslie Frazier and the Vikings are optimistic that Peterson will be available for Week 1.
But the concern is that feeling 100 percent healthy in practice won't translate into 100 percent of his usual production on game day.
Considering Peterson had 13 TDs in 12 games last year and has scored 67 in 73 career games (.92 TDs per game), Peterson still has the potential to be a top asset in fantasy.
But it will take a few weeks to see if he is really back to being All Day.
Peyton Manning's Neck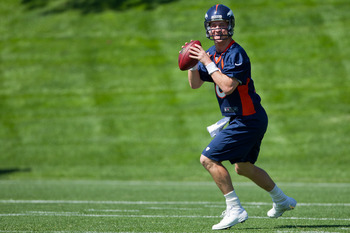 Justin Edmonds/Getty Images
Almost all of the news coming out of Denver regarding Manning's progress since missing all of 2011 after a neck surgery is positive. But the combination of Manning's physical recovery and joining an offensive attack that will be balanced (and not pass-heavy like the Packers or Patriots) is a bit concerning.
Demaryius Thomas (24) and Eric Decker (25) will be Manning's top targets. Thomas impressed in the playoffs, catching several long passes while racking up 10 receptions for 297 yards in the Broncos' two playoff games. Decker was the Broncos' leading receiver in the regular season with 612 yards.
There is also a chance that Manning's psyche will be affected once full contact starts. Is he more concerned about his neck than he has let on? And will he throw more balls out of bounds to avoid hits after going through his progressions?
No one's expecting Manning to be the No. 1 fantasy QB, but the concern is whether he is a viable fantasy starter in 2012. Be wary—but don't count Manning out.
Darren McFadden's Entire Lower Body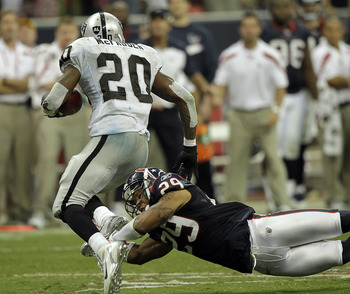 Bob Levey/Getty Images
McFadden, who has yet to play a complete season in his four-year NFL career, missed the last nine games of 2011.
A Week 7 mid-foot sprain, later reported as a Lisfranc injury, kept McFadden sidelined after a promising start. McFadden has also been sidelined in the past by hamstring issues and turf toe on both feet.
2010 was his best year as he played 13 games, gaining 1,157 yards on the ground and 507 through the air with 10 total TDs. Not counting Week 7, where he had just two carries before exiting the game, his 2011 stats project out to a 16-game total of 1,627 rushing yards, 403 receiving yards and 13 TDs.
McFadden is just 24 and, because of his injuries, hasn't put many miles on his legs. He has unreal fantasy potential but his history of injuries is reality, and a major concern.
Jamaal Charles' ACL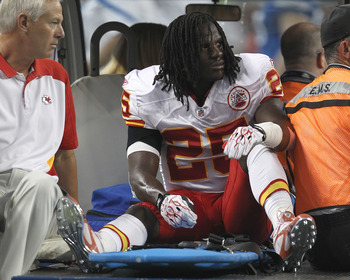 Dave Reginek/Getty Images
Charles played in just two games in 2011 before tearing his ACL and was thus unable to back up his impressive 2010, when he rushed for 1,467 on 6.4 yards per carry while adding 468 yards receiving and eight total TDs.
He was (on average) the third player selected in fantasy drafts in 2011 after that monster season.
Since Charles' playmaking ability is tied very closely to his ability to make cuts and turn the corner and upfield, the knee injury is quite concerning. There's no guarantee that Charles will return with the type of explosiveness that made him such a dynamic runner.
In addition, the Chiefs added RB/Bulldozer Peyton Hillis in what could be seen as a sign that the Chiefs will protect Charles more in 2012, perhaps taking away goal-line carries from Charles and giving them to Hillis.
Charles is the real-deal when healthy and his ACL injury occurred way back in Week 2 of 2011, so he has had a lot of time to recover, which is a positive.
Kenny Britt's ACL and MCL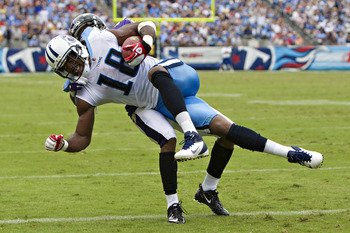 Wesley Hitt/Getty Images
Britt was on the verge of a breakout season with 271 yards receiving and three TDs in the first two weeks of 2011. But just like in 2010, when Britt's season was derailed by a hamstring injury that caused him to miss four games, a Week 3 knee injury ended his 2011 season and could put the start of his 2012 in jeopardy as well.
As a receiver who has been successful because of a rare combination of size and speed, Britt's production could take a hit if he doesn't return with the same life in his legs right away.
With veteran Nate Washington having a great season in 2011 and the addition of rookie Kendall Wright, the pressure should be off Britt a bit. Ideally, he can work his way back up to full duties as a starter and improve his week-to-week production as the season progresses.
Hakeem Nicks' Foot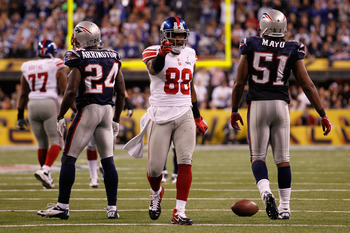 Rob Carr/Getty Images
After breaking the fifth metatarsal in his right foot during OTAs, Nicks' ascent to superstardom may be on hold.
Nicks made a huge statement as the postseason's top-ranked receiver. He was key in the Giants' Super Bowl run and eventual win.
Nicks was No. 1 among all playoff receivers and TEs in receptions, yards and targets. He was tied for first in TDs with 49ers TE Vernon Davis. Nicks also caught the most postseason passes that resulted in first downs (19).
While most signs point to Nicks returning before the 2012 season opener, he will have missed a large chunk of preseason activities, and Victor Cruz could be the No. 1 target the first few weeks of the season because of it.
Keep Reading