San Antonio Spurs: Predicting the Full Roster for the 2012-13 Season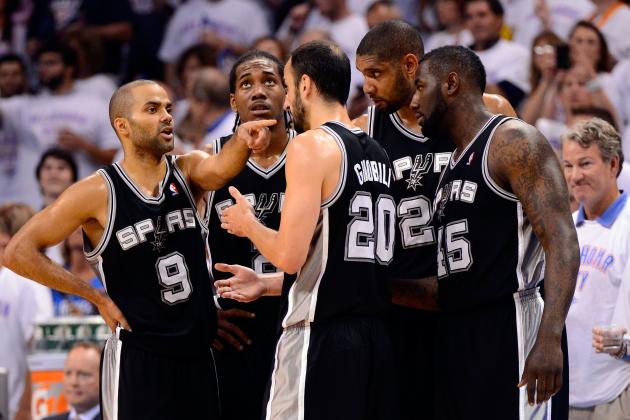 Ronald Martinez/Getty Images

The San Antonio Spurs' offseason will likely consist of two major tasks—re-signing the players whose contracts expired and bringing over some fresh talent from Europe.
Like always, it would be surprising to see the Spurs make a big trade, and with their minimal amount of available money, a big signing is also highly unlikely.
For the most part, the 2012-13 roster will look fairly similar to last year, with a few minor changes made in order to ensure that they would have a better shot at the ring.
Here's a look at the 14 players who will be sporting black and silver for the team by the start of next season.
Begin Slideshow

»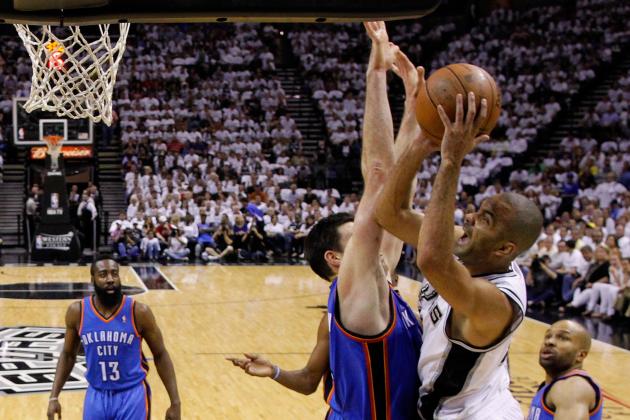 Tom Pennington/Getty Images

No surprises here—San Antonio's star point guard will return to claim his starting job next season.
After a career season in which he posted a spectacular 18.3 points and a career high of 7.7 assists, Parker will likely lead the team's attack next season as well.
With multiple years left on his contract, the only means by which Parker's name would not top the Spurs' roster would be via trade.
After such a successful 2011-2012 outing, it's highly unlikely that the French guard will be parting ways with the Spurs.
Expect Parker to return with the same "attack-first" mindset as last year and lead the Spurs throughout another quest for a fifth ring.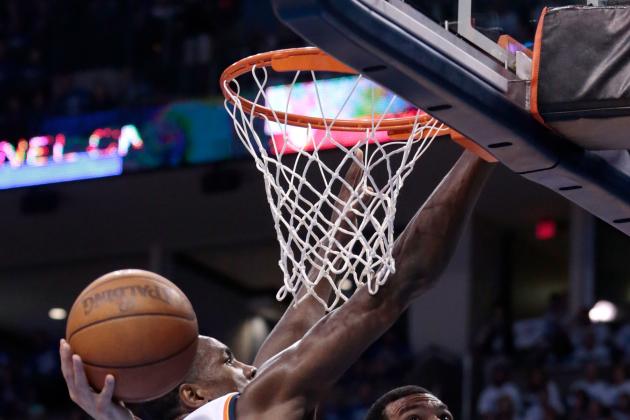 Brett Deering/Getty Images

Despite Danny Green's poor play in the postseason, his regular season success should be enough to land him on the Spurs' roster for the 2012-13 season.
He will likely be signed for a small contract, one that the Spurs should have no problem affording.
His solid defensive play as well as his overall effort on both ends will once again allow Green to make an impact on the squad.
He entered the season as a giant question mark, with many wondering whether he would even make the roster.
However, he found himself a spot and utilized the opportunity to make a name for himself in the league.
He took Manu Ginobili's place in the starting lineup, allowing the shooting guard to become the team's sixth man. When Popovich tried to put Ginobili back in during the playoffs, it was easy to see what a disaster that was, as they failed to receive major contributions from the bench.
He will likely allow Ginobili to return to the bench, thereby making Danny Green the starting shooting guard for the 2012-13 season.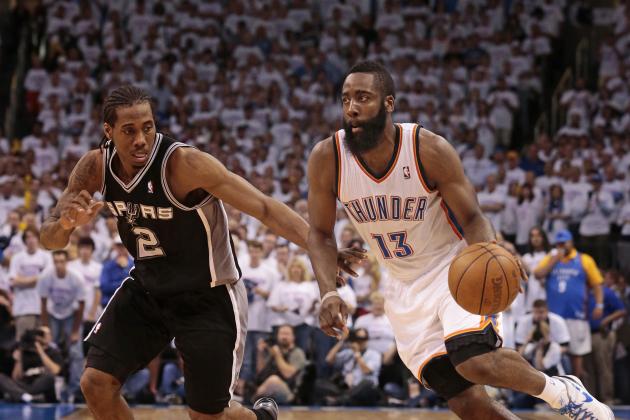 Brett Deering/Getty Images

While the draft-day deal that sent George Hill to Indiana in exchange for Kawhi Leonard may have originally caused uproar, Leonard quickly proved critics wrong.
The rookie out of San Diego State quickly emerged as one of the best first-year players in the league, with both his defense and hustle playing a large part in the Spurs' success.
He also developed a strong outside game and showed much improvement in other aspects of his game.
Leonard claimed the starting role after Richard Jefferson was shipped to Golden State, and he proved himself almost immediately.
As the future of the Spurs, it is almost guaranteed that Leonard will be the starting small forward for the San Antonio Spurs next season.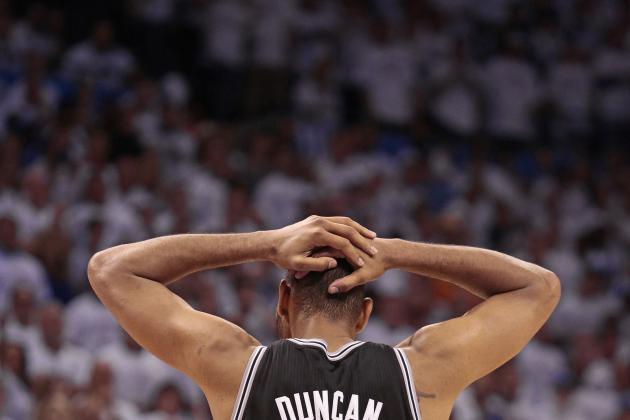 Brett Deering/Getty Images

Tim Duncan, despite reaching the end of his contract, has made it fairly clear where he intends to play next season.
Retirement is the only other option for the 36-year-old superstar, but after a comeback year in 2011-2012, it is apparent that Duncan has enough left in the tank for another season.
He no longer is the leader of the team—that title now belongs to Parker—but I'd be lying if I said he wasn't one of the top contributors.
Despite his decline, he still is a top-10 power forward in the league, as demonstrated with his complete dominance throughout the regular season and in the playoffs.
His overall minutes may take another hit, but his spot in the starting lineup will not.
If he decides to play another season or two, Duncan's face will once again be seen roaming the courts off San Antonio.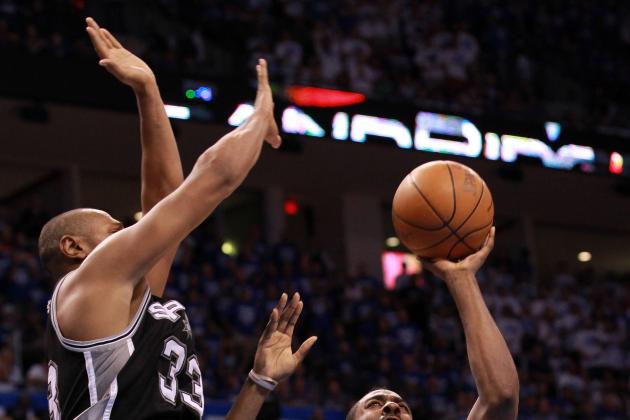 Ronald Martinez/Getty Images

The acquisition of Boris Diaw during the midway point of last season proved to be a monumental one on the Spurs' playoff run.
He quickly assumed the title of starting center, knocking DeJuan Blair to the back of the bench.
His versatility helped the Spurs in ways unimaginable, and he proved to be a vital member of the team.
Despite entering free agency, San Antonio will likely retain the French big man and will use the majority of their money to do so.
He was very successful as the starting center last season, so if indeed the Spurs re-sign him, he is the easy choice to complete the starting roster.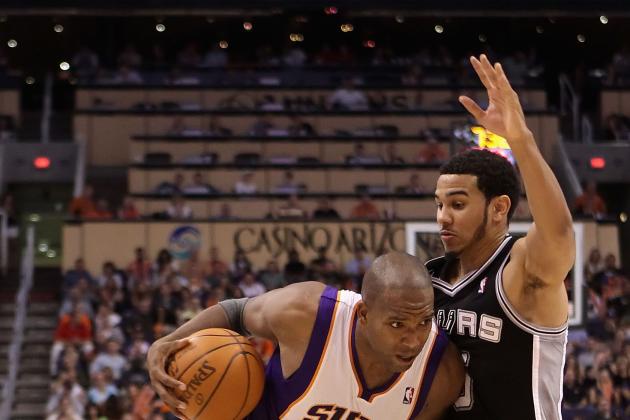 Christian Petersen/Getty Images

After being selected earlier than expected in the 2011 NBA draft, Cory Joseph spent the majority of his 2012 campaign being sent down and then called back up to rejoin the roster.
With Patty Mills on leave, the Spurs will be in need of a backup point guard, or even a third-string point guard to play behind Gary Neal.
He wasn't very effective in his rookie season, but as a sophomore, Joseph's role will likely increase, as the team will depend on him more and more.
His time in the D-League as well as his limited experience in the pros will have helped mature him into the player that the Spurs need him to be.
He may find himself playing with the Austin Toros once or twice next season, but expect Joseph to spend the majority of his time in San Antonio.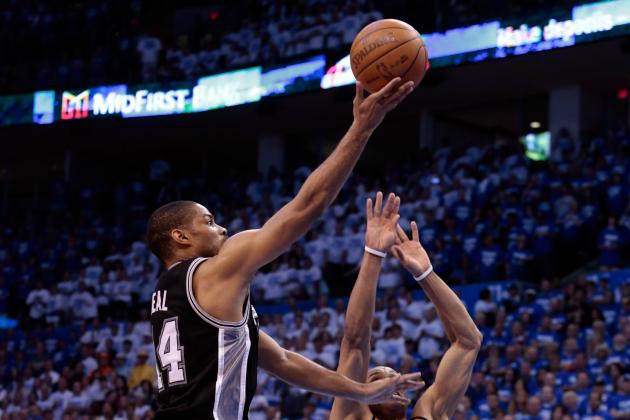 Brett Deering/Getty Images

Gary Neal is also a free agent, but the Spurs will likely use what little room they have to re-sign him.
Despite fading away in the final few games of the Spurs' season, Neal was a fantastic contributor during the regular season, as well as last year.
His youth makes him an ideal member to be the future of the team, and it is highly unlikely that San Antonio would let a player with his ability walk away next season.
He may find himself starting at the 2 every once in a while, if Green proves to be ineffective, but he will likely find his primary role to be backing up Parker at the 1.
He is slowly but surely evolving into a confident and mature member of the team, and with the demand for him to succeed becoming larger, Neal will likely increase his production for the 2012-13 season.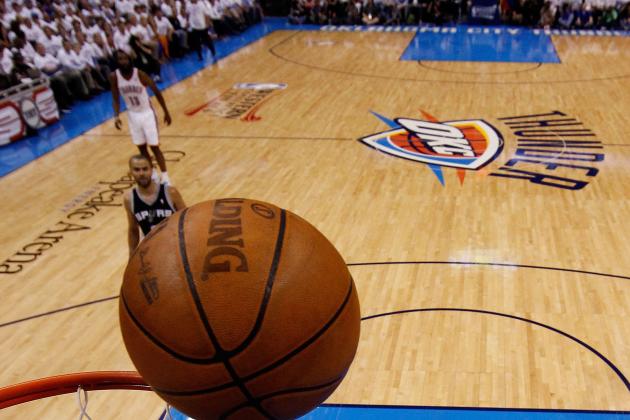 Pool/Getty Images

Ginobili's future in San Antonio is all but written in stone, as it appears that the veteran shooting guard is with the team until the end.
His 2012 campaign was plagued with injury, so in 2012-13, it is very possible that his minutes take a slight dip in order to preserve him for a few more seasons.
He also should return to the sixth-man role, as the team performed the best when he came off the bench.
He provided the Spurs with a strong leader in the second team, something that was clearly missing prior to this move.
Ginobili, like Duncan, is on the decline but still can produce in a high quantity. He may be old, but Ginobili has another strong season ahead of him.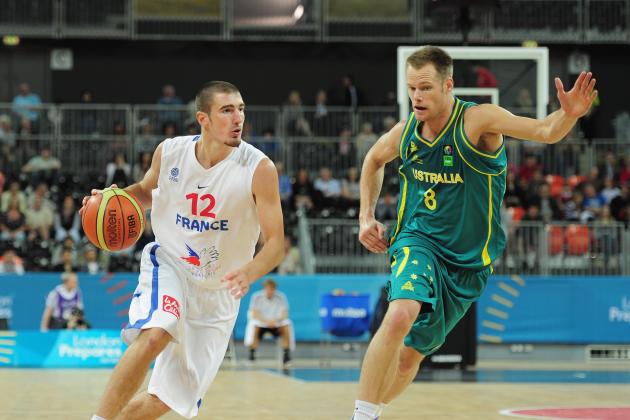 Shaun Botterill/Getty Images

Next season, it appears as though the Spurs will have another foreign player to add to their current mix of players, as the French guard reported that he was ready to make the jump to the NBA.
As a widely recognized star in the Spanish league, De Colo's nice mix of size and talent make him a unique player to add to their roster.
Gary Neal will likely be forced to play point often, so adding another shooting guard to take his place on the roster was a smart move to make.
De Colo was drafted in 2009 by the team, but he wasn't one of their most NBA-ready foreign prospects.
If nothing falls through, De Colo will likely be sporting the black and silver for next year's season.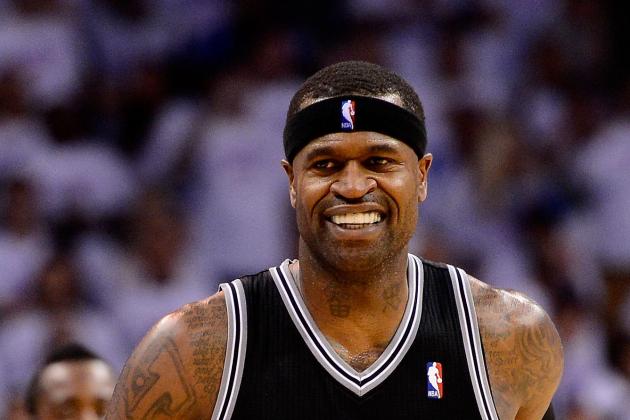 Ronald Martinez/Getty Images

The Spurs traded for Stephen Jackson at the deadline, a move that was highly questionable but later proved to be the right choice.
Jackson was very effective from beyond the arc, especially during the Oklahoma City series, but his best quality was the "nasty" he brought to the team.
Jackson, often labeled a "bad boy," had no problem leaving his act behind and instead bringing energy to San Antonio.
He proved to be a crucial member of the Spurs' roster in the second half of the season, and while he may not see any more seasons in San Antonio beyond the next, he'll still find himself donning the black and silver in 2012-13.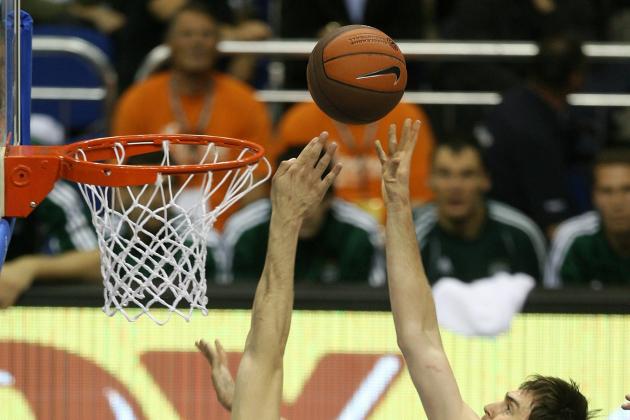 Matthias Kern/Getty Images

Another foreign player looking to join the roster for next season is Erazem Lorbek, the Slovenian big man currently playing in Spain.
The team gained the draft rights to Lorbek as a part of the package that they received in return for George Hill.
Recent reports say that Lorbek has made his decision and plans on coming over for the 2012-13 season.
Lorbek proved to be one of the best players in his league and has the various awards to show for it.
His numerous All-Euroleague selections are nothing to scoff at, as the 6'10'' power forward's combination of shooting and size helped him to be one of the most dominant players in his league.
With Lorbek. the Spurs receive another great outside shooter, similar to Matt Bonner. However, unlike Bonner, Lorbek's strength allows him to be a quality rebounder as well.
His addition will likely cut into Bonner's playing time, as the more versatile Lorbek will likely be the team's shooting big man.
Steve Dykes/Getty Images

Bonner experienced a late-season slump, as he began to struggle with the only thing that he can do well—shoot threes.
Bonner's role on the team was to wait for an open long-shot, and with him struggling with that, he's nearly useless on the court.
However, the Spurs have him wrapped up for a few more seasons, so unless they find a willing trade partner, Bonner will likely remain in San Antonio.
Until he proves that he can still shoot threes without an issue, Bonner will become a benchwarmer for the majority of the season, but it would be foolish to predict that he'll spend the entire season on the bench.
Pop loves Bonner, and it would be expected that he finds time for him, one way or another.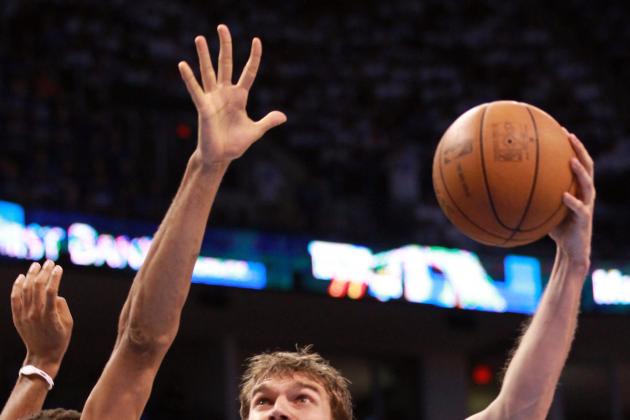 Ronald Martinez/Getty Images

If one player is going to be shipped elsewhere via trade this summer, it will likely be Tiago Splitter.
A mistake on Splitter's part in the Western Conference Finals resulted in a sight that we don't see too often—a very angry Gregg Popovich.
However, I find it absurd to believe that this one incident will earn Splitter a one-way ticket out of San Antonio, as the Brazilian big man proved what a large upside he had, during last season.
His defense and rebounding were strong, and Splitter proved that he could score with an array of post moves to utilize in the paint.
His strong passing game has drawn comparison to Tim Duncan, and with the Big Fundamental's help, Splitter could become the next great big man in San Antonio.
With Lorbek now on the bench too, the rare sighting of both Duncan and Splitter on the court may become more frequent, but he'll still come off the bench, at least until he further proves himself.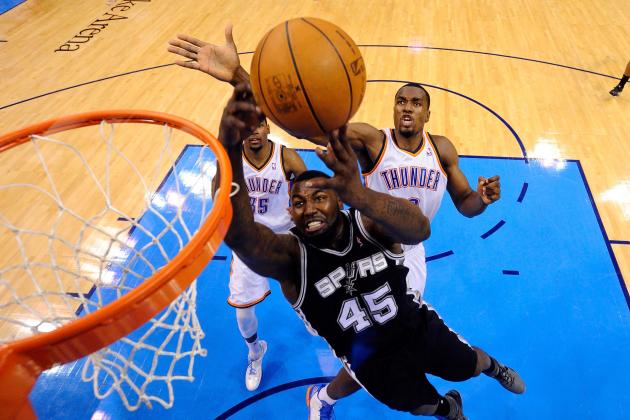 Pool/Getty Images

DeJuan Blair began the season as the Spurs' starting center, only to drop off the face of the earth after the addition of Boris Diaw.
Blair soon became a forgotten name in San Antonio, as he barely saw action on the court.
However, the loss to Oklahoma City really proved his value, as it exposed their need for rebounding and youth.
Despite the expiration of his contract, Blair will likely be sporting black and silver next season again, as the team's new addition of Lorbek will allow Bonner to take Blair's spot on the bench.
He will likely be utilized in a stronger fashion, as his rebounding and strength are key to the team's success, despite his issues on defense.
Still, Blair is another one of San Antonio's success stories, and it would be very surprising if they let him walk away and join another team.