Washington Wizards: Why the Okafor/Ariza Trade Was a Great Deal
June 20, 2012

Chris Graythen/Getty Images
Earlier today, the Washington Wizards traded Rashard Lewis and the 46th pick in the 2012 NBA draft to the New Orleans Hornets in exchange for Emeka Okafor and Trevor Ariza.
For the New Orleans Hornets, the trade was obliviously to clear salary cap space in order to put pieces around consensus No. 1 pick Anthony Davis.  But for the Wizards, the decision may not be as obvious.  General manager Ernie Grunfield and the Wizards are taking a lot of heat for the deal, mostly because of the contracts of Okafor and Ariza, whom by most accounts are considered well-overpaid.
While this may be true, all in all, the deal provides more positives than negatives for the Wizards, and it improves their chances of playing in the postseason dramatically.
First off, the deal instantly improves the Wizards' defense, who ranked 19th in the league last year in both opponents' points per game and opponents' field-goal percentage. 
Ariza and Okafor are both known primarily for their defensive ability and role-player mentality.  Ariza is regularly atop the league in steals per game and his length and athleticism allows him to guard multiple positions and get into passing lanes, something that will increase turnovers and fast-break offense opportunities.
Okafor will most likely either start at the power-forward position or back up Nene at center.  Either way, he is the perfect complement to Nene, who is primarily an offensive-minded player.  With no real shot-blockers on the roster, Okafor fills a need and will help solidify the frontcourt.  Along with Nene and the continued improvement of Trevor Booker, Kevin Seraphin and Chris Singleton, this easily makes one of the deepest frontcourts in the NBA. 
Secondly, both guys have a good winning pedigree and veteran experience, which will continue to change the losing culture and mentality that has plagued the Wizards since the Gilbert Arenas era.  Ariza was a major contributor in the Los Angeles Lakers' championship season in 2009, while Okafor has playoff experience and was one of the best college basketball players in the past decade, where he led UConn to an NCAA Championship back in 2004.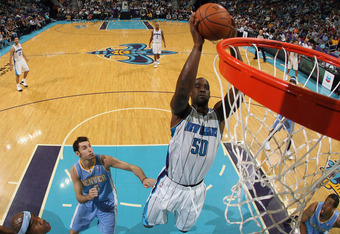 Chris Graythen/Getty Images
Another reason why this trade makes sense is the fact that both Ariza and Okafor are still in their prime. Despite joining his sixth NBA team in just 10 years, Ariza is only 26 years old. He still has yet to reach his full potential and will continue to get better, much like Luol Deng has over the past several seasons. It is well documented that his shot selection is sometimes questionable, but going into his 11th season, he will know his role with Washington will be able to defend and finish around the rim. 
Okafor is coming off one of his worst seasons, but keep in mind that he struggled with knee issues all year and played for one of the least talented and interesting franchises in the league.  With a youthful and rejuvenated roster, it can be expected that Okafor will play up to the standard of his career averages of 13 points and 10 rebounds, to go along with nearly two blocks per game. 
In terms of the No. 3 pick, a lot still depends on what the Charlotte Bobcats do at No. 2. 
If they take Michael Kidd-Gilchrist, it is almost a given that the Wizards would take Bradley Beal out of Florida, who would fill the need of a capable backcourt mate with John Wall.  If the Bobcats elect to take Thomas Robinson, then the Wizards would have a tough choice to make.  They could take MKG, another non-shooter who would help the Wizards defensively, or Beal, who while not a great shooter, would be an upgrade over anyone else on the roster.
Beal, who is more of a slasher, is the better option, but according to most scouts, he'll more than likely become a reliable outside shooter.  With the addition of Ariza, it makes the MKG pick not quite as appealing. 
Don't forget that the Wizards also have the 32nd pick overall, and they could add a three-point specialist in either Kentucky's Doron Lamb or Darius Miller, or Vanderbilts John Jenkins. In terms of free agency, the Wizards will still be on the market for players like O.J. Mayo, J.R. Smith and Danny Green, all reliable jump shooters who would help space the floor for Wall. 
If the Wizards really prefer more of a pure shooter, the potential to trade down is still there.  They could package the No. 3 pick for a No. 5-10 pick and cash or a veteran, and draft Harrison Barnes out of UNC. Barnes is known as more of a spot-up shooter who, with Wall running the offense, would have no problems regularly getting open looks.
While many Wizard faithful think the acquisition of Okafor and Ariza damaged the future for the Wizards, the deal was a solid one.  As long as the Wizards have a good draft, they should easily contend for a playoff spot in the Eastern Conference next season.