10 MLB Prospects Who Could Be the Next Matt Kemp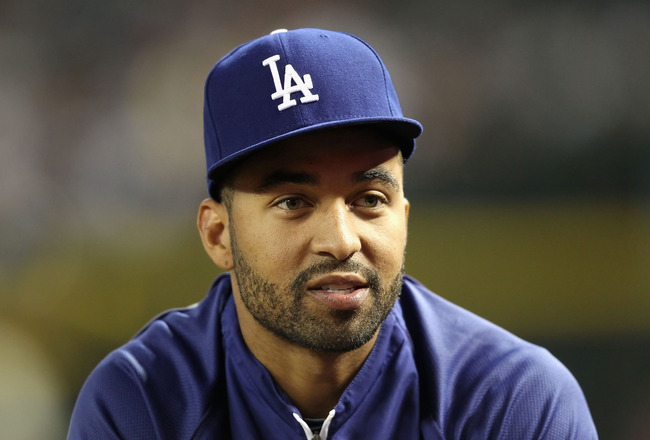 Christian Petersen/Getty Images
Let me say this outright: I believe the term "five-tool player" is an incredibly watered-down adjective that is thrown around too often and assigned to players simply because they possess superb athleticism or prominent tools.
However, if there's one player who I believe deservedly falls into the category of a "five-tool player," it's Matt Kemp.
Kemp's offensive prowess ranks among some of the best in the game, which is apparent at first glance of his 2011 stats:
.324/.399/.586, 76 XBH (39 HR), 126 RBI, 40 SB, -0.2 dWAR (Baseball Reference's defensive WAR).
While his hit and power tool are the most obvious of his tools, Kemp's also an adept base stealer who utilizes his speed whenever he seemingly has the opportunity.
Furthermore, Kemp is also a solid center fielder who patrols one of the most difficult outfields in all of baseball, although his defensive metrics doesn't necessarily support the claim. (For what it's worth, he still won a Gold Glove in 2011—even though that is a flawed award in itself).
Kemp's most questionable tool is his arm, which is really only an average tool on the 20-80 professional scouting scale. However, due to the fact that he's been able to remain in center field, as well as for the sake of this article, I'll view it more favorably than it actually is.
But are there any minor league prospects who have a similar all-around skill set as the Dodgers' All-Star center fielder? It's hard to say at the moment. However, there are definitely a host of prospects that possess a Kemp-like composition. Yet only time will tell if they are able to match his astounding production.
10. Jason Martinson, SS, Washington Nationals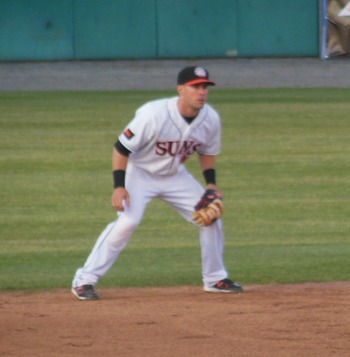 Courtesy of sunsfanclub.blogspot.com
2012 Stats
Low-A: .272/.391/.449, 24 XBH (10 HR), 23 SB, 88 K/47 BB (69 G)
Martinson was a two-sport standout coming out of high school, starring both as a baseball and football player until he tore his hamstring as a wide receiver at Texas State. Although he's incredibly raw in all facets of the game, the 6'1", 190-pounder has above-average speed and arm strength that should allow him to remain at shortstop.
At the dish, Martinson flashes plus raw power to all fields, though his plate discipline leaves something to be desired. Once he refines his approach and becomes more selective, he may have the chance to have an average hit tool.
9. Jordan Akins, OF, Texas Rangers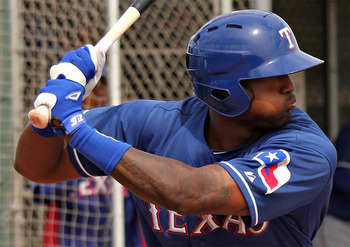 Courtesy of MiLB.com
2012 Stats
Low-A: .207/.235/.346, 15 XBH, 8 SB, 76 K/7 BB (62 G)
A third-round pick out of high school in 2010, Akins turned down a football scholarship to Georgia to begin his professional career with the Rangers. As one expects from a prep standout who dedicated considerable time to multiple sports, his baseball skills are incredibly raw. Still, the 6'5", 192-pound outfielder continues to flash all five tools.
Although his swing is inconsistent, Akins has robust power that he's gradually learning to tap into. Considering that his swing is short and quick, he could hit for a respectable average once his pitch recognition improves.
Akins shows off his double-plus speed in both the outfield and on the basepaths, and his above-average arm is enough to handle any outfield position.
8. Trevor Story, SS, Colorado Rockies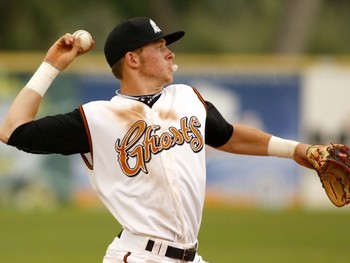 Courtesy of MiLB.com
2012 Stats
Low-A: .266/.361/.506, 31 XBH (10 HR), 5 SB, 56 K/29 BB (61 G)
One of my favorite—and one of the most underappreciated—prospects in all of baseball, Trevor Story employs a mature approach at the plate that allows him to use the entire field. His quick bat and direct bat suggests that he'll hit for average to above-average power as he continues to physically develop.
He's an above-average runner with excellent instincts at shortstop that are enhanced by his smooth and natural actions to and through the baseball. His best defensive tool is his plus arm, which is more than enough for the position.
7. Javier Baez, SS, Chicago Cubs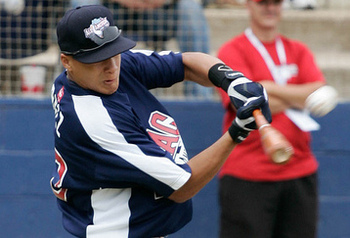 Courtesy of ESPN.com
2012 Stats
Low-A: .317/.419/.556, 6 XBH, 7 SB, 17 K/6 BB (18 G)
The Cubs' first-round pick in the 2011 draft, Baez has the potential to be a rare breed of shortstop due to his ability to hit for both average and power. A right-handed hitter, he has blinding bat speed that results in legitimate power to all fields. He's an aggressive hitter who seems to almost always square up the ball, and once he develops more selectivity, he should see a spike in his batting average.
At shortstop, Baez possesses above-average speed, although his actions and footwork can be rather raw and sloppy. However, he's been able to compensate for such deficiencies with a plus arm that delivers strong and accurate throws.
6. Jake Marisnick, OF, Toronto Blue Jays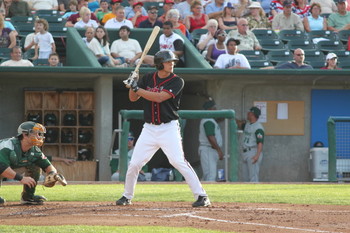 Courtesy of MiLB.com
2012 Stats
High-A: .258/.339/.423, 23 XBH, 9 SB, 47 K/19 BB (51 G)
An incredibly toolsy prospect, Marisnick has all the makings of an standout, everyday big league center fielder due to his plus speed and rage, instinctual first step and an arm that's almost too strong for the position.
At the plate, Marisnick projects to be an extra-base machine, with more power surely to come as he develops. He does an excellent job keeping the bat in the zone for a long time, which should cater to a high batting average as he progresses through the Blue Jays' system. Marisnick's speed is also noticeable on the basepaths, where he is a smart and successful base stealer.
5. Christian Yelich, OF, Miami Marlins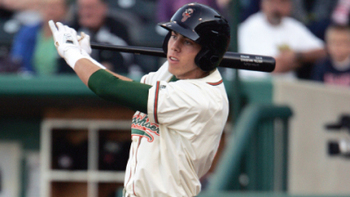 Courtesy of MiLB.com
2012 Stats
High-A: .274/.350/.506, 21 XBH, 11 SB, 45 K/19 BB (44 G)
A left-handed hitter, there's a chance that Yelich will ultimately have the best hit tool out of all the elite prospects in this group. His bat path is compact and direct, and he's already exhibited an ability to hit comfortably in all counts. Although he doesn't hit for a ton of power at the moment, Yelich has the potential for 20-30 home runs as he fills out and adds a little loft to his swing.
Yelich has the ability to play all three outfield positions, although his above-average speed and solid-average arm profile best in center field. However, the potential of his hit and power tool may ultimately land him at a corner outfield position.
4. George Springer, OF, Houston Astros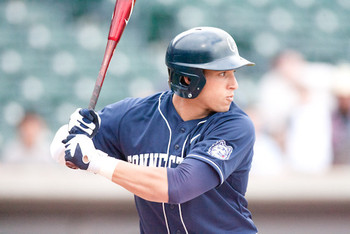 Courtesy of MiLB.com
2012 Stats
High-A: .303/.381/.559, 31 XBH (14 HR), 14 SB, 77 K/30 BB (62 G)
Arguably the toolsiest player in the 2011 draft class, Springer has an excellent blend of power and speed. At the plate, the right-handed swinger struggles to maintain a consistent approach, as he battles between being too aggressive and too selective. As he gains more experience, Springer should consistently hit for a .300-.320 batting average. He's already showing his projectable power and power frequency, driving the ball out of the park to all fields with ease.
In the outfield, Springer has the speed to remain in center field, although his strong arm could also land him in right. He's an above-average to plus runner who covers considerable ground in the outfield, and his speed tends to play up a grade due to a good first step and high baseball IQ.
3. Courtney Hawkins, OF, Chicago White Sox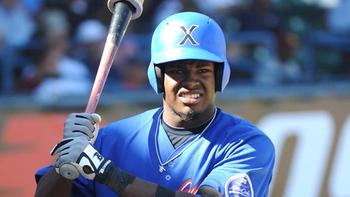 Courtesy of ESPN.com
The 13th overall pick in the 2012 draft, Hawkins has shocking athleticism for a player his size (I can't be the only one who witnessed him doing a stationary backflip on national television). He consistently ran 6.5-6.6-second 60-yard dashes in his pre-draft workouts, although he's bound to slow down as he ages. Also a standout on the mound, Hawkins has clocked as high as 93-94 mph from the outfield.
A right-handed hitter, Hawkins has ridiculous bat speed, and the ball absolutely jumps off his bat. His swing can get long at times, but he still has the raw strength to jump the yard to all fields. He may not hit for a great average in the early stages of his career, as his pitch recognition lags behind his natural ability at the plate.
2. Bubba Starling, OF, Kansas City Royals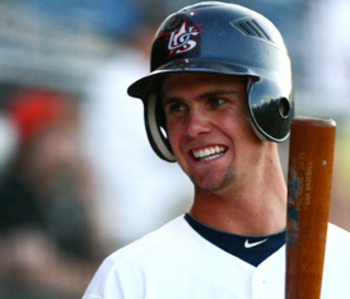 Courtesy of usabaseball.com
A three-sport star coming out of high school, Starling turned down a football scholarship to the University of Nebraska to begin his career with the Royals (it's funny how persuasive a $7 million-plus signing bonus can be). A truly gifted athlete, Starling can run down everything in the outfield and uncorks throws that register in the mid-90s.
At the plate, he has plus power thanks to a lightning-quick bat and lofty swing. Although it's hard to project the potential of his hit tool at the moment, there's no reason to believe it will be anything less than above average.
1. Byron Buxton, OF, Minnesota Twins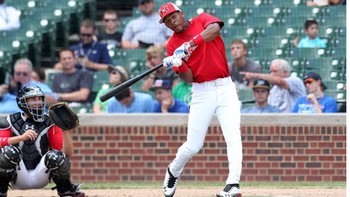 Courtesy of ESPN.com
The best all-around talent in the 2012 draft class, Buxton's sheer athleticism and underrated baseball skills could make him a generational talent. In the outfield, the speedster shows off his wheels and plus range by tracking down balls in all directions, and to top it off, he's not afraid to show off his low-90s arm.
A right-handed hitter, Buxton's approach is still raw—as one expects from a prep hitter. However, his easy, fluid swing and plus bat speed suggest that he may hit for above-average power once he's physically developed.
His hit tool, which remains suspect to many scouts, will ultimately be determined by his approach, though his bat speed and balanced weight transfer should make him at least a .280-.300 hitter. Still, he'll need considerable time to develop in the minor leagues.
Keep Reading