NBA Finals 2012: LeBron James Searching for Immortal Moment
June 21, 2012

Mike Ehrmann/Getty Images
LeBron James wants to win an NBA championship, but not because of his love for the game of basketball.  
James loves the attention and all the perks that go along with playing in the NBA. As a result, he is searching for that NBA Finals moment that will be immortalized. LeBron wants the lifelong attention.
Michael Jordan had numerous classic moments. For example, in Game 1 of the 1992 NBA Finals, Jordan nailed six three-pointers and dropped 35 points in the first half against the Portland Trail Blazers. After Jordan's sixth three-pointer, he shrugged right in front of Clifford Robinson. The moment became immortal as Jordan's Chicago Bulls claimed their second of six NBA championships.
Other NBA champions have had similar immortal moments.  
In Game 7 of the 1970 NBA Finals, Willis Reed played through a torn muscle. Reed's inspiration propelled the Knicks to an NBA championship.  
In Game 6 of the 1980 NBA Finals, Magic Johnson started for the Los Angeles Lakers at center. Magic was only replacing the NBA's all-time leading scorer Kareem Abdul-Jabbar. Johnson had a phenomenal game, scoring 42 points and snagging 15 rebounds as the Lakers won the NBA championship. Magic's performance will be remembered forever.
James is trying so hard to make an immortal Finals moment happen.
At the end of Game 3, LeBron was looking to create an immortal moment. With 16 seconds left and a chance to ice the game, James signaled to the Miami crowd to quiet down as he shot his free throws. LeBron then proceeded to miss the first free throw, thus failing to create that classic Finals moment.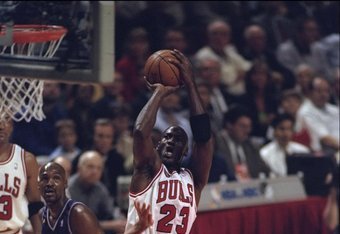 Jonathan Daniel/Getty Images
Then, in Game 4, LeBron got cramps. He looked to be in agony and sat on the bench to recover. With just over two minutes left, James came back into the game and appeared as sprightly as ever. 
Almost on cue, LeBron knocked down a three-point shot to give Miami the lead with about two minutes left. After hitting the shot, LeBron limped back down the court. Mysteriously, the cramps are back after hitting what some are calling the biggest shot of his career.  
While I believe LeBron is now the "FaKing" after exaggerating the severity of his cramps, he may have successfully created an immortal NBA Finals moment.  
That is, if the Heat can close out the Thunder.