NBA Draft 2012: How Ariza and Okafor to Wizards Affects the 3rd Overall Pick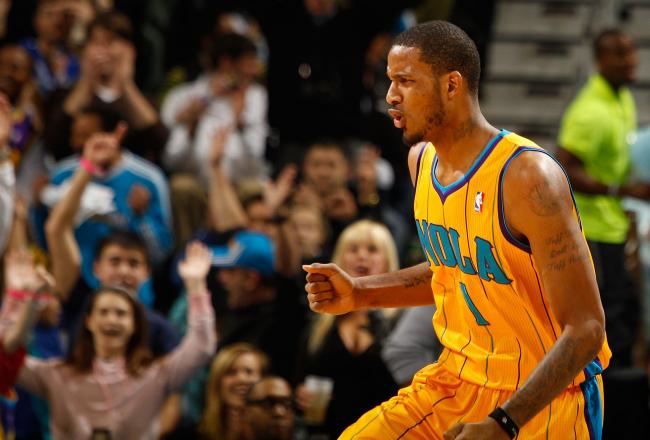 Chris Graythen/Getty Images
Earlier today, the Washington Wizards shipped Rashard Lewis and the 46th overall pick in this year's draft for Trevor Ariza and Emeka Okafor, dumping Lewis' mammoth contract for two reliable role players.
Does this trade affect the Wizards' strategy with the third overall pick in the draft? When asked about the trade's implications on the Wizards' draft plans, Wizards GM Ernie Grunfeld said, "No. Not at all."
However, it's very unlikely that's actually the case.
Before the trade, the Wizards were most likely looking at drafting one of the two premier small forwards available in the draft, Michael Kidd-Gilchrist and Harrison Barnes (many mock drafts had the former going to the Wizards). The only true small forward signed heading into next season, apart from Rashard Lewis, who many had expected to be amnestied or traded, was the 18th overall pick in last year's draft, Chris Singleton.
While many view Singleton as a prospect with a very bright future in the NBA as a lockdown defender, drafting either Kidd-Gilchrist or Barnes was logical for the Wizards because they would fill a positional need. Kidd-Gilchrist and Barnes were also players that fit in well with the Wizards' existing crew, the former an athletic defender in the Gerald Wallace mold, the latter a Luol Deng-esque jack of all trades.
The main alternatives were shooting guard Bradley Beal and big men Andre Drummond and Thomas Robinson (assuming he slipped past Charlotte at the second pick). However, they didn't make as much sense as MKG and Barnes did for Washington when they had a promising young shooting guard in Jordan Crawford and a sizable platoon of big men already.
After adding Trevor Ariza, however, all those available minutes at small forward have suddenly disappeared. Ariza is a guy that will soak up 20 to 30 minutes nightly, and the rest of the playing time will go to Singleton.
So, who do the Wizards draft?
There's also Jan Vesely, the sixth overall pick from last year's draft who plays both small forward and power forward. With Emeka Okafor joining the Wizards' platoon of bigs, the available minutes at power forward will be reduced, meaning Vesely would have to play more minutes at small forward, possibly dumping Singleton to the bottom of the depth chart altogether.
With that being the case, drafting Kidd-Gilchrist or Barnes makes no sense anymore. Robinson and Drummond aren't logical choices either, with Okafor joining the team. That leaves Bradley Beal. While they still have Jordan Crawford, drafting Beal makes the most sense now out of their available options.
Beal, a scorer who played for the Florida Gators last season, is a very similar player to Jordan Crawford. He is a perimeter scorer who does most of his damage with his jumper, and he has a promising future. After Crawford's success last season, adding a similar player in Beal should be a seamless transition for the Wizards.
As good as Crawford was last season, Beal would be an upgrade, especially in the longterm. If they add Beal, Crawford can either return to the bench role that he had prior to the Nick Young trade last year, or trade him in conjunction with another one of their players (like Andray Blatche, who's been on the block since early last season).
While Beal is under no circumstances a lock to be Washington's man at No. 3 overall, the odds have shifted towards his favor after today's trade. MKG and Barnes remain viable options, particularly if they shift Ariza over to the shooting guard position. Right now, however, Beal seems most likely of all three to be the one wearing a Wizards jersey come opening night.
This article is
What is the duplicate article?
Why is this article offensive?
Where is this article plagiarized from?
Why is this article poorly edited?

Washington Wizards: Like this team?