Is New York Jets Head Coach Rex Ryan Still Coddling Mark Sanchez?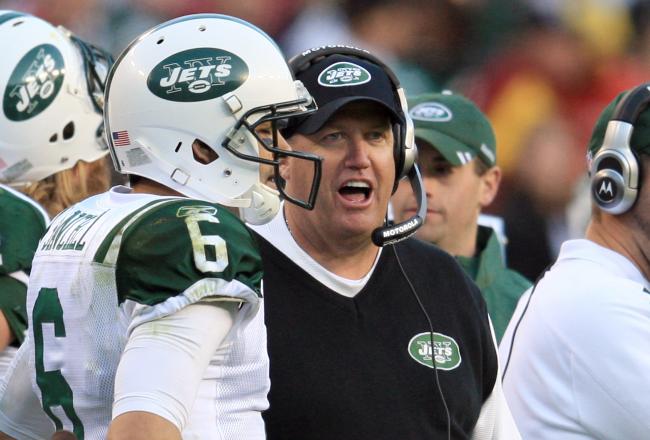 Rob Carr/Getty Images
It's a fair question.
Rex Ryan gives Mark Sanchez the keys to his offense, and he turns into a turnover machine.
He was called "lazy" by unnamed teammates who wanted the team to go after Peyton Manning instead. According to an unnamed Jets source (and via Yahoo! Sports), here's how Sanchez's teammates feel:
They see the organization babying him. They see him with a sense of entitlement. He's been given all this and hasn't done anything. They call him "San-chise." They make him the face of the organization. They gave him the captain tag. He's not a captain. He should have never been a captain.
Yet, Sanchez remains the unquestioned starter. Though he came close on more than one occasion, Ryan never dared to bench him. In fact, not only was Sanchez all but guaranteed to see his seat as the starter left open for him to return to.
Despite all of this rather damning evidence that Sanchez gets a pass, he faces as much adversity as any quarterback in the NFL.
Getting Tebow may not have been Rex's idea, but he was not against it either.
Jeff Zelevansky/Getty Images
Even though the Tim Tebow trade was not Ryan's decision, he did not show any objection to the move. No matter what he may say, Ryan knows what Tebow brings to the table and how he can be a huge distraction to any starting quarterback, especially those whose stock is low and coming off "down" years.
If Ryan were really coddling Sanchez, he would have had something to say about the move to get Tebow. Yes, Mike Tannenbaum makes the decisions, but Ryan has a certain amount of weight, just as he was part of the decision to bring in Santonio Holmes.
Yes, Sanchez enjoys something few NFL players enjoy: job security for the foreseeable future. After being given an extension in March, Sanchez will be the quarterback for quite a while (barring catastrophic failure or injury).
It is easy to point at their reward for subpar performance as "coddling," but the reality is that the Jets simply have no other option but to continue with Sanchez as their starter.
With all of their star power on both sides of the ball, the Jets are a team built to win now. Drafting a rookie would only set them back even further as a franchise and let the talents of players like Darrelle Revis and Nick Mangold go to waste. Outside of Peyton Manning, there were not many quarterbacks that could have possibly been an improvement over Sanchez without derailing the organization's direction.
This leaves Rex Ryan essentially married to Sanchez, whether he likes it or not. Therefore, any actions he takes that are viewed as "coddling," whether it is praising him in press conferences or letting substandard performances slide.
Still, all of this support and praise for Sanchez is necessary for team morale.
This is a team that has lacked confidence as of late. By now, Sanchez should be entering the prime of his career; the days of blaming his shortcomings age is over. Ryan needs to instill confidence in his quarterback and get his team to stand behind him.
However, there is a thin line Ryan walks between showing support and coddling. While he should continue to promote Sanchez as the starter with Tebow in the picture, he must be careful not to give into his tendency to overpromote players before the season and ramp up the hype machine.
So far, Ryan has done a solid job in walking this thin line. While NFL.com reported Ryan praised Sanchez to start the offseason practices, he kept everything in perspective by giving the defense black jerseys as a head nod to the reality that the defense is outplaying the offense (from NYJets101.com).
Is Rex Ryan coddling Sanchez?
Ryan will continue to walk this tricky balancing act for the remainder of the season, but so far he has done his job in terms of giving Sanchez support without recognizing the reality of his limitations.
So, is Sanchez being coddled by Ryan? No, not yet. However, Ryan has yet to be faced with adversity from his quarterback this season. When Sanchez does falter, that is when we will know whether or not he has been coddled all this time for sure.
This article is
What is the duplicate article?
Why is this article offensive?
Where is this article plagiarized from?
Why is this article poorly edited?

New York Jets: Like this team?