Falcons' Cheerleader Kat Majester Attempting to Make Olympic Pole Vaulting Team
June 20, 2012

A flood of top American athletes will soon leave for London to compete in the Summer Olympics. If one Atlanta Falcons cheerleader lives out her dream, she will be among them. 
The Summer Games are back once again to give us a heap of track meets, archery exhibitions and equine battles. For Kat Majester, it's all about the pole vault. 
Jay Adams of the Atlanta Falcons blog reports on a great story that could soon turn amazing. It seems the rookie cheerleader known as Kat M. will be heading to Eugene, Ore. this weekend for the U.S. Olympic Team Track and Field Trials.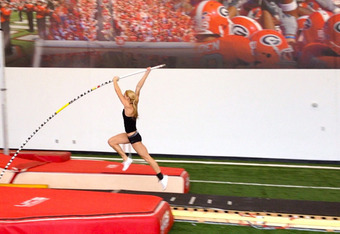 Majester explains her hopes to Adams:
It has been a dream of mine to go to the Olympics since I was little, but I just never thought that my best chance at that would be in pole vault. I wanted to be an Olympic gymnast since I started at age 4. It wasn't until I transferred to UGA and qualified for the NCAA National championships that I realized it was a possibility in track and field. I know that this week the odds of me finishing top three are slim since I am far less experienced than any other girl out there.
According to the report, Kat has just three years of experience and colors her chances as mediocre at best. 
It seems the top-three finishers make the team—Majester currently ranks in the teens in the specific event.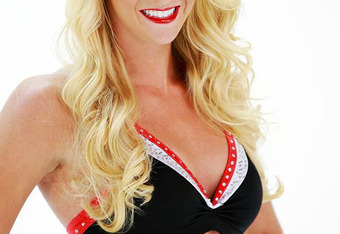 The former Clemson cheerleader was discovered when a track coach spotted her doing backflips at a Clemson game. She will be banking heavily on pure athletic talent and a youth filled with gymnastics training to get her through the trials. 
If so, the Falcons will be represented by one amazing cheerleader who is shooting for the Olympic stars. 
Follow me on Twitter for more sexy summer news.