2012 NBA Mock Draft: Where Rookie of the Year Candidates Will Land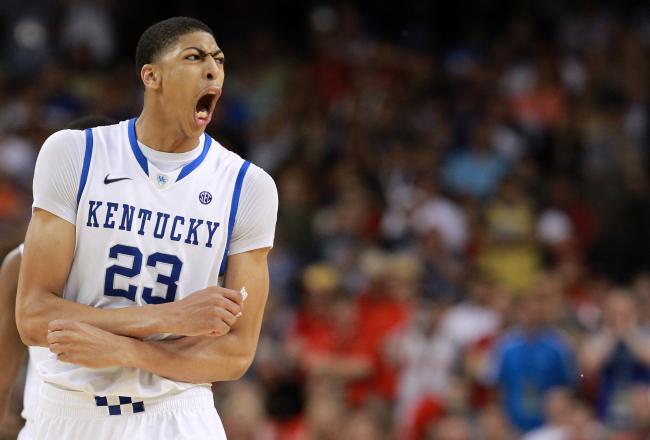 Ronald Martinez/Getty Images
The 2012 NBA draft class is loaded.
There's a reason picks two through six are more uncertain than they have been in years. There's a reason players' stocks are rising from the 20s to single-digits, and vice versa. There's a reason I continue to be baffled at the talent falling into the second round.
Not only is this loaded class going to make life very hard for general managers on draft night, it is going to make Rookie of the Year voting extremely difficult because there will be plenty of candidates.
In my latest mock draft, I'll take a deeper look at where the top candidates for the prestigious award will land.
Note: These players are in italics
Also note: All following stats come from DraftExpress.com.
1. New Orleans Hornets (21-45): Anthony Davis, PF, Kentucky
Who cares if Davis' offensive game is still raw and far from complete? Who cares if he can't yet dominate in the low post? Who cares if he could potentially get pushed around by bigger defenders?
The Hornets, who will take the former Kentucky star at No. 1, sure don't.
Anthony Davis could score eight points per game during his rookie season and still easily be the best rookie. That's how good the other aspects of his game are.
His tremendous length, athleticism and weak-side IQ will immediately make him one of the best shot blockers in the league, not to mention a great rebounder and even a solid perimeter defender.
There's a reason Davis scored just six points in the national championship and was still awarded Most Outstanding Player. Because he pulled down 16 rebounds, dished out five assists, tallied three steals and blocked six shots.
Even if Davis' mid-range game, which is developing rather quickly, doesn't translate right away to the NBA, he's going to make a hug impact for the Hornets.
2. Charlotte Bobcats (7-59): Thomas Robinson, PF, Kansas
Now let the speculating begin. After Davis goes first, the Bobcats could go any number of ways.
However, with their team having so many different holes, they simply need to grab the player with the highest floor who can contribute right away.
That's Thomas Robinson, and those certain qualities also happen to make him a good Rookie of the Year candidate.
Not only does Robinson have a wingspan of just over 7'3" that will quell issues with his height (6'8.75" in shoes), he has terrific athleticism for a power forward.
T-Rob is the best rebounder in this draft (14.6 per 40 pace-adjusted minutes), he has a motor that will never let him quit and he even has range extending to the three-point line.
Who will win Rookie of the Year?
Think of him as an Al Horford-type player, and that's certainly Rookie of the Year quality.
3. Washington Wizards (20-46): Bradley Beal, SG, Florida
After acquiring Emeka Okafor and Trevor Ariza from the New Orleans Hornets, it is clear the Wizards won't grab Michael Kidd-Gilchrist with this pick.
Instead, they'll go for a shooting guard to round out their starting lineup. That makes Beal the logical choice.
4. Cleveland Cavaliers (21-45): Michael Kidd-Gilchrist, SF, Kentucky
The New Orleans-Washington trade is Cleveland's gain. While getting Bradley Beal would have been just fine, the Cavs will be extremely happy to see MKG fall to them.
He's a great defender, he's great in transition and he's Kyrie Irving's former high school teammate. Great fit.
5. Sacramento Kings (22-44): Harrison Barnes, SF, North Carolina
While Andre Drummond is an intriguing combination of size and athleticism, adding him as DeMarcus Cousin's frontcourt mate would only make the Kings more immature.
Instead, they'll fill a position of need, by grabbing SF Harrison Barnes, who should establish himself as an immediate top scorer from this class.
Barnes, who has prototypical small forward size but also features unreal athleticism, is first and foremost a shooter.
While he has trouble creating his own shoot, Barnes has one of the most NBA-ready jump shots in the draft. As long as he has players around him to take the pressure off, he'll excel.
Barnes has always looked like the ideal No. 2 or No. 3 option, and with Isaiah Thomas, Tyreke Evans and Marcus Thornton drawing the defense, the former North Carolina star will have a great year shooting the ball.
If Barnes, who could go as high as No. 2, does in fact land in Sacramento, he is my favorite for Rookie of the Year.
6. Portland Trail Blazers (via 22-44 Brooklyn Nets): Andre Drummond, PF, Connecticut
A high-risk center might scare Portland fans, but they will be even more upset if Drummond falls this far and the Blazers pass on him.
Drummond's lack of consistency and production is scary, yes, but he's big and athletic. NBA teams love that.
7. Golden State Warriors (23-43): Dion Waiters, PG/SG, Syracuse
Waiters' stock is shooting through the roof, and if none of the top six players fall to Golden State, they will have a tough decision to make.
They would like to get a small forward here, but Waiters gives them great backcourt depth in the event that Steph Curry inevitably gets hurt or Klay Thompson shifts to the 3.
Waiters is an explosive scorer. The Warriors will like that.
8. Toronto Raptors (23-43): Jeremy Lamb, SG, UConn
With a pass-first point guard in Jose Calderon running the show, the Raptors could use a scoring wing to shift DeMar DeRozan to the 3.
Not only is Lamb a silky mid-range scorer, but he also brings a 6'11" wingspan that helps play annoying defense.
9. Detroit Pistons (25-41): John Henson, PF, North Carolina
Greg Monroe is one of the more skilled big men in the league, but he could use a long, athletic power forward or center to pair up with.
That's exactly what John Henson is, who I like to refer to as "Mini Anthony Davis."
10. New Orleans Hornets (via 26-40 Minnesota Timberwolves): Meyers Leonard, C, Illinois
Well, the Hornets traded away Emeka Okafor, and both Chris Kaman and Carl Landry are free agents.
Despite getting Anthony Davis, it appears New Orleans will still have to grab another big man.
Meyers Leonard is a bit of a project, but pairing him with Anthony Davis could make for a devastating frontcourt of the future.
Where will Damian Lillard be drafted?
11. Portland Trail Blazers (28-38): Damian Lillard, PG, Weber State
And the Blazers complete their dream draft as first Drummond, who is a top three talent, falls to No. 6, and now Lillard, who is a top 10 talent, falls to No. 11.
12. Milwaukee Bucks (31-35): Perry Jones III, SF/PF, Baylor
While Jones has been marketing himself as a small forward, which has rightfully scared some teams off, Milwaukee needs big-man depth.
Despite his lack of motor, it's hard to pass up on a 6'11" forward with a 38.5" vertical and tremendous quickness.
13. Phoenix Suns (33-33): Austin Rivers, PG/SG, Duke
Not only does Rivers give the Suns the scoring perimeter player they need, but he can play point guard and serves as Steve Nash insurance.
Kendall Marshall would be another option here.
14. Houston Rockets (34-32): Tyler Zeller, C, North Carolina
The Rockets' biggest need is center and Tyler Zeller is easily the best one available.
Zeller is fast, has offensive skills around the basket and will be a solid role player for a long time in the NBA.
15. Philadelphia 76ers (35-31): Jared Sullinger, PF/C, Ohio State
Sullinger doesn't have great height to be a center or great athleticism to be a power forward. Strike one.
Also, he was just red-flagged because of potential back issues. Strike two.
Luckily for Sully, there's no strike three and he'll still crack the top 15. He's one of the best low-post scorers in the draft, and that's a big need for Philly.
16. Houston Rockets (via 36-20 New York Knicks): Terrence Ross, SG, Washington
Whatever the opposite of trust is, Kevin McHale had a lot of that with Kevin Martin this season. He would at times bench the dynamic shooting guard for the entire game, and it wouldn't be surprising to see Houston grab a potential replacement.
Ross is a great scorer, a good dunker, athletic and seriously improved his defense during his sophomore season at UW.
17. Dallas Mavericks (36-30): Kendall Marshall, PG, North Carolina
Unless the Mavs suddenly gain faith in Roddy Beaubois, they will need a backup for Jason Kidd.
Marshall was once seen as a top 10 pick, and although he doesn't have great shooting or defensive skills, his passing will make everyone around him better.
18. Minnesota Timberwolves (via 36-30 Utah Jazz): Moe Harkless, SF, St. John's
The Timberwolves would rather see a shooting guard like Terrence Ross or Austin Rivers here, but they'll settle for Harkless.
He needs to develop his perimeter shot, but his length, athleticism, penetration and defense are all very good and will turn him into a stud soon enough.
19. Orlando Magic (37-29): Terrence Jones, SF, Kentucky
The Magic need some playmakers on the perimeter, and Jones is a solid point forward who can do just that.
20. Denver Nuggets (38-28): Quincy Miller, SF, Baylor
I love how well Quincy Miller would back up Danilo Gallinari. Gallo is an electric scorer at the small forward position, but Miller has a ton of length and looks to be an elite defender at the next level.
This is a smart pick for a Nuggets team that doesn't have a ton of glaring needs.
21. Boston Celtics (39-27): Arnett Moultrie, PF, Mississippi State
Speak of this draft being loaded. Moultrie could easily hear his name called in the lottery, but the C's would be just fine to grab him here.
Moultrie is a great rebounder and solid shooter. He's a perfect eventual replacement to Kevin Garnett.
22. Boston Celtics (via 40-26 Los Angeles Clippers): John Jenkins, SG, Vanderbilt
If you were to pull someone out of this draft who would immediately make the three-point contest, it would be Jenkins.
He has a pretty stroke and an amazingly quick release. He can play the Ray Allen role off the bench.
23. Atlanta Hawks (40-26): Royce White, SF, Iowa State
White was starting to see his stock drop, but after dominating the interviews and putting to rest the concerns of his anxiety disorder, he could easily crack the top 20.
He combines his great size with tremendous ball handling and point guard vision.
24. Cleveland Cavaliers (via 41-25 Los Angeles Lakers): Fab Melo, C, Syracuse
After getting Kidd-Gilchrist with their first pick, I could see the Cavs going after a shooting guard here, but they need frontcourt depth and adding even more defense would be a smart move.
Melo is raw on offense, and even though he's not exactly a genius, he's a freakish athlete with great shot-blocking skills.
25. Memphis Grizzlies (41-25): Tony Wroten, PG, Washington
The Grizzlies seriously need a backup point guard, and while Wroten's vision, passing and size scream "starter," he still needs time to develop.
This is a good pick for both sides.
26. Indiana Pacers (42-24): Draymond Green, PF, Michigan State
The Pacers need some frontcourt depth and leadership. Green, who is one of the most experienced players in the draft and can do everything on the court, will provide just that.
27. Miami Heat (46-20): Andrew Nicholson, PF, St. Bonaventure
Besides Chris Bosh, the Heat have no big men who can score on the inside, unless you want to count LeBron James.
Well, Nicholson not only has some of the best footwork in the post, but he can also step outside and hit the jumper. He has a high basketball IQ and would be a great pick for Miami.
28. Oklahoma City Thunder (47-19): Marquis Teague, PG, Kentucky
Derek Fisher is probably going to be playing for the next 35 years, but James Harden may hit free agency soon and the Thunder need some guard depth.
This is a bit low for a John Calipari point guard, so the Thunder will happily will grab Teague.
29. Chicago Bulls (50-16): Will Barton, SG, Memphis
Barton badly needs to add some strength to his skinny frame, but it's hard to complain with 18.0 points, 8.0 rebounds, 2.9 assists and 1.4 steals per game.
The Bulls need backcourt depth and Barton has a high ceiling.
30. Golden State Warriors (via 50-16 San Antonio Spurs): Jeff Taylor, SF, Vanderbilt
After failing to get their small forward with pick No. 7, the Warriors will happily snatch up Jeff Taylor, who will add maturity, toughness, rebounding, defense and a solid three-point shot.
He's the perfect role player and that's what Golden State needs with this pick.
This article is
What is the duplicate article?
Why is this article offensive?
Where is this article plagiarized from?
Why is this article poorly edited?