Lolo Jones: Can Her Hype Survive a US Olympic Trials Letdown?
June 20, 2012

Harry How/Getty Images
Based on the percentage of Olympic media coverage committed to American sprinter Lolo Jones in the lead up to London 2012, where would you imagine she ranks this season among 100-meter hurdlers?
First? Third?
Try thirteenth.
So far in 2012, 11 women have run the 100-meter hurdles faster than America's second-favorite virgin, including seven fellow Americans. Worse yet, Jones' season-best time of 12.75-seconds ranks just 32nd in the world this year.
I mention this not to disparage Jones or suggest that she's unworthy of her fame.
The Iowa native has overcome childhood poverty, intermittent homelessness and, most recently, severe injury to achieve a level of athletic success and personal wealth most people couldn't imagine. Give the woman her due.
But Jones does make for fascinating social experiment.
Namely, can an athlete's celebrity outpace his or her athletic performance?
The answer, of course, is yes.
But for how long? And to what degree?
For Jones, the answer will likely come in some form or another after she runs at the upcoming U.S. Track and Field Olympic Trials in Eugene, OR.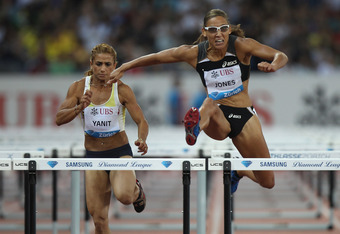 Michael Steele/Getty Images
If she fails to make the U.S. team—as she did for the 2009 and 2011 Outdoor World Championships—it likely spells the end of Jones' days as a news maker. Olympic athletes that don't make the Olympics aren't generally front-page material.
But let's say Jones just barely qualifies and earns the last of Team USA's three slots with a time that clearly marks her a non-medal-contender.
What then? Will people still care about Lolo Jones?
They might. After all, people still care about Tim Tebow—an athlete Jones has often been likened to—even when his passes come off like duck farts. Some might even argue that there is a positive correlation between the piss-poorness of Tebow's play and the mushrooming hype that surrounds him.
But football is a different beast, and quarterback play is notoriously difficult to evaluate. Criteria is subjective and circumstances are ever-changing. It's easy to keep the debate burning long past the point of empirical evidence.
Track isn't so forgiving. You are your time. You either beat 'em to the line or you don't.
If Jones runs a 12.85, there will be no Monday-morning caveats about her receiving corps or her offensive coordinator. People may quibble about fitness or headwind, but by and large, they'll look at those four digits and say, "That's Lolo Jones."
Or maybe they won't.
The question becomes this:  By virtue of her personality, sex appeal and lifestyle choices, has Jones somehow transcended the rote equivalency of her time?
This week holds the answer. I don't see Jones finishing in first or second place at U.S. Trials.
If she makes the U.S. team, it will be by the slightest of margins. And then we'll find out just how deep Lolo Jones has seeped into the zeitgeist.
If she's bigger than her outcomes, media and fans won't bat an eye.
If she isn't, these may be the final precious seconds of Lolo Jones' fame.