Remembering Why the Big 3 Chose Miami and Not Another NBA City
June 20, 2012

Mike Ehrmann/Getty Images
Would you look at that? The Miami Heat are one win away from claiming the NBA title, against all odds and expectations...
Excuse my snark.
But seriously, history dictates that the Heatles, now owners of a 3-1 series lead over the Oklahoma City Thunder in the NBA Finals, are about to bring the Larry O'Brien Trophy back to South Beach. No team has ever failed to deliver a championship after owning such a commanding advantage in the Finals.
Of course, doing so was the Heat's sole charge when LeBron James and Chris Bosh first joined Dwyane Wade in Pat Riley's big, happy family in July of 2010. By the looks of it, this particular aligning of superstars was all about family.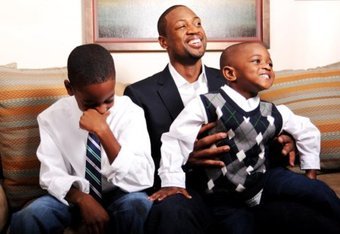 No, not D-Wade's actual family, as had been whispered at the time. True, Wade had finalized divorce proceedings with his ex-wife, Siovaughn, mere days before hitting free agency, after a bitter court battle that'd consumed his life off the court since 2007. He was also scheduled to lawyer up again just weeks later, to fight for full custody of his two sons, Zaire and Zion.
Wade wasn't awarded the care of his children until March of 2011. In the meantime, the kids lived in Chicago and the Wades duked it out in Cook County court while Dwyane played through a media maelstrom down in Miami.
Even now, Wade's dispute with his former high school sweetheart remains problematic, to say the least. According to The Associated Press, Dwyane has requested that a Chicago judge suspend Siovaughn's visitation rights after she was arrested and charged with "two counts of attempted child abduction, two counts of unlawful visitation interference and one count of resisting arrest" over the weekend.
So, really, if Dwyane's main concern in free agency was finding a place to play that would allow him to handle his personal business with less hassle, it stands to reason that he would've wound up with the Chicago Bulls.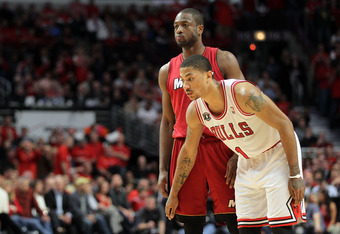 Mike Ehrmann/Getty Images
And, by all accounts, he almost did. Wade seriously considered seizing the opportunity to play for his hometown team that fateful summer, alongside fellow Chicagoan (and soon-to-be-MVP) Derrick Rose, while keeping his kids close and his enemy (i.e. his ex-wife) closer.
But LeBron and Bosh couldn't both have made the journey to the Windy City. The Bulls had plenty of space under the cap with which to wheel and deal, though nothing quite like the scorched-earth payroll that Pat Riley hustled up after clearing everyone (save for Mario Chalmers) off the books.
And Riles, for that matter, wouldn't have come along for the ride, nor would Erik Spoelstra. Those two were firmly entrenched in Miami and had (and have) been a part of the Heat organization for far longer than Wade. They'd had known, worked and been friends with "The Flash" since he first came to Miami as the fifth pick in the 2003 NBA Draft.
Which is right around the time Wade first came to be buddy-buddy with LeBron and Bosh. As it happens, the seeds of a Great Triumvirate were first planted at the pre-draft camp in Chicago that year. As Wade told Jeff Zillgitt of USA Today last spring:
"People forget that me and 'Bron was the best of friends before we played together. We hit it off right away and have been friends ever since."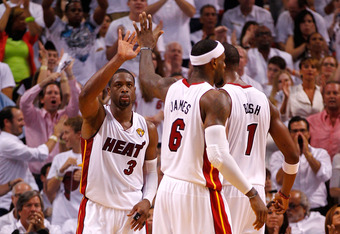 Mike Ehrmann/Getty Images
Presumably, Bosh was off in the corner, gazing longingly at Wade and LeBron palling around, hoping they'd ask him to be their friend someday.
In any case, it was that family—Wade's basketball clan rather than the one of flesh and blood—that ultimately pulled him back to Miami, and led Bosh and James to follow suit.
For better or worse, though for the Big Three, the Heat organization and legions of fans in Miami and around the world of basketball, a win on Thursday night would make all the heartache, criticism and scrutiny that came with such an unprecedented assemblage well worth it.
And the rest, as they say, would be history.