Minnesota Vikings: Why Percy Harvin Is Wrong to Make Demands
June 20, 2012

Hannah Foslien/Getty Images
I woke up this morning to check the Internet for any new NFL stories, and what I behold as I click through the headlines makes me double-take: Percy Harvin asks the Vikings to trade him.
Well, this is shocking.
A million thoughts pour through my brain, and I just know that I have to write about this. However, after some preliminary research I begin to realize something.
Percy Harvin is wrong.
While many people think Harvin is right to ask for a trade or a new contract, I'm going against the grain. Here's why:
There is no reason that Percy Harvin should be unhappy about lack of opportunity. Instances such as this, like Brandon Marshall or Terrell Owens demanding the ball more, have been well documented in the past.
But Harvin cannot use this argument here. Last season Harvin had 139 total offensive touches, which averages out to be 8.7 touches per game. This number of offensive touches exceeded that of any other wide receiver last season.
Percy Harvin's ability is clearly not being hindered by lack of opportunity.
Harvin's salary is also an issue that is overblown. While people say that Harvin's contract complaints are justified because he "only" makes $915,000 this year, his average salary—the salary that includes the signing bonus—is actually $2,483,800.
This value is comparable to or over the salaries of notable receivers such as Hakeem Nicks, Desean Jackson, Victor Cruz, Kenny Britt, and Marques Colston, to name a few. Harvin is by no means vastly underpaid.
The Minnesota Vikings organization is making clear strides to get better. The improvement of quarterback Christian Ponder in his second year means that the chemistry and subsequent production of the Ponder-Harvin duo will continue to get better and better. The addition of Matt Kalil in the 2012 NFL draft will also aid Ponder's development.
General Manager Rick Spielman has shown that he is not afraid to make aggressive moves to get what he wants—as he did with Harrison Smith in the previously mentioned draft. These developments are signs of better things to come for the Minnesota Vikings, and Percy Harvin should appreciate that.
Percy Harvin's offensive production raises some questions about his playmaking ability. Each successive year he has been in the NFL, Harvin's yards per catch have dropped. While his number of catches has gone up each season, this means that Harvin hasn't displayed explosive playmaking skills consistently as his workload increased.
This suggests that while Harvin has great straight-line speed, his ability to consistently make people miss is questionable. His receiving yardage production last year compared to the likes of Darrius Heyward-Bey, Jabar Gaffney, and Nate Washington—not exactly top- or even second-tier receivers in the NFL.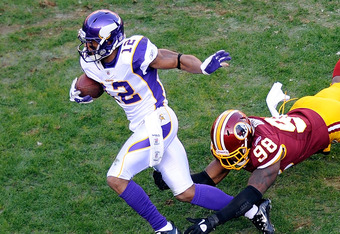 Patrick McDermott/Getty Images
Last season Harvin also ranked out of the top 20 in total receiving yards, out of the top 190 in yards per catch, and out of top 30 in receiving touchdowns. This kind of unimpressive production compared to the rest of the league suggests that Harvin is not capable of being the number one offensive option for the Vikings, much less is he in any position for contract or trade demands.
Harvin's offensive inconsistency, combined with his migraine issues, which have kept him out of multiple games and practices, could justifiably make Minnesota want Harvin to prove his value to the team for at least one more year under his current contract before they make any roster moves involving him.
While many people maintain that Harvin's value exceeds his production on just the offensive side, Harvin's all-around impact is simply overrated.
With kickoffs being moved to the 35-yard line instead of the 30, a much higher percentage of NFL kickoffs were not returnable last season, minimizing the impact of kick returners. In effect, Percy Harvin returned only 16 kicks last season—a whopping average of one per game. Harvin's impact on special teams is thus extremely limited because of the increased touchbacks and also the fact that he doesn't return punts.
Harvin's influence running the ball is also much overvalued. The fact that it is very rare for a wide receiver to be a threat running the ball makes fans think of him as more of a consistent runner than he actually is; Harvin averages just under two rushing attempts per game for his career. Percy Harvin's ability to influence multiple aspects of the game is evidently quite restricted.
Because we see that Harvin's impact on multiple facets of the game is clearly overrated, his most important asset to the Vikings is his ability as a receiver. However, as mentioned earlier, Harvin's receiving production has been questionable in the past; for instance, he has never had a 1,000-yard receiving season.
Also, Harvin's build—5'11", 184 lbs—is not that of a traditional number one receiver today; Calvin Johnson, Larry Fitzgerald, Andre Johnson, and Vincent Jackson, to name a few, are all over 6'3" and have all recently cashed in on big pay days. However, it is still possible to be a number one receiver without size.
For instance, the Philadelphia Eagles' Desean Jackson is well under six feet and he recently signed a long-term deal. Jackson earned his deal with big production though, as he has multiple 1,000 yard seasons under his belt.
Therefore, if Harvin wants a big contract, his receiving production will have to make drastic improvements.
While Percy Harvin is indeed a valuable player, his demands are clearly unreasonable. As the NFL game evolves into a more pass-oriented league, Harvin needs to step up his game and become the dominant receiving threat he has not proven to be in his career thus far.
Until he does that, I better not wake up to find that the Minnesota Vikings have given in to Percy Harvin's demands.