NBA Draft 2012: How Hornets-Wizards Trade Affects Michael Kidd-Gilchrist
June 20, 2012
Kevin C. Cox/Getty Images
One of the top prospects entering the 2012 NBA draft has long been Kentucky's Michael Kidd-Gilchrist. 
While the Kentucky product is likely to be selected among the top five picks in the draft, the trade between the Washington Wizards and New Orleans Hornets could affect MKG's draft status more than may be initially thought.
The Wizards landed themselves a pair of defensive playmakers in Trevor Ariza and Emeka Okafor, so it's possible that they no longer have interest in Kidd-Gilchrist at No. 3. If he doesn't go to Charlotte at No. 2, then Kidd-Gilchrist could surprisingly drop.
With questions about his perimeter shooting and his offensive ceiling, Kidd-Gilchrist could be the odd man out when it comes to the top five picks.
With MKG's teammate Anthony Davis a lock to go No. 1 overall to the Hornets, here's a look at how the trade could impact the former Kentucky star and drop him possibly down to the Golden State Warriors, who currently hold the No. 7 pick.
No. 2 Charlotte Bobcats
There have been reports that Michel Jordan isn't thrilled with the prospect of selecting MKG, so if Charlotte takes Thomas Robinson, then Kidd-Gilchrist could definitely begin to drop.
The best-case scenario, though, is if a team trades up to this spot to select him. If they don't, here's how things could ultimately play out.
No. 3 Washington Wizards
Having already picked up a pair of quality defensive players in Okafor and Ariza, Florida's Bradley Beal becomes a legitimate option to go to Washington.
The possibility of a John Wall-Bradley Beal backcourt may be too enticing to pass on.
No. 4 Cleveland Cavaliers
This comes down to MKG or Harrison Barnes, and the Cavs have made it known how much they love Barnes.
It wouldn't come as a surprise to see Cleveland elect to go with the scoring potential of Barnes here.
No. 5 Sacramento Kings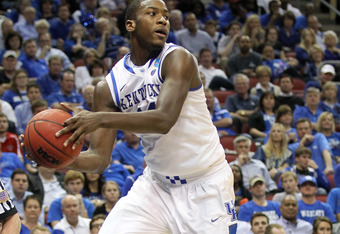 Andy Lyons/Getty Images
The Kings need a big man, so with Andre Drummond on the board, he makes much more sense for Sacramento.
The Kings have enough wing players right now and need to address the need for a post player to pair with DeMarcus Cousins.
No. 6 Portland Trail Blazers
The Blazers need a point guard and a big man with their two picks. MKG really isn't a fit here.
Damian Lillard out of Weber State makes sense for Portland, as while it would be tempting to grab Kidd-Gilchrist, he doesn't fill a need.
In addition, Portland's top priority in the offseason is re-signing Nicolas Batum, so they shouldn't need a wing player.
No. 7 Golden State Warriors
Here's the perfect fit for MKG, as the Warriors badly need a productive small forward.
Kidd-Gilchrist will be able to produce in what could be a solid Warriors starting five, but more importantly, his ability to be a shutdown defender will be something second-year coach Mark Jackson would love to have.