Euro 2012: Grading ESPN's Announcers and Analysts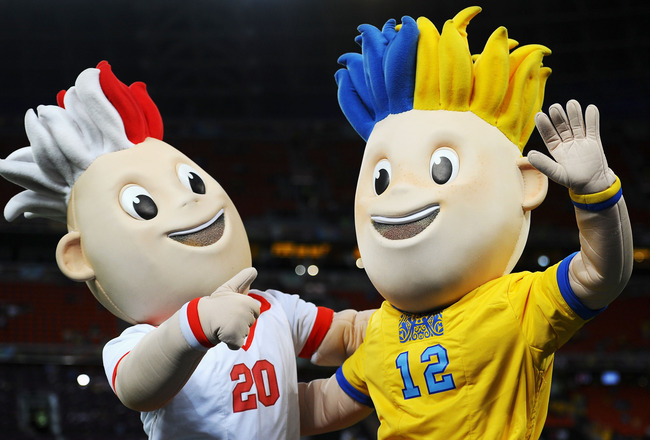 Talking Heads
Laurence Griffiths/Getty Images
Football is perhaps the only sport in which the commentators actually enhance the viewer's experience. The Andres Cantor model is the one the casual spectator tends to latch onto, but there's more to announcing football with panache than just screaming like a banshee when someone "bulges the back of the old onion bag" (thanks, Tommy Smyth).
Players and coaches have received report cards for Euro 2012, but let's take a moment to grade the men (and a few ladies) who do the talking before, during and after the matches.
Ian Darke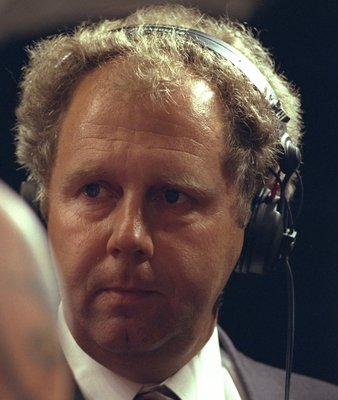 The Darke Knight
John Gichigi/Getty Images
Bit of a dated mugshot, but you get the idea. Ian Darke was a godsend for ESPN at the 2010 World Cup.
The Brits have an unfair advantage when it comes to football announcing, but very few are as good at combining sharp analysis with witty flair as this English chap.
Darke's call of Landon Donovan's "at-the-death" goal against Algeria in South Africa afforded him minor folk hero status among many a Yank in the summer of 2010 and beyond.
While clearly an excitable commentator, The Darke Knight is more passionate than he is bombastic. He has been lauded by the American mainstream media for his dramatic flights of fancy, but still does his best to keep the focus squarely on the match he's covering.
Darke's been a bit subdued during Euro 2012, but we can expect him to ratchet up his bravado as the tournament wraps up in Poland/Ukraine. With Martin Tyler (the arguable G.O.A.T.) out of the picture at ESPN until the 2014 World Cup, Darke and his partner Steve McManaman (more on him in a bit) are sure to get the nod for the final.
This fellow seems like a class act and can generally be counted on for pitch-perfect commentating.
Grade: B
Derek Rae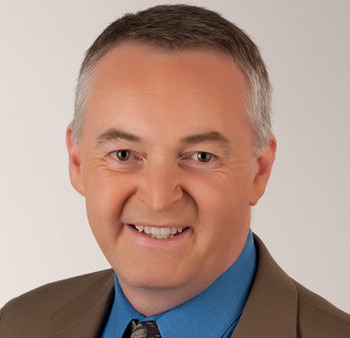 Photo courtesy of ESPN MediaZone
He of the thick Scottish brogue, Rae is a no-nonsense type of commentator. He is in the same class as Darke and could perhaps be considered the Wade to his LeBron (minus the enormous egos).

Football announcers are a slightly more erudite lot than say Stuart Scott or Gus Johnson. No disrespect to those guys, but while catchphrases are certainly part of the profession, they are used far less frequently by commentators of The Beautiful Game.
Rae balanced out the self-involved blushes of partner Kasey Keller in the group stage matches (Keller was platooned with the more focused Taylor Twellman, perhaps in an effort to neutralize Keller's incessant "yeah I played against Cristiano Ronaldo" comments).
Rae provides a measure of color commentary even as a straight man; the Scotsman's dulcet tones usually signify an important match is in progress.
Grade: B+
Adrian Healey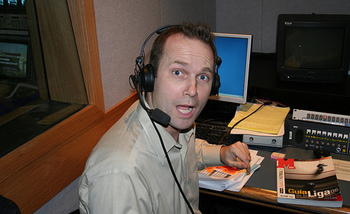 Photo courtesy of ESPN MediaZone
The third and final frontman for ESPN's Euro 2012 coverage is an able Aussie. Able, yes; in the same sphere as Darke and Rae? Hell to the no.
Healey is a very capable commentator, but he has benefited from his partner Robbie Mustoe's insight at Euro 2012. The hint of shock-jock veneer (ESPN pretty much has the market cornered there) in Healey's style might have had more than one viewer reaching for the mute button in the group stages.
Healey probably saves his top-drawer material for the grander stage. His match-presiding duties were rather admirable in the Portugal/Czech quarterfinal.
Grade: B
Steve McManaman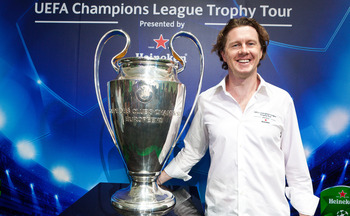 Steve-o
Athit Perawongmetha/Getty Images
The former Liverpool and Real Madrid star has done just about everything on the football pitch and off.
From being the first Englishman to win the Champions League (then-called the European Cup) with a foreign club (Los Galacticos) to infuriating Liverpool/England supporters as a member of the rabble-rousing Spice Boys to landing a minor role in the movie Goal 2.
He seems to have the respect of his colleagues and a number of football pundits alike. All that said, he still seems like a bit of a nob.
While nowhere near as obnoxious as Alexi Lalas and Michael Ballack, there's something just a bit pretentious about Macca. His analysis is often incisive and probably comes from a professional place, but sorry folks; he's a bit overrated.
Grade: B-
Robbie Mustoe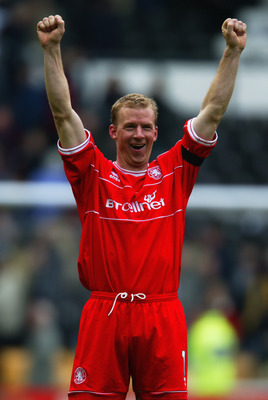 Going For The Mustoe
Alex Livesey/Getty Images
The former Middlesbrough winger has been the best color man for ESPN this June. No extraneous comments, no waxing nostalgic about his playing days in the EPL. The way Mustoe speaks about the game, we can readily tell he played top-flight football.
Mustoe balances out his partner Adrian Healey's penchant for hyperbole. Well-deserving of Gareth Southgate's distinction, "one of the most honest professionals in the game."
Kudos to Mr. Mustoe.
Grade: A-
Taylor Twellman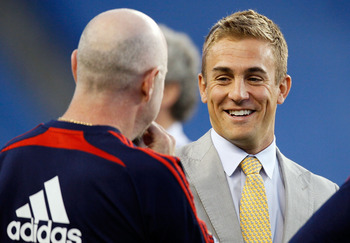 Pretty Swell Man
Gail Oskin/Getty Images
Twellman picks up the slack for the American contingent left by Keller and Lalas for ESPN's Euro 2012 coverage.
The former Revolution striker has kept it in the professional realm by staying on topic, never overstepping the boundaries of his partner's play-by-play. His superb color commentating landed him a slot in the ESPN studio after the group phase.
He's a former U.S. international who scored six goals in 30 caps for Sam's Army, but you'd never know it by the way he goes about his job.
Well-done, Taylor T.
Grade: B+
Alexi Lalas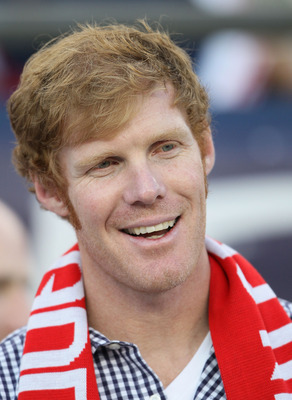 Elsa/Getty Images
What could be said of Alexi Lalas that hasn't been said about Donald Trump or some other ugly American?
Yes, the guy knows his stuff. Yes, he was the first American to play in Serie A. Yes, he's in the National Soccer Hall of Fame. There's just something smug and smarmy about the guy that makes our flesh crawl.
Anybody who opened for Hootie and The Blowfish shouldn't take himself so seriously. A dash of humility would do him good.
Grade: D+
Michael Ballack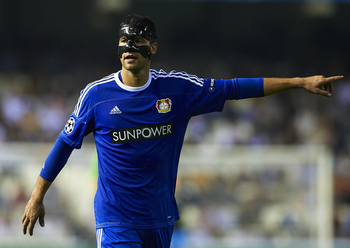 Put The Mask Over Your Mouth Michael
Manuel Queimadelos Alonso/Getty Images
Who is that masked German? Why, it's Michael Ballack, the ultimate shill for the German national team. Yes, the Germans look like the team to beat, but viewers don't need to be reminded of that every odd second.
The former Bayern Munich and Chelsea man is poised to go the Beckham route after leaving Bayer Leverkusen this past spring. The upside of his egotistical demeanor is that it places a mirror in front of Alexi Lalas. These two belong on the set of Jersey Shore or something.
Yes, Ballack has an interesting take since he's played against many Euro 2012 regulars over the years, but funneling every conversation into a discourse on Die Mannschaft's dominance is about as stimulating as a nil-nil MLS draw.
Ballack will do fine in the States; the MLS sure could use another European castoff. Get over yourself, Ballack.
Grade: C-
Bob Ley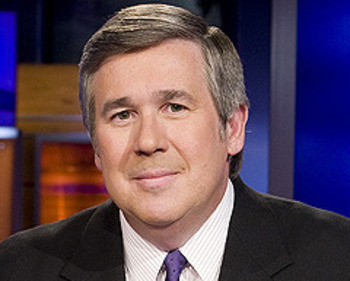 Photo courtesy of ESPN MediaZone
The anchorman of Euro 2012, not in any Ron Burgundy sense, Ley's pedigree (soccer and otherwise) lends a measure of austerity (no pun intended) to ESPN's soccer approach. Ley has a real respect for the game and brings a Dan Rather/Tom Brokaw level of journalism to the table.
Ley's fumbled a few intros here and there so far, but there's nothing about him that is unprofessional. Dealing with the likes of Lalas and Ballack is no small task, so we're more than willing to cut Bobby some slack.
Grade: B+
The Women Of Sky Sports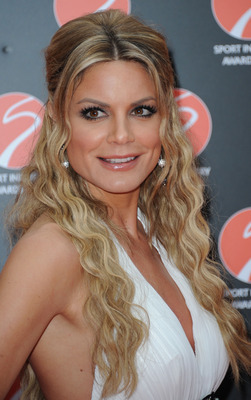 Charlotte Jackson, Sky Sports
Stuart Wilson/Getty Images
ESPN might want to take a look at the Sky Sports model for future major tournaments. Yes, there's plenty of eye candy to go around in the stands, but the Brits, as per usual, have a leg up when it comes to football reportage.
Women of all nationalities love to feast their eyes on football players, but many of them know the game just as well as the menfolk.
American women have the NBA, the NFL and MLB to apply their lust to; only David Beckham really gets them going in the MLS.
The ladies of Sky Sports are all pretty easy on the eyes, but they too know their stuff. We sure could use an Alex Morgan or two in the Bristol studios. We're not being chauvinistic, we just love the ladies. Let's temper the testosterone levels with some estrogen next time around.
Women Of Sky Sports: Straight A's
ESPN Euro 2012 Female Representation: F

Keep Reading