The Biggest Underachievers in MLB History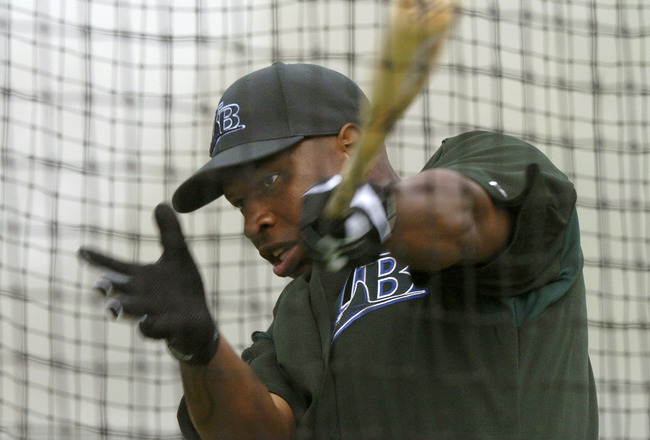 A. Messerschmidt/Getty Images
I'll acknowledge ahead of time that using a dictionary definition of a word in the introduction of an article of this sort is played out and cliche. That said, I think it helps set a framework of who I included so if you'll indulge me:
underachieve: to perform worse or achieve less success than expected
In the MLB, players can underachieve for a myriad of reasons, from simply not living up to the expectations that come with being a high draft pick, to enjoying early season success but failing to match it, to a budding star player having their career derailed by injuries or off the field issues.
So here is a look at the biggest underachievers in MLB history, a list that includes career minor leagues, MLB All Stars and everything in between.
Ricky Jordan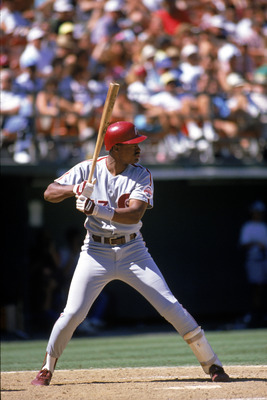 Stephen Dunn/Getty Images
Taken in the first round out of high school, Ricky Jordan was a solid prospect, but he was not necessarily expected to be a superstar at the next level. That is, until his late-season call up in 1988.
Over just 69 games and 273 at-bats, Jordan hit .308 BA, 11 HR, 43 RBI as he would finish eighth in NL Rookie of the Year voting despite his limited playing time. That was more than enough for all of Philadelphia to jump on the Ricky Jordan bandwagon.
He was decent as a full-time starter the following season when he hit .285 BA, 12 HR, 75 RBI over 523 at bats, but he hit just .275 BA, 31 HR, 182 RBI over the next five seasons, as he was never able to take his game to the next level that everyone had hoped for.
Kevin Maas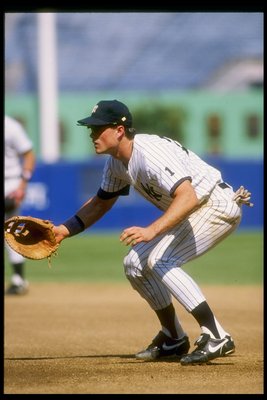 Scott Halleran/Getty Images
Much like Ricky Jordan, Maas was set up for failure by the enormous amount of hype his rookie season generated.
After showing solid power in the minors, Maas made a splash in his big league debut as he hit 21 HR in just 254 at bats to finish second in Rookie of the Year voting in 1990.
Handed full-time duties the following season, he hit just .220 BA, 23 HR, 63 RBI over 500 at-bats as he failed to match his rookie-year numbers.
He played just three more big-league seasons, mostly as a reserve, before retiring at the age of 32 as a member of the Astros organization.
Wayne Garland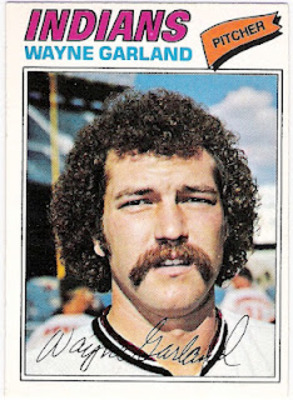 Photo Credit: ohmyopc.blogspot.com
The year was 1977, and it was the first offseason of wide-scale free agency in the big leagues.
Garland was a 25-year-old starter coming off of a 20-7, 2.67 ERA, 113 K's season with the Orioles, and he seemed primed to be the game's next big pitcher.
The Indians decided to lock Garland up while they could, signing him for 10-year, $2.3 million contract that must have seemed as ridiculous then as it does now.
He promptly led the American League in losses the following season when he went 13-19, and he was waived just five seasons and 28 wins into his mega-deal.
Warren Morris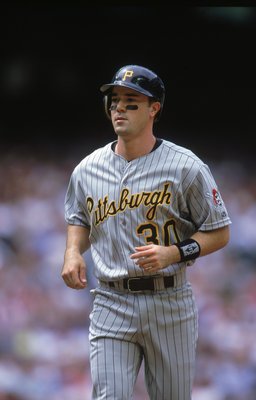 Tom Hauck/Getty Images
Morris made a name for himself during the 1996 College World Series, as he hit the only walk-off, championship-winning home run in College World Series history. It was his only home run of the season, and gave LSU the title.
He was taken in the fifth round of that year's draft by the Rangers, but was traded along with Todd Van Poppel (more on him later) to the Pirates for Esteban Loaiza at the deadline in 1998.
Morris took over as the Pirates' everyday second baseman the following season and hit .288 BA, 15 HR, 73 RBI to finish third in Rookie of the Year voting.
That was as good as it would get, though, as he played just four more seasons and hit a combined .256 BA, 11 HR, 91 RBI in 984 at-bats.
Mike Kelly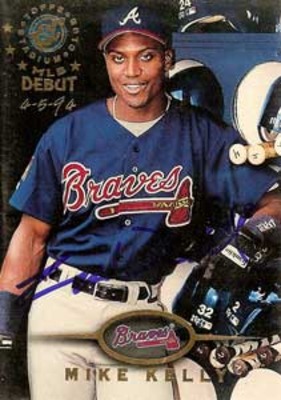 Photo Credit: Baseball Almanac
After putting together a fantastic career at Arizona State University, Kelly was the top college player in the nation entering the 1991 MLB draft, and the Braves snatched him up with the second overall pick.
The 1991 Golden Spikes award winner, Kelly finished off a three-year career with the Sun Devils with a career line of .350 BA, 46 HR, 194 RBI placing him among the best ever to play at the prestigious baseball school.
However, he was a bust from the get-go as he hit just .229 with 162 strikeouts in his first pro season at Double-A. He went on to spend just six seasons in the big leagues as a below-average reserve outfielder with a career line of .241 BA, 22 HR, 86 RBI, 30 SB.
Ryan Anderson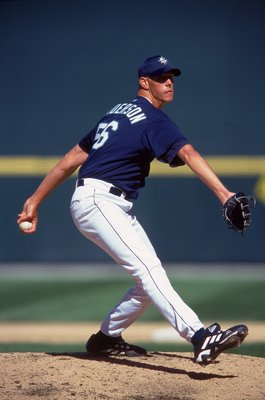 Otto Greule Jr/Getty Images
At 6'10", Ryan Anderson was immediately billed as the next Randy Johnson when the Mariners selected him in the first round of the 1997 draft, earning the nickname "The Little Unit."
However, he was far from Randy Johnson, and while his immense potential landed him in Baseball America's Top 25 every year from 1998-2002, he was never able to put it all together as injuries got in the way, and a questionable work ethic didn't help.
He would never make it to the big leagues, going a combined 20-27, 4.04 ERA, 483 K's, 363 IP over four minor league seasons.
Joe Borchard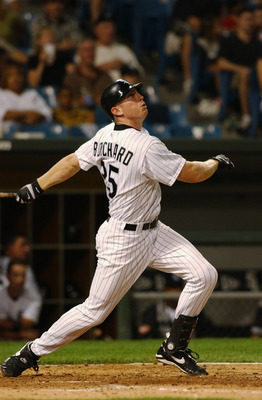 Jonathan Daniel/Getty Images
A two-sport athlete at Stanford University, it took a then record signing bonus for the White Sox to pull Borchard away from being the team's starting quarterback during his junior season.
As a sophomore, Borchard went 42-of-71 passing for 747 yards and seven touchdowns as the team's backup quarterback, and he was in line to be the starting signal caller until the White Sox made him an offer he couldn't refuse to lock up his prolific power bat.
However, he was never able to make enough contact to put his tremendous power to use, and he finished his White Sox career with a .191 BA, 12 HR, 30 RBI line over four seasons.
He does hold the record for the longest home run ever hit at U.S. Cellular Field at 502 feet.
Wally Bunker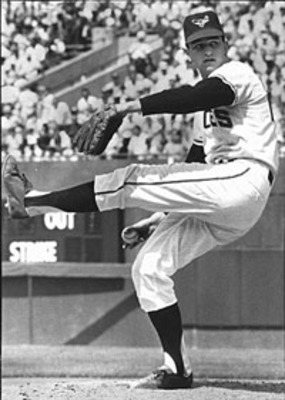 Photo Credit: Baltimore Sun
Bunker emerged as the ace of the Orioles staff as a 19-year-old rookie in 1964, going 19-5 with a 2.69 ERA and leaving the Orioles thinking they had found the next great pitcher.
Arm injuries set in after that season, though, and after going 20-14 with a 3.77 ERA over the next two seasons in the rotation, he had to move to the bullpen.
He managed to play nine seasons, compiling a career record of 60-52 with a 3.51 ERA, but he never able to come close to the immense success he had at such a young age.
Ruben Rivera
Otto Greule Jr/Getty Images
Rivera was one of the most hyped Yankees prospects of all time, as he was named at Top 100 prospects by Baseball America each season from 1994-1998, including ranking in the top 10 three times.
A .281 BA, 33 HR, 101 RBI, 48 SB season as a 20-year-old peaked the hype surrounding him, but once he reached the big leagues in 1995 as a 21-year-old, he was overmatched .
His Yankees career ended when he was traded to the Padres for the rights to another disaster of a prospect in Japanese import Hideki Irabu.
He saw the most significant playing time of his career in 1999, as he hit 23 HR with 18 SB in 411 at-bats. However, he batted a meager .195 and wasn't much better the following season in a similar role.
He's still playing in the Mexican League at 38 years old, but it is safe to assume that his big-league career is long over.
Brandon Wood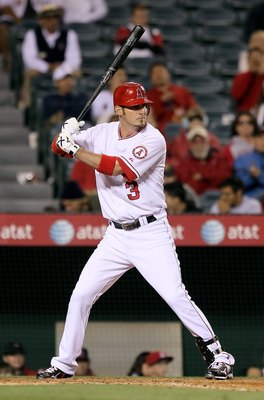 Jeff Gross/Getty Images
Brandon Wood entered the 2005 season as the 83rd-ranked prospect in baseball, and he emerged as the third-ranked prospect in baseball thanks to a video game stat line of .321 BA, 43 HR, 116 RBI with 53 doubles as he reached Triple-A at the age of 20.
However, in the years to come he could never put it together when given at-bats in the majors, as he fell into the dreaded Quadruple-A category of players. Too good to gain anything more from the minors, but not good enough for the majors.
Now a member of the Rockies organization, Wood has 166 career minor-league home runs, but just 18 long balls over 700 major league at-bats.
Dallas McPherson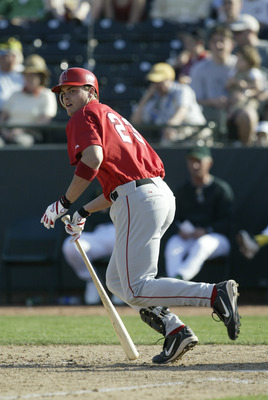 Jeff Gross/Getty Images
A second-round pick in the 2001 draft, McPherson displayed good power from the onset of his pro career, but he exploded onto the prospect scene in 2004.
On the surface, his .317 BA, 40 HR, 126 RBI season was phenomenal and gave the Angels plenty of reason for optimism regarding his future.
However, a closer look shows that the then 23-year-old saw his strikeouts increase from 104 to 169 that season and his OBP drop from .410 to .387. Troubling signs that reared their head later on.
Given a shot at the starting third base job the following season, he hit just .244 BA, 8 HR, 26 RBI and it was much of the same the following season when he hit .261 BA, 7 HR, 13 RBI before an injury caused the Angels to cut him loose.
He proved to be the classic Quadruple-A hitter, as he launched 42 home runs in the Marlins organization upon his return, but simply could not hit big league pitching.
He's currently in the White Sox organization and is still just 31 years old.
Corey Patterson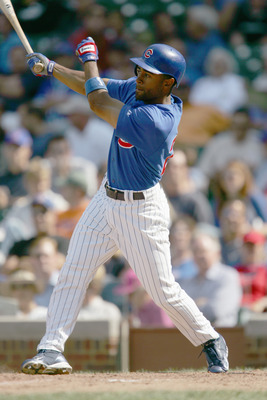 Jonathan Daniel/Getty Images
Taken with the third overall pick in the draft, Patterson was ranked as the 16th-best prospect in all of baseball heading into the 1999 season, despite having yet to make his pro debut. What a pro debut it was though, as he hit .320 BA, 20 HR, 79 RBI, 33 SB as a 19-year-old at High Single-A.
That vaulted him up to the No. 3 spot on the Baseball America rankings for 2000, and despite his average dropping to .261 at Double-A, he climbed another spot as the No. 2 prospect in all of baseball for 2001.
In 2002, he took over as the Cubs everyday center fielder, hitting .253 BA, 14 HR, 54 RBI, 18 SB while striking out 142 times. From there, he simply didn't get any better, as he struck out a ton and became a consistent target of the boo birds at Wrigley Field.
Steve Chilcott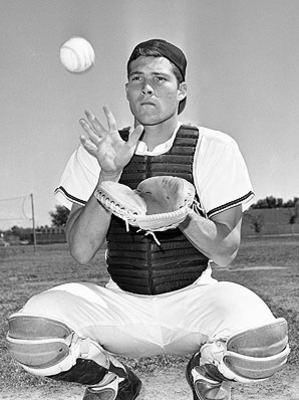 Photo Credit: Rule 4 Draft
One of just two first overall selections to fail to reach the big leagues, the Mets selected Steve Chilcott over an Arizona State University outfielder by the name of Reggie Jackson.
His selection paved the way for teams being leery of selecting high-school catchers, as he only spent 22 games above Double-A during his seven seasons in the minor leagues and in all honesty was never anywhere near reaching the majors.
In total, he finished his minor-league career with a batting average of .248, and the Mets initial first-overall draft pick goes down as one of the worst in baseball history.
Ben Grieve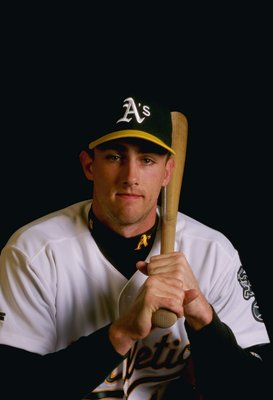 Jeff Carlick/Getty Images
A second-round pick in 1994, Grieve earned a cup of coffee in 1997 at the age of 21 and hit .312 BA, 3 HR, 24 RBI in 93 at-bats for the A's.
That was enough to make him baseball's top prospect entering the 1998 season, and he responded to that lofty status with a .288 BA, 18 HR, 89 RBI season that earned him AL Rookie of the Year honors.
He continued to put up similar numbers over the next four seasons, posting an average line of .266 BA, 21 HR, 82 RBI but his career simply never took the next step.
By 2003 he was a part-time player and he was out of baseball by the age of 29 in 2005, ending his career with a .269 BA, 118 HR, 492 RBI line over nine big-league seasons.
Matt Bush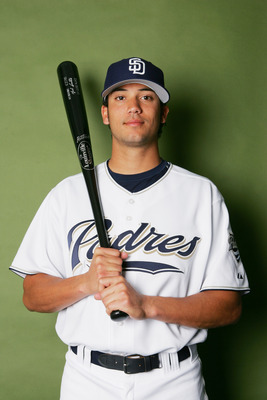 Ronald Martinez/Getty Images
With a bumper crop of college talent led by Jered Weaver, Stephen Drew and Jeff Niemann, there was no shortage of good choices for the Padres, who held the first pick in the 2004 draft.
However, not wanting to pay the hefty bonuses that those players would seek as the top pick, the Padres reached down the draft board and selected high school shortstop Matt Bush with the first pick, immediately drawing criticism.
Things were awful from the start, as he was suspended for fighting outside a nightclub before he ever took the field. He then hit .192 in his first pro season and .221 the following year.
With his hitting woes, the Padres moved Bush to the mound, where he was a top pitcher in high school and had a 98-mph fastball, but he tore a ligament in his arm.
He pitched 50.1 innings for the Rays Double-A affiliate last season, posting a whopping 13.8 K/9 and moving to No. 19 on the team's prospect list according to Baseball America.
However, a DUI and hit-and-run incident this offseason could be the final straw in his push for an MLB career.
Josh Booty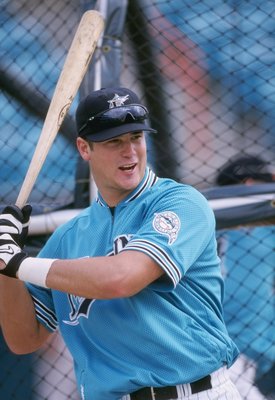 Stephen Dunn/Getty Images
In the Joe Mauer and Bubba Starling mold, Booty was one of the best high school football players in the nation but an equally good baseball player, and when the Marlins came calling with a then-record signing bonus, he left the gridiron behind.
Things didn't work out, though, as he struck out far too much to offset his impressive power. In his final three minor league seasons he hit a total of 54 home runs but batted .206, .210 and .182, respectively.
After just 19 major-league at-bats, Booty called it quits after the 1998 season, and the 24-year-old enrolled at LSU to play football. He was decent in two seasons with the Tigers before heading to the NFL, where he spent three seasons as a Browns backup, never taking a snap.
Bo Jackson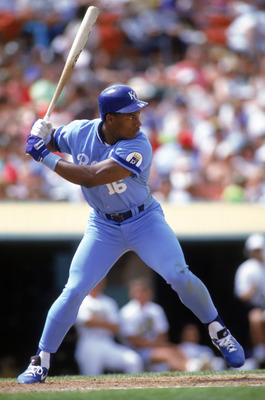 Otto Greule Jr/Getty Images
Perhaps the most physically gifted athlete ever, Bo Jackson had the potential to be the greatest running back of all time and the best power hitter ever.
He began his pro sports career with the Royals in 1986, and from 1987-1990 he played both baseball and football for the Oakland Raiders.
However, a degenerative hip condition ended his football career, and he was not the same player he was with the Royals upon his return to baseball full-time.
He still had tremendous power, but his incredible speed was gone and he was retired from baseball by the age of 31.
It is fun to think what sort of numbers Jackson could have put up in 15 or so healthy seasons just playing baseball, as he remains one of the biggest what-ifs in sports history.
Joe Charboneau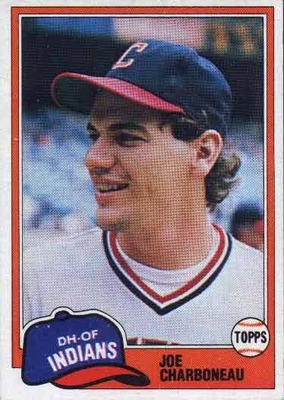 Photo Credit: MarkTMachine
Charboneau burst onto the scene in 1980 as a 25-year-old rookie for the Indians, hitting .289 BA, 23 HR, 87 RBI to win Rookie of the Year.
The following season he injured his back in spring training and struggled to a .208 average before being sent down to the minors, becoming the first Rookie of the Year to be demoted the following season.
He would never again match his rookie-year numbers, and he played just 70 more big-league games after his first season, hitting a combined .211 BA, 6 HR, 27 RBI in 194 at bats.
He is exhibit "A" when the sophomore jinx is mentioned, and his roller coaster rise and fall are as drastic as any in baseball history.
Ben McDonald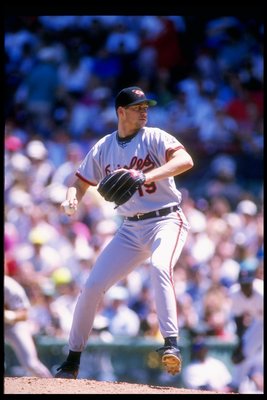 Rick Stewart/Getty Images
While it is hard to call someone with 78 career wins and four seasons with double-digit victories a flop, the expectations that surrounded McDonald when he was first drafted were for far greater things.
The 1989 Golden Spikes Award winner at LSU, McDonald helped the USA team to Olympic gold in the 1989 games, pitching a pair complete games as the team's ace.
The Orioles signed McDonald on Aug. 19, and after two minor league starts, he was called up to the majors where he made his big league debut on Sept. 6. He joined the rotation full-time the next season, and in six seasons, he won 57 games with the Orioles.
However, injuries cut his career short after just eight seasons, and at the age of 29 he was retired, and one of the the most hyped amateur pitchers of all time came up well short of expectations.
Marc Newfield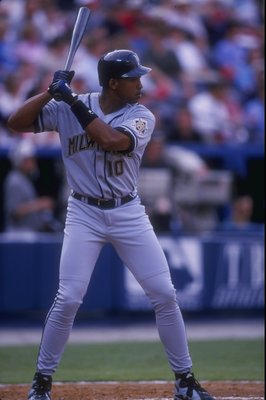 Andy Lyons/Getty Images
Drafted and signed at the age of 17, Marc Newfield appeared on the Baseball America Top 100 list five seasons in a row to begin his career, and despite impressive minor league numbers, he never really got a chance in Seattle before being traded to the Padres for Andy Benes in 1995.
The following season, he was dealt again, this time to the Brewers, who were looking to move free agent to be Greg Vaughn. Newfield took over Vaughn's spot in the Milwaukee lineup immediately following the trade and hit .307 BA, 7 HR, 31 RBI over just 49 games.
The next spring, he entered camp at 24 years old and with four seasons of big league experience under his belt, as the left field job was his. He fell flat, however, hitting just .229 BA, 1 HR, 18 RBI in 50 games before being demoted.
It was more of the same the following season, and that would be his last year in the majors.
Clint Hurdle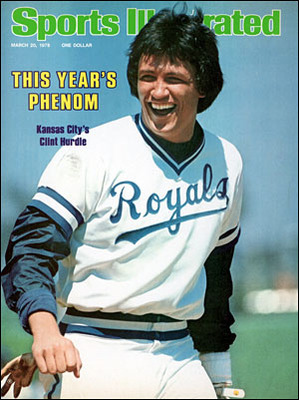 Photo Credit: Sports Illustrated
Coming off of a season that saw him hit .328 BA, 16 HR, 66 RBI as a 19-year-old at Triple-A and ended with a .308 BA, 2 HR, 7 RBI stint over 26 at-bats in the big leagues,Sports Illustrated billed Clint Hurdle as "This Year's Phenom" heading into the 1978 season.
He received regular playing time, but finished the season with a .264 BA, 7 HR, 56 RBI line, in what would be one of the better seasons of his career.
He got regular at-bats again in 1980 but had similar results and that is the last time he would more than just a backup, as he was out of the majors by 1987.
However, he has managed to make it as a big league manager, and could be in line for NL Manager of the Year honors with the terrific job he has done turning around the Pittsburgh Pirates this season.
Rocco Baldelli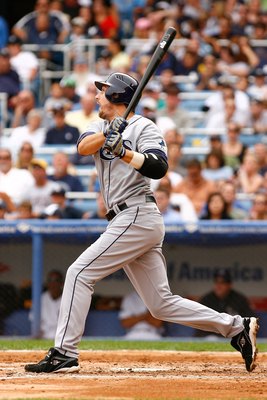 Al Bello/Getty Images
The sixth pick in the 2000 MLB draft, Baldelli shot through the Rays system, advancing to Triple-A as a 20-year-old and entering the 2003 season ranked at the No. 2 prospect in all of baseball.
He showed his five-tool ability in his rookie season that year, hitting .289 BA, 11 HR, 78 RBI, 27 SB to finish third in Rookie of the Year voting.
He put up similar numbers in his second season, but missed all of 2005 after tearing his ACL in the offseason.
That was only the beginning of the injury problems, though, as he managed a total of just 227 games over the next five seasons, never playing in more than 92 and posting subpar numbers.
He was diagnosed with a form of channelopathy later in his career, a disease that kept him from playing back-to-back days and essentially sucked the energy out of him.
Mark Fidrych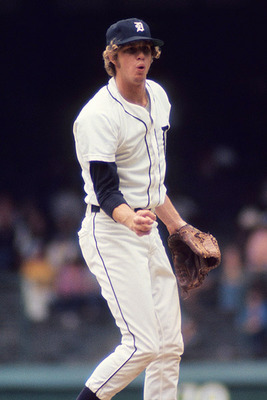 Photo Credit: ESPN
Fidrych took the league by storm as a 21-year-old rookie in 1976 both for his performance and his crazy antics on the mound.
By season's end he had a line of 19-9, 2.34 ERA, 97 K's as he took home AL Rookie of the Year and finished second in AL Cy Young voting.
However, injuries set in, as he also pitched a league-high 24 complete games in his first season.
He was sidelined with a "dead arm" the next season after 11 starts and he would make just 16 more starts over three years before retiring at the age of 25 in 1980.
Bryan Bullington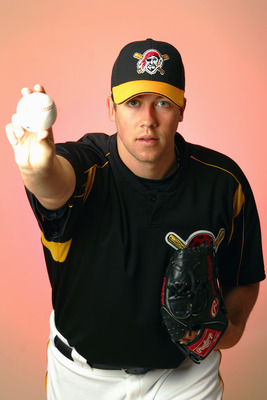 Jamie Squire/Getty Images
While high school shortstop B.J. Upton was the consensus top player in the 2002 draft, the Pirates passed on his high price tag and instead took Ball State right-hander Bryan Bullington.
A 6'5", 225-pound workhorse with great command, Bullington went 11-3, 2.84 ERA, 139 K's, 18 BB in 104.2 innings as a junior, and that was enough for the Pirates to make him the top choice.
He came out of the gates strong with a good first pro season, but his progression halted once he got above Single-A, and he would make just six appearances, three starts as a member of the Pirates before he was selected off waivers by the Indians.
He pitched in the MLB as recently as 2010 with the Royals and is now playing for the Hiroshima Carp in Japan, where he went 13-11 with a 2.42 ERA over 30 starts last season.
Tony Conigliaro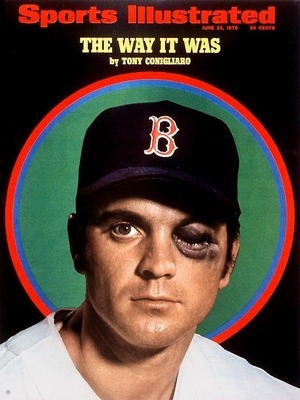 Photo Credit: Sports Illustrated
Conigliaro looked to be the next great Red Sox outfielder when he broke into the league in 1964 with a .290 BA, 24 HR, 52 RBI line at the age of 19.
He would continue to impress, leading the AL in home runs the next season, but a freak injury on August 18, 1967 sidelined him for over a year, as he was hit in the eye with a pitch.
After missing all of 1968, he made an impressive comeback and enjoyed great seasons in 1969 and 1970 but was forced to retire after 74 games in 1971 when his eyesight grew worse, as his once-promising career was over at the age of 26.
Delmon Young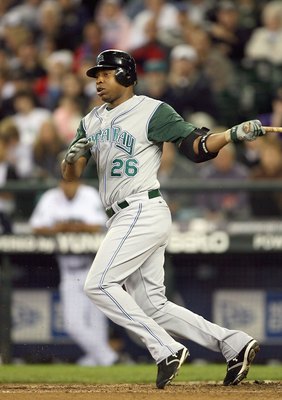 Otto Greule Jr/Getty Images
The first overall pick in the 2003 draft, Young was ranked as the No. 3 prospect in baseball before he ever played a game.
A .322 BA, 25 HR, 115 RBI, 21 SB debut season as an 18-year-old in Single-A only backed that up, and he was ranked No. 3, No. 1 and No. 3 according to Baseball America over the next three seasons.
After a solid cup of coffee in 2006, he took over as the Rays everyday right fielder as a 21-year-old in 2007 and hit .288 BA, 13 HR, 93 RBI, 10 SB to finish second in Rookie of the Year voting.
The Rays traded him to the Twins for Matt Garza and Jason Bartlett after that season, and after a pair of decent seasons in Minnesota, he joined the Tigers last year at the deadline.
Now 26, he's hitting just .265 BA, 5 HR, 24 RBI so far this season and he has yet to take the next step, instead regressing from where he was as a rookie.
He's a serviceable major leaguer, but far from the superstar that everyone expected him to be.
Rick Ankiel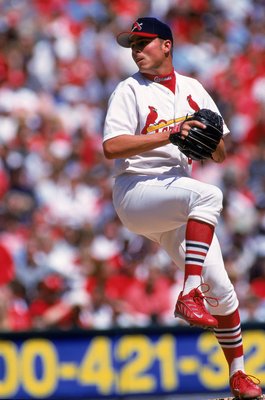 Elsa/Getty Images
Billed by some as a left-handed Tom Seaver, Rick Ankiel is among the most-hyped and most fast-tracked high school pitching prospects in baseball history, and he seemed up for the task as a 20-year-old rookie in 2000.
With an 11-7, 3.50 ERA, 194 K's, 175 IP line, Ankiel finished second in NL Rookie of the Year voting and helped the Cardinals make the playoffs.
However, once he found himself under the bright lights of October baseball, it all fell apart as he threw nine wild pitches in four innings of postseason work, racking up and ERA of 15.75, as his confidence was gone and his pitching days more or less over.
He managed to rejuvenate his career with a move to the outfield in 2007, and he has hit 68 home runs in six seasons as an outfielder.
Average outfielder with decent power was a long ways from what many predicted for him, though.
Todd Van Poppel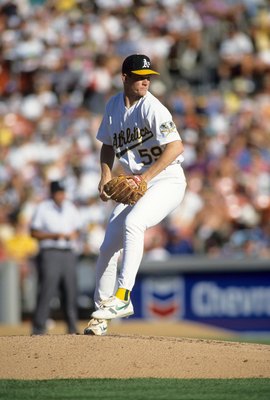 Otto Greule Jr/Getty Images
Van Poppel was the consensus top player in the 1990 draft, but with Scott Boras as his adviser and a scholarship offer from the University of Texas in place, he fell due to obvious signability concerns.
Still, he had drawn comparisons to Nolan Ryan and was not going to fall too far, and the Athletics grabbed him with the 14th overall pick. The Athletics paid a steep price ($1.2 million) to convince him to go pro, but they, like most people, saw a future ace in the right-hander.
He was in the Athletics rotation by 1993, as he shot through the minor leagues despite posting average numbers at best at every stop, and it was clear he had been rushed from the onset.
He would go on to post a record of 18-29 with a 5.75 ERA in parts of five seasons with the Athletics before he was waived and picked up by the Tigers in 1996.
He stuck around in the majors until 2004, pitching mostly in relief, and it is safe to say his 40 career wins are a bit short of what most expected.
Darryl Strawberry
Stephen Dunn/Getty Images
Strawberry seemed to be on his way to being the next great power hitter.
He hit at least 26 home runs in each of his first nine seasons in the league, and he had 280 career home runs by the age of 29.
However, it was when he turned 30 that his personal problems caught up with him, and his career quickly bottomed out as he battled drug and alcohol problems.
He managed to end his career on a high note with the Yankees, beating colon cancer that cost him the 1998 postseason, to return and play down the stretch in 1999. He then hit two postseason home runs to help the Yankees to the title that year.
Strawberry has had more legal problems since retiring, and it is hard to imagine the sort of numbers he would have put up had he avoided the pitfalls that derailed his career.
Herb Score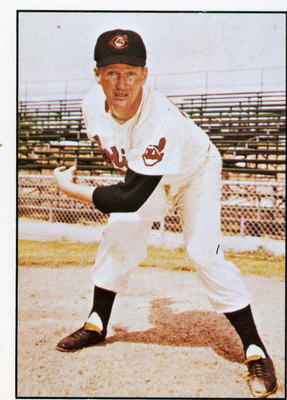 Photo Credit: Baseball Historian
Score burst onto the scene in 1955 when he went 16-10 with a 2.85 ERA and AL-best 245 strikeouts as a 22-year-old rookie, earning Rookie of the Year honors.
He was even better the next season with a 20-9, 2.53 ERA, 263 K line, but his career took a sharp downward turn on May 7, 1957 when he was hit in the face with a line drive off the bat of Yankee Gil McDougald.
After missing the rest of the season, Score returned in 1958 but he was never the same pitcher and he went just 17-26 with a 4.43 ERA over the next five seasons before retiring at the age of 30.
Travis Lee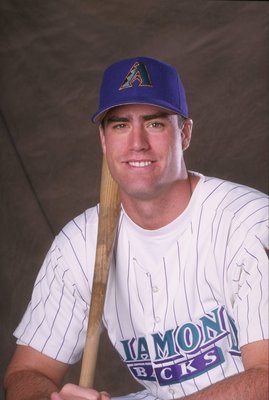 Otto Greule Jr/Getty Images
The 1996 Golden Spike winner, Lee was one of the most celebrated college hitters of all time when the Twins selected him with the second overall pick in the draft.
However, when they were unable to reach a deal, Lee was granted free agency and signed with the Diamondbacks on a four-year, $10 million deal.
He entered his first pro season as the No. 5 prospect in baseball according to Baseball America, and backed it up with a .331 BA, 32 HR, 109 RBI season.
Lee took over as the Diamondbacks everyday first baseman to open the season in 1997 and held his own with a .269 BA, 22 HR, 72 RBI season that earned him a third place finish in NL Rookie of the Year voting.
However, his average dipped to .237 the following season and the next year he was part of the package Arizona sent to the Phillies for Curt Schilling.
He was the Phillies everyday first baseman in 2001 and 2002, putting up an average line of .261 BA, 16 HR, 80 RBI, but the drop off continued from there and he was out of baseball by the end of 2006.
When all was said and done, he put together a career line of .256 BA, 115 HR, 488 RBI over nine big-league seasons.
Mark Prior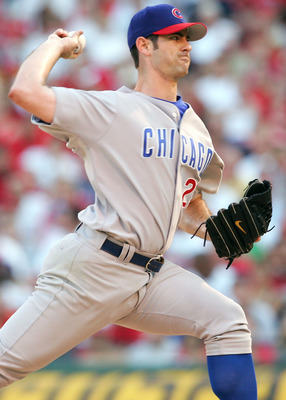 Elsa/Getty Images
The second pick in the 2001 draft, Prior left USC as one of the greatest pitchers in college history and a can't-miss future staff ace for the Cubs.
He was in the majors by 2002 as he made 19 starts and proved he belonged with a 3.32 ERA and 11.3 K/9 during his rookie season.
The next season, he went 18-6, 2.43 ERA, 245 K's to finish third in NL Cy Young voting and help the Cubs to the NLCS. He was nearly unhittable in the second half, going 10-1 with a 1.52 ERA over his final 11 starts.
However, injuries set in after that season and he has not pitched at the big league level since 2006. He's currently on the comeback trail in the Red Sox organization and currently has a 2.25 ERA and ridiculous 21.4 K/9 mark in eight innings of work at Triple-A.
David Clyde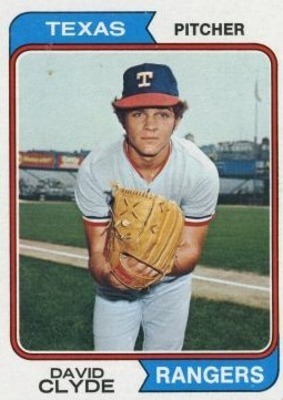 Photo Credit: Topps
A Texas high school legend, Clyde allowed just three earned runs in 148 innings of work during his senior year at Westchester High School and the Rangers kept him close to home when they took him first overall in 1973.
Because of the tremendous buzz surrounding him, the Rangers brought him straight to the majors, with the plan being to give him two starts before sending him to the minors.
However, he was phenomenal in those two starts giving up just three runs while striking out 14 in 11 innings of work, and that convinced the team to leave him in the rotation.
He ended up pitching another 93.1 innings with the team, putting the 18-year-old at 241.1 innings of work on the year.
As one would expect with that workload so early on, injury problems set in, and Clyde was out of baseball by the age of 24, having pitched just 84 games with a 18-33 record and 4.63 ERA.
Brien Taylor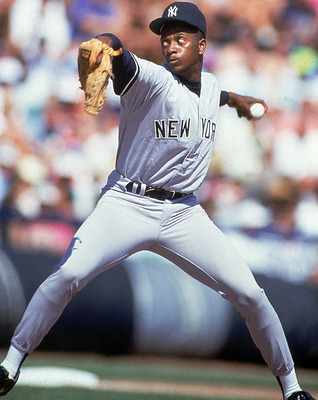 Photo Credit: Bleeding Yankee Blue
One of the most highly touted high school pitching prospects of all time, Taylor drew comparisons to Dwight Gooden right off the bat, and despite Scott Boras being his adviser, he was a no-brainier first overall pick for the Yankees in 1991.
He began his career at High Single-A and posted a 2.57 ERA and 10.4 K/9 mark in his first pro season. Moving right up the ladder, he went 13-7, 3.48 ERA, 150 K's the following season at Double-A and looked to be on his way to the big leagues in 1994.
However, on Dec. 18, 1993, he suffered a dislocated shoulder and torn labrum in his throwing arm defending his brother in a fist fight. When he returned, he had lost 8 mph off his fastball and could no longer locate his breaking ball, and he was never the same again.
He would never see the big leagues and is one of the biggest "what ifs" in baseball history.
Dwight Gooden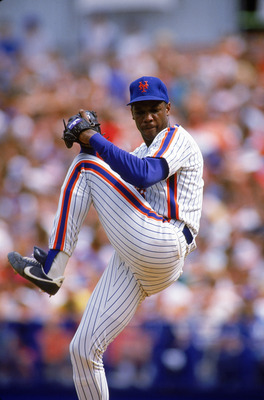 Mike Powell/Getty Images
Gooden was absolutely phenomenal right off the bat for the Mets, winning NL Rookie of the Year in 1984 with a 17-9 season at the age of 19.
The following season, he posted one of the most dominant seasons in baseball history; with a line of 24-4, 1.53 ERA and 268 K's, Gooden won the pitching Triple Crown.
By the age of 23, he had a career record of 91-35, and he seemed destined to be the game's next 300-game winner and Hall of Famer.
However, the cocaine problem that earned him a suspension in 1987 again reared its head in 1994, and Gooden was suspended for 60 days.
After testing positive once again while he was suspended, Gooden lost the entire 1995 season to suspension as well.
He was never the same after the 1994 season, but he managed to go out on top with the Yankees, throwing a no-hitter and earning a World Series ring in his final season.
He has since reverted to his old ways, though. Gooden has been arrested three times since his retirement, two of which were on DUI charges.
Dwight Gooden was the definition of squandered talent and truly a waste of a gift, as he had a chance to be one of the greatest ever to play the game.
Keep Reading