Comparing 25 Top College Football Players to Current NFL Stars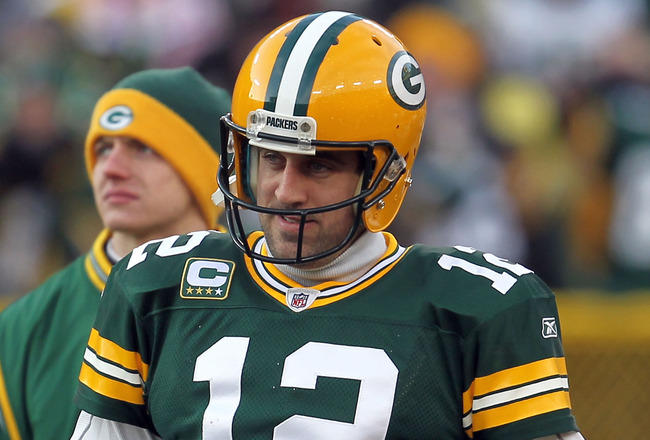 Jonathan Daniel/Getty Images
Ever get the feeling watching college football that you've seen the likes of these players before?
If you're also a fan of the NFL, perhaps you have seen these players before.
That's not to say that these top college football players are as good as their NFL counterparts or necessarily play the same way. But there's definitely something familiar between the top 25 players in college football and the best stars of the NFL.
Who are they? Read on.
No. 25 Keith Price: Cam Newton, Carolina Panthers
Stephen Dunn/Getty Images
Keith Price isn't a dual-threat quarterback like Cam Newton per se. However, Price is like Cam Newton in that both are rising star quarterbacks in their respective leagues.
Newton is already a terrific NFL quarterback after a single year, and Price went toe-to-toe with the reigning Heisman Trophy winner in the Alamo Bowl last December.
No. 24 Marquess Wilson: Larry Fitzgerald, Arizona Cardinals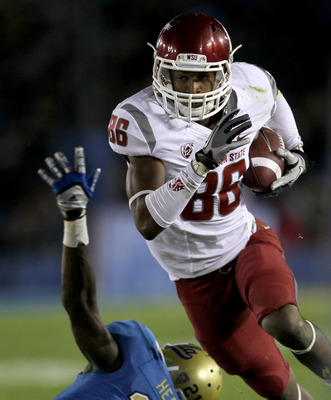 Stephen Dunn/Getty Images
Marquess Wilson is the kind of wide receiver that can put up top-notch numbers despite being part of a mediocre team. Last season, Wilson put up 1,388 yards and 12 touchdowns without a top-notch quarterback throwing to him.
Larry Fitzgerald must know how that is.
After all, Fitzgerald got 1,411 yards and eight touchdowns as Arizona struggled to find their quarterback.
Just goes to show, some receivers can succeed no matter who's throwing to them.
No. 23 Eric Reid: Eric Weddle, San Diego Chargers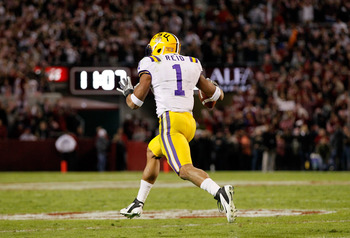 Kevin C. Cox/Getty Images
Other than the obvious (they're both named Eric...), these two safeties are the among the best in the business at their respective levels. Eric Reid is hated by the Crimson Tide for making that controversial interception
And quarterbacks everywhere hate Eric Weddle for what he can do.
No. 22 Robert Lester: Dashon Goldson, San Francisco 49rs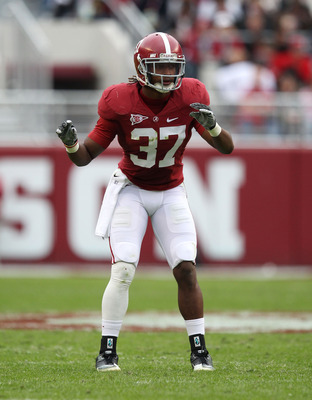 Mike Zarrilli/Getty Images
Robert Lester is about the only star on the Alabama Crimson Tide defense that didn't take off for the NFL after Alabama won the national championship last season.
And it's a good thing, too. Alabama will lean on him to lead the new defense, just like Dashon Goldson helps lead the San Francisco 49er defense to victory. It also helps that both can go pick off a pass if need be.
No. 21 Xavier Rhodes: Brandon Browner, Seattle Seahawks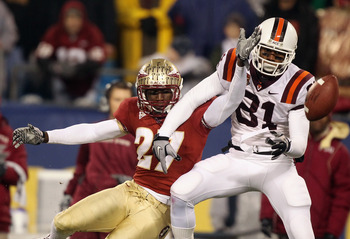 Streeter Lecka/Getty Images
Xavier Rhodes was a large part of Florida State's formidable defense, and he's really good at breaking up the pass.
So is Brandon Browner who led the NFL in passes defended with 23.
No. 20 Aaron Murray: Alex Smith, San Francisco 49rs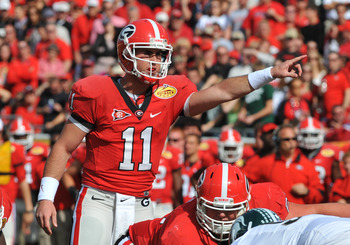 Al Messerschmidt/Getty Images
Aaron Murray is one of the rising stars of college football as Georgia rises again as an elite program from the SEC.
Likewise, the 49ers are rising again in the NFL, and Alex Smith is rising as well.
No. 19 Brandon Jenkins: Jason Babin, Philadelphia Eagles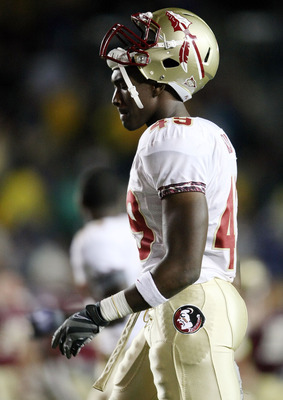 Elsa/Getty Images
Any offensive tackle worth his salt knows to keep an eye out for Brandon Jenkins. Over his career he has 21.5 sacks and 36.5 tackles for loss.
Likewise, NFL linemen have their hands full handling Jason Babin. Just last season he had 18.0 sacks.
And both of these men are pretty close in size. Jenkins is 6'3", 265 lbs. and Babin is 6'3", 267 lbs.
No. 18 Jadeveon Clowney: Ndamukong Suh, Detroit Lions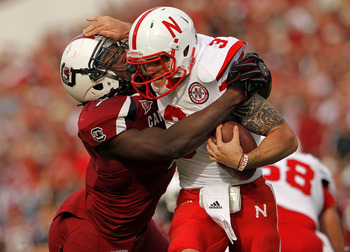 Mike Ehrmann/Getty Images
While Jadeveon Clowney is a defensive end and Ndamukong Suh is a defensive tackle, there's more that's similar between these two defensive linemen than what's different.
Clowney was the No. 1 recruit of 2011, and he stepped in and contributed right away. In his true freshman season, he picked up 8.0 sacks and 12.0 tackles for loss.
Suh has done similar things since going to Detroit. In his rookie season, Suh had 10.0 sacks for the Lions.
Clowney would do well to avoid Suh's...anger management problems, though.
No. 17 Sam Montgomery: Jared Allen, Minnesota Vikings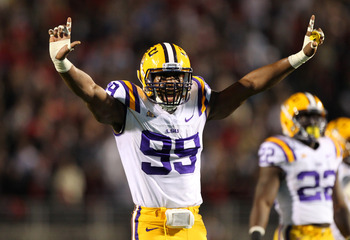 Joe Murphy/Getty Images
The primary job of a defensive lineman is to get to the quarterback if he can.
And both Sam Montgomery and Jared Allen are very good at doing just that.
Montgomery picked up 9.0 sacks and 13,5 tackles for loss last season for the Tigers. And while he reminds me of Allen, he's still got a ways to go to rise to Allen's level.
After all, Mr. Allen did pick up 22.0 sacks last season.
No. 16 David Amerson: Kyle Arrington, New England Patriots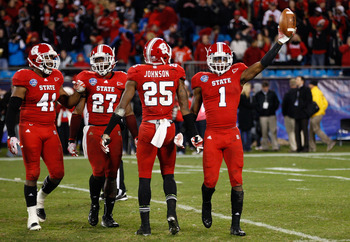 Streeter Lecka/Getty Images
No one is better at picking off quarterbacks in college football than the Wolfpack's David Amerson, and yet how many people have even heard of him?
The guy had five interceptions more than anybody else in college football. Where is the love?
Likewise, Kyle Arrington isn't exactly a household name, but he's one of the NFL's most solid cornerbacks for the Patriots.
No. 15 De'Anthony Thomas: LaMichael James, San Francisco 49rs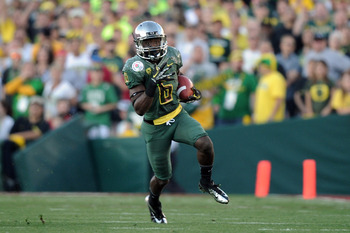 Harry How/Getty Images
OK, so LaMichael James isn't a star in the NFL just yet. But that fact is actually something else that ties James to his former teammate De'Anthony Thomas.
Both James and Thomas have the talent and speed to succeed, but they're both in new situations. James has to step up his game to the professional level, and Thomas has to step up to fill James's shoes as the primary starter at Oregon.
Only fitting.
No. 14 Geno Smith: Eli Manning, New York Giants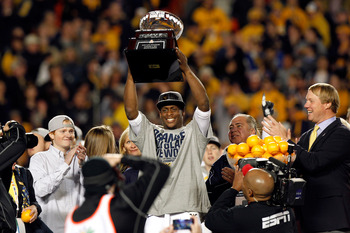 J. Meric/Getty Images
What Geno Smith and Eli Manning both have in common is that they're both finally getting the credit they deserve.
Geno Smith torched Clemson in the Orange Bowl and now is one of the hottest quarterbacks coming into 2012.
Eli Manning just cemented his place among the NFL's elite by taking the Giants to victory in Super Bowl XLVI and winning as the game's MVP.
Recognition is sweet.
No. 13 Marcus Lattimore: Darren McFadden, Oakland Raiders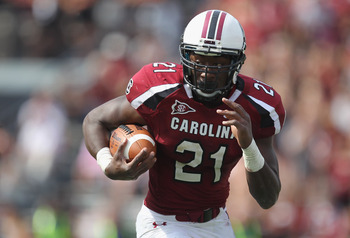 Streeter Lecka/Getty Images
When Marcus Lattimore is healthy, he's almost unstoppable.
Staying healthy is the trick. Lattimore's 2011 season was cut short as he tore his ACL, meaning that all that talent went to waste for the second half of the season.
Darren McFadden can sympathize, I'm sure. McFadden missed three weeks due to injury last season, but he was a lights-out running back last season.
No. 12 Landry Jones: Matthew Stafford, Detroit Lions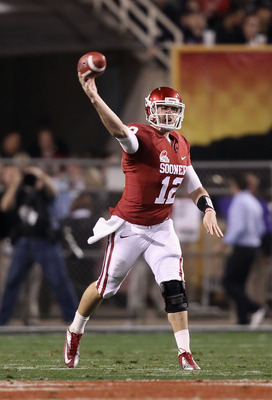 Christian Petersen/Getty Images
Both Landry Jones and Matthew Stafford have shown that they can put up big numbers. Stafford was one of only three quarterbacks to break 5,000 yards passing last season, and Jones was also in the top three of college football with a little under 4,500 yards.
But what really links these two good signal-callers together is while they've put up huge numbers, neither has won a national title.
No. 11 Jarvis Jones: DeMarcus Ware, Dallas Cowboys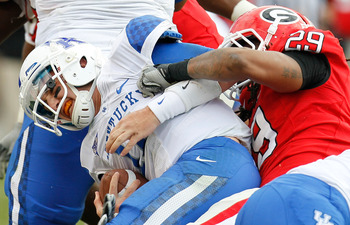 Kevin C. Cox/Getty Images
Georgia linebacker Jarvis Jones is a quarterback's nightmare as his 13.5 sacks attest. He had four in a single game last season against the Bulldogs' hated rival Florida Gators.
DeMarcus Ware is the NFL's version of Jones, and he keeps the likes of Tom Brady and Michael Vick up at night. Last season, Ware posted a ridiculous 19.5 sacks.
In either case, quarterbacks fear these linebackers' footsteps.
No. 10 Sammy Watkins: A.J. Green, Cincinnati Bengals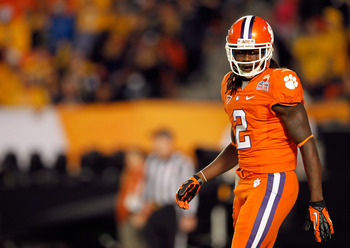 Mike Ehrmann/Getty Images
People like Sammy Watkins and A.J. Green demonstrate that even though you're new, you can make an instant impact.
Watkins was one of the hottest WRs last season with 1,219 yards receiving and 12 touchdowns.
Similarly, A.J. Green started his NFL career on the right foot by getting more than 1,000 yards receiving and seven touchdowns for the Bengals.
Sometimes, it's better not to mess with the new guy.
No. 9 Tyrann Mathieu: Josh Cribbs, Cleveland Browns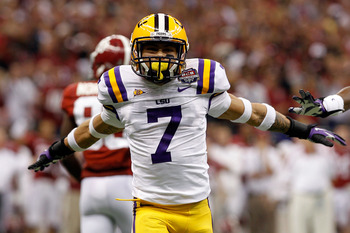 Chris Graythen/Getty Images
WR Josh Cribbs may seem like an odd choice here as Tyrann "Honey Badger" Mathieu is a corner.
However, both are top-notch kick returners. Sure, the Honey Badger is good as a corner, but where he really excels is at returning kicks.
Josh Cribbs might just be the best in the NFL. Over his career he's scored eight touchdowns, and he averages 26 yards per return.
No. 8 Robert Woods: Wes Welker, New England Patriots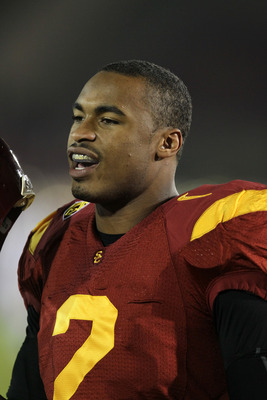 Stephen Dunn/Getty Images
Robert Woods is a lucky guy in that he's one of the most talented wide receivers in the nation, and he has one of the nation's best quarterbacks throwing to him in Matt Barkley.
Wes Welker is similarly fortunate. He's was one of only three NFL wide receivers to have had 1,500 yards or more receiving in 2011, and he has Tom Brady throwing to him.
Some guys just have all the luck.
No. 7 Bacarri Rambo: Ed Reed, Baltimore Ravens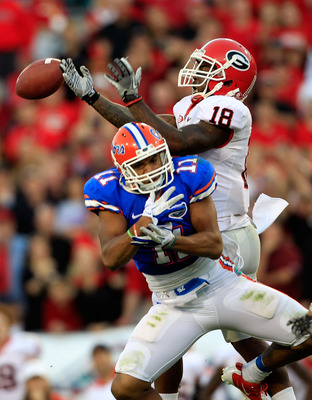 Sam Greenwood/Getty Images
Both Bacarri Rambo and Ed Reed are experts at reading the quarterback and putting themselves in a good position to pick off the pass.
That's how Rambo got eight interceptions for the Bulldogs in 2011, and Reed picked up the same number in 2010.
No. 6 Denard Robinson: Tim Tebow, New York Jets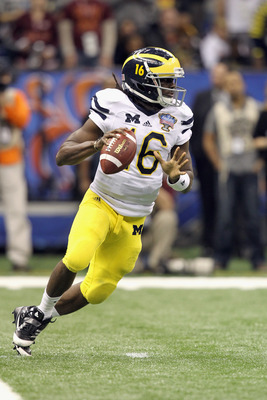 Matthew Stockman/Getty Images
Tim Tebow and Denard Robinson are fantastic at making things happen with their feet, but not good enough at throwing the ball.
Quarterbacks can thrive in such situations in college, but I think that Robinson is going to run into similar problems when he tries to make it in the NFL.
There's certainly a place for dual-threat quarterbacks in the big leagues (Michael Vick for example), but you've got to be able to pass the ball pretty well to pull that off.
No. 5 Manti Te'o: Patrick Willis, San Francisco 49ers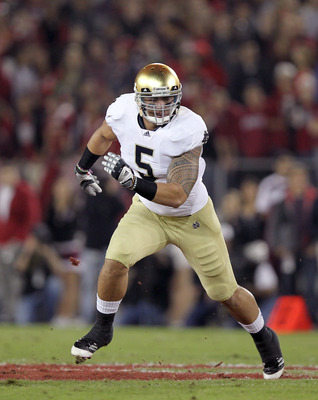 Ezra Shaw/Getty Images
Manti Te'o is the kind of linebacker that can find a way to stop the play wherever it may happen.
The same is definitely true for Patrick Willis.
Willis averaged almost 7.5 tackles per game last season, and Te'o averaged just over nine. Both have a knack for finding the ball-carrier and putting a stop to him.
No. 4 Tyler Wilson: Drew Brees, New Orleans Saints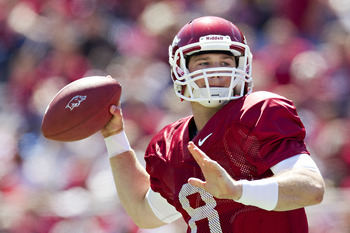 Wesley Hitt/Getty Images
Tyler Wilson and Drew Brees both have amazing arms. Wilson passed for 3,638 yards and 24 touchdowns while Brees passed for 5,476 yards and 46 touchdowns last season.
But what really links these two elite QBs together is that both are having to deal massive off-the-field issues that aren't either signal-caller's fault.
Wilson's former head coach decided to take a motorcycle ride to run with his mistress, and the Saints are mired in Bountygate.
We'll see how each deals with these distractions, but I suspect that they'll do just fine in the face of them.
No. 3 Barrett Jones: Nick Mangold, New York Jets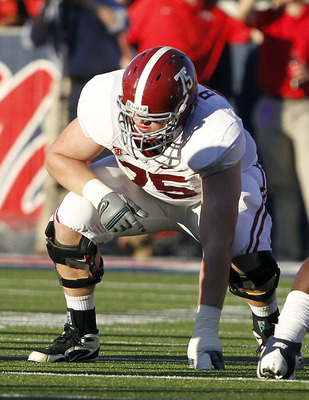 Butch Dill/Getty Images
Both of these offensive linemen are once-in-a-lifetime kind of players.
Barrett Jones was one of the key parts of the national championship Alabama offense, and he just might become the first player to win the Outland Trophy twice in a row since Dave Rimington.
Nick Mangold was named the No. 1 interior lineman in the NFL by USA Today, and he's the kind of lineman that any quarterback would want hiking him the ball.
Both men are massive (Jones: 6'5", 311 lbs., Mangold: 6'4", 307 lbs.). Another possible future similarity is that Mangold was taken in the first round of the 2006 NFL draft, and if Jones keeps on playing like he has been, he'll likely go in the first round of the 2013 draft.
No. 2 Montee Ball: LeSean McCoy, Philadelphia Eagles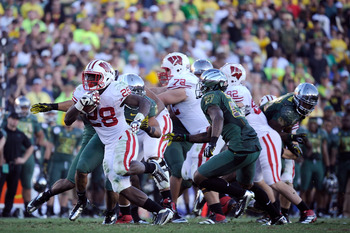 Kevork Djansezian/Getty Images
Both of these elite running backs are alike in that they have a nose for the end zone.
Montee Ball led college football in rushing touchdowns with 33 and added six more scores receiving. LeSean McCoy led the NFL with 17 touchdowns and added three more receiving.
Besides, they have almost identical height and weight (Ball: 5'11", 210 lbs., McCoy: 5'11" 208 lbs.).
No. 1 Matt Barkley: Aaron Rodgers, Green Bay Packers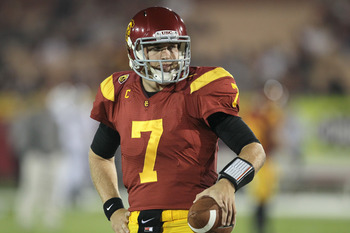 Stephen Dunn/Getty Images
Matt Barkley reminds me a lot of the Packers' Aaron Rodgers in that:
1. Both are more or less the same height and weight. Barkley is listed at 6'2", 220 lbs., and Rodgers is 6'2", 225 lbs.
2. Both are efficient passing machines. Rodgers completed 68.3 percent of his passes last season while Barkley completed 69.1 percent.
3. Both were put in bad situations, and both made the most of it. Barkley could have transferred from USC after learning that his Trojans would be banned from the postseason for two years. Instead, he's stayed all four years and now has USC in good position to compete for a national title.
As for Rodgers, can you imagine what it would be like to be the backup to Brett Favre, see Favre retire and then have Favre try to come back and take the starting position again?
Brutal.
However, the Packers wisely decided to stick with Rodgers and sent Favre off to the Jets, and they were rewarded. Rodgers took Green Bay to victory in Super Bowl XLV and won MVP for the game.
Keep Reading