Dallas Cowboys: Best- and Worst-Case Scenarios for 2012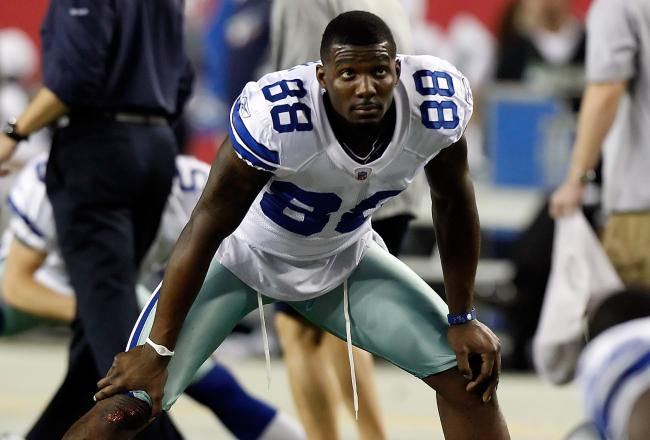 J. Meric/Getty Images
Broadly, the best-case scenario for any NFL team is an obvious one, but in order to accomplish the ultimate goal of winning a Super Bowl, a multitude of positive scenarios have to come to fruition throughout the season.
Looking specifically at the factors that are most in flux, here is the best-case scenario for the Dallas Cowboys' 2012 campaign:
Dez Bryant becomes a superstar; Miles Austin stays healthy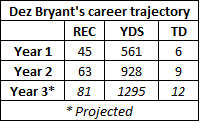 We already know what Austin's ceiling looks like, so the key there is for him to simply stay on the field and continue to be a top-tier target for Tony Romo while keeping some attention away from Bryant.
As for Dez, the Cowboys are hoping that he'll emerge as an All-Pro-caliber wideout this year. The 23-year-old clearly has the athletic skill set to do so, and his career arc indicates he should be able to put up 75-plus catches, 1,200-plus yards and 12-plus touchdowns in his third season.
However, health will be key for Bryant, too. He's been nagged by injuries throughout his young career. Missing a game or two wouldn't be catastrophic, but he has to hope to avoid missing long stretches or being less than 100 percent on a consistent basis.
Considering how good Tony Romo was without either of his top receivers on top of their game last year, it's scary to imagine where this offense could go with everyone healthy and on the right track.
Brandon Carr and Morris Claiborne live up to expectations
The Cowboys' biggest investments of the offseason were in the secondary. They spent their top two picks on Claiborne, who was arguably the best defensive player in the draft, and they gave $25.5 million guaranteed to Carr, a 26-year-old free agent from Kansas City.
Carr is fully expected to deliver on this scenario. Jon Machota of the Dallas Morning News wrote last week that he was "undoubtedly" the best defensive back on the field in OTAs, and defensive coordinator Rob Ryan had this to say:
I knew he was great, but the guy is special. He shuts down everybody. He can cover anybody. He's got long arms, great length, and he's a great person, who works his tail off. He takes coaching, and I'm really impressed with him.
Claiborne remains a mystery. Corners typically struggle as rookies, and he's yet to practice as he recovers from offseason wrist surgery. If he does have trouble, at least Dallas has Mike Jenkins (assuming Jenkins doesn't get traded). A solid performance from Jenkins would be the middle-case scenario, if you will.
Anthony Spencer finally becomes a better closer

Spencer is a very solid 3-4 outside linebacker. He's a quality pass-rusher and he plays the run well, too. According to Pro Football Focus, Spencer had more hurries than all but eight 3-4 outside linebackers and was the 10th-most productive pass-rusher at that position in 2011.
But he takes a lot of heat for failing to register a lot of sacks. Despite starting every game opposite DeMarcus Ware the last three years, the 28-year-old has recorded just 17 sacks during that time.
It's not crucial that Spencer puts up double-digit sacks, but it would help if he were to complement Ware with more than he's had in recent years.
Other best-case scenario events: DeMarco Murray and Sean Lee become stars; Bruce Carter emerges as a starting-caliber linebacker; and someone claims the No. 3 receiver role in aggressive fashion.
Result of this scenario: They win the division and make a run at the Super Bowl.
-----
And in the interest of being fair and balanced, we give cynics their fuel with the worst-case scenario:
Age and lingering injuries catch up with DeMarcus Ware
How many games will DeMarcus Ware play in this season?
As much as this defense has improved on paper, they absolutely cannot afford to lose Ware. There isn't a player on this team—not even Tony Romo—who is less expendable than the man who has accounted for 46 percent of Dallas' sacks the last two seasons.
Simply put, he's the best player in the division.
Ware had 19.5 sacks last year despite being nagged by neck issues, and he hasn't missed a single game in his seven-year career, so this isn't a huge concern. But he'll also be 30 this year, so it's something to keep in mind.
The new-look interior offensive line folds
It's not as though the guards were any good last year, but Dallas still ran the ball very well in 2011, so there's some fear of the unknown as lowly-touted free-agent pickups Nate Livings and Mackenzy Bernadeau are favored to take over as starters.
Phil Costa will remain in the middle, which isn't exactly reassuring, but at least he'll be pushed by youngsters Kevin Kowalski and Bill Nagy.
Ultimately, there just isn't a lot of talent or experience in this area. Bernadeau still hasn't practiced because of a hip injury, and Livings struggled for much of his time in Cincinnati.
If anything, they shouldn't be any worse on the inside this year than they were last year, and there's hope that they'll be greater than the sum of their parts, but there's a lot of mystery here.
They trade Mike Jenkins and Morris Claiborne struggles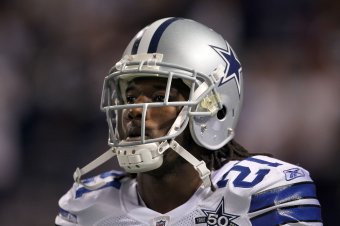 Jeff Gross/Getty Images
I've said time and again that dealing Jenkins, who some believe is expendable due to the addition of Carr and Claiborne, is not a good idea. He's on the hook for just over $1 million this year and has Pro Bowl talent. Plus, you still don't know what you're going to get from Claiborne in his rookie season.
It's not enough to have one good corner nowadays, especially in the NFC East. If the Cowboys trade Jenkins away and Claiborne either runs into injury trouble or needs more time to get acclimated, Dallas could be screwed.
Orlando Scandrick isn't a bad nickel corner, but you certainly don't want him as your No. 2. And beyond that, there's nobody with any real experience.
Other worst-case scenario events: Bruce Carter flops and Dan Connor can't stay healthy; Tyron Smith struggles to adapt to left tackle; and no one emerges to take the No. 3 receiver spot.
Result of this scenario: They finish 6-10.
Compared to the scenarios presented earlier this week for the Eagles and Giants, I feel as though there's a lot more room for error here than there is in Philadelphia, but there's also somehow a higher ceiling than there is in New York. This, as always, is an unpredictable team.
This article is
What is the duplicate article?
Why is this article offensive?
Where is this article plagiarized from?
Why is this article poorly edited?

Dallas Cowboys: Like this team?