Barry Zito: His Slump Is a Huge Blow to San Francisco Giants Playoff Chances
June 20, 2012

Lisa Blumenfeld/Getty Images
With the San Fransisco Giants already down 0-3 on the season due a sweep at the hands of the Arizona Diamondbacks, Barry Zito looked to get his team back on track in Colorado. However, Zito's struggles in his time with the Giants did not give the Giants faithful a reason to believe the first win of the season was coming up.
Not only did Zito win, he pitched a complete-game shutout for the Giants' first win of the season. 
All throughout April and much of May, Zito was at the top of his game. In April, Zito was 1-0 with a 1.67 ERA. In May, he was 3-2.
Then came June.
It started well, with Barry pitching 8.1 shutout innings in a 2-0 Giants win. Then bad Barry reared his ugly head once again. In his last three outings, Zito has allowed 17 earned runs compared to only allowing 22 in his first 11. 
Since May 18th, Zito has seen his ERA go from 2.53 to 4.35.
Last night's eight run shellacking at the hands of the Los Angeles Angels made the sirens go off once again. 
All this combined with the season long funk that ace Tim Lincecum has found himself in.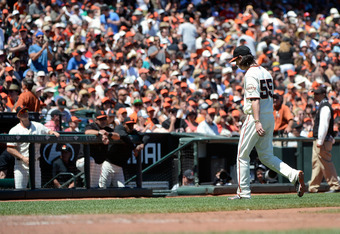 Thearon W. Henderson/Getty Images
Zito's ability to keep the Giants in games has made Lincecum's issues less worrisome. With Matt Cain, Ryan Vogelsong and Madison Bumgarner being lights out and with Zito holding his own, the Giants have stayed close to the Los Angeles Dodgers in the NL West. 
The Giants record in games pitched by someone other then Lincecum is 36-19 and Zito has been a big part of that. Prior to the last 3 starts, the Giants were 7-4 when Zito took the hill. However, that record now stands at 7-7.
If Lincecum doesn't recover soon from whatever is ailing him, be it physical, mental or mechanical, the Giants are in trouble if Zito doesn't get back off the snide. Every team would love to have four pitchers throwing well. They may be able to handle one of them struggling, but with two fighting to find their game, it puts pressure on the other three guys to be perfect.
So if Lincecum and Zito don't start throwing well again, the Giants priorities at the trade deadline may change drastically. All of a sudden a starter like Matt Garza, Ryan Dempster or Zack Greinke could be on General Manager Brian Sabean's radar. 
The Giants are built on pitching. Their hitting is much improved over last year when everyone is healthy. Their lineup is starting to look good together, especially with Brandon Belt now contributing. 
But if their starting pitching continues to fail them, this team could be headed for a .500 record and another year of watching the playoffs at home.