Buffalo Bills Training Camp: Chris Kelsay, and 3 Players the Bills Should Cut
June 20, 2012

Rick Stewart/Getty Images
The Buffalo Bills' front office went on a shopping spree in the 2012 offseason, bringing in All-Pro defensive end, Mario Williams to the highest defensive contract in league history, in addition to adding former New England Patriots' pass rushing specialist, Mark Anderson. 
While those moves drastically improved the Bills' defense, coupled with the switch back to the 4-3 defensive front, these three players should be on the chopping block at training camp's end. 
DE/ OLB Chris Kelsay
Drafted by the Bills in 2003, Kelsay hasn't really been productive, as he never recorded more than 5.5 sacks in a season, despite most of those years coming in his natural three-point stance at defensive end. 
In 2010, he signed a five-year, $28.2 million contract, with the reasons cited mainly as his leadership in the locker room. While Kelsay is a hard worker with strong hustle, his declining age doesn't fit his inflated contract.
By releasing Kelsay, the Bills would save roughly $2.55 million in cap space.
DE/DT/OLB Spencer Johnson
Spencer Johnson just becomes a casualty of the transition to the 4-3 defense, as the roster is now loaded with defensive tackles. General manager Buddy Nix even stated that he was looking to get the team younger, and there just isn't a place for Johnson on the roster.
In his four seasons with the Bills, he recorded eight sacks in a rotational role, but at 30 years old, it's time to cut your losses.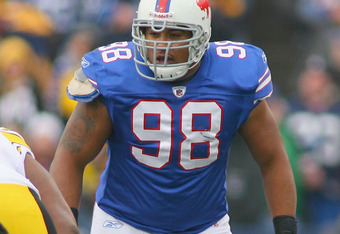 Rick Stewart/Getty Images
By releasing Johnson, the Bills would save approximately $3 million.
DE Dwan Edwards 
The Bills snagged Edwards from the Ravens when they decided to make the move to the 3-4 front, and he performed well, engaging blockers and allowing linebackers to make plays. However, with the move back to the 4-3, Edwards just doesn't fit the bill. With Edwards slated to make roughly $4 million in 2012, it's highly likely that Edwards will be moving out of Buffalo. 
By releasing Edwards, the Bills would save about $3.8 million.
All in all, by releasing these three players, the Bills could add another $9.35 million to their offseason spending spree.