Will the 'Cramp Game' Be LeBron James' Defining Moment?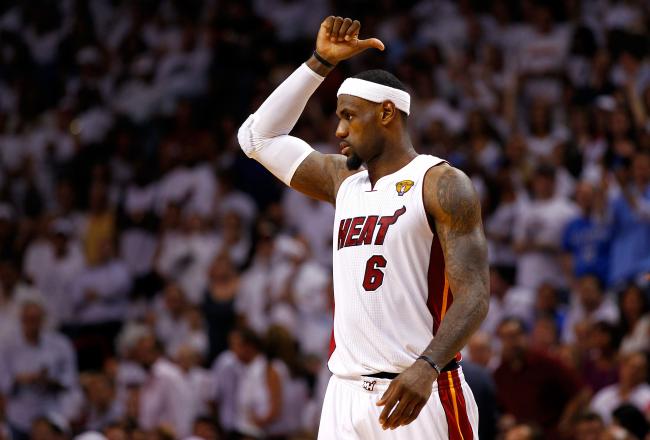 Mike Ehrmann/Getty Images
Willis Reed had the torn thigh muscle. Michael Jordan had the flu. Paul Pierce had the wheelchair.
And now, LeBron James has the cramp. But will a painful deficit of electrolytes stand up as the crowning achievement of a career that, thus far, has yielded so many remarkable moments?
That all depends on what happens from here on out.
Putting up 26 points, nine rebounds and 12 assists in an NBA Finals victory is impressive enough on its own merits. One more board, and James would've notched his second career Finals triple-double, thereby joining an exclusive list of one-named legends (i.e. Magic, Wilt, Russell, Bird, Cousy) in that regard.
Now, consider that, according to ESPN's Brian Windhorst, LeBron's body had been seizing up throughout the second half, not just over the final five minutes of the game, and the brilliance of his effort becomes that much more impossible to ignore.
LeBron was being bothered by cramps at halftime, limited him thru 3Q. Tried to play thru it but couldn't.

— Brian Windhorst (@WindhorstESPN) June 20, 2012
But LeBron's legacy won't be any better served by the cramps in his quad if he doesn't lead the Miami Heat to the title. He certainly should, now that the Heat own a 3-1 series lead over the Oklahoma City Thunder, a lead that history has proven insurmountable in 30 previous instances.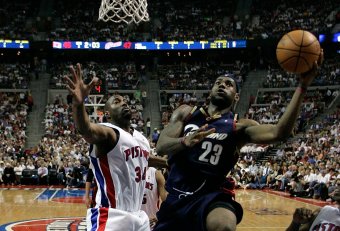 Gregory Shamus/Getty Images
Then again, if the Heat become the first team to relinquish such an advantage on the sport's grandest stage, then the cracks about LeBron as a choke artist will persist, with more vim, vigor and vitriol than ever before. And the "Cramp Game" will fall into the same category as the fourth quarter against the Detroit Pistons or the miraculous three-pointer against the Orlando Magic—memories befitting a highlight reel but ultimately falling short of "One Shining Moment."
Not that anyone should expect Miami to collapse against an OKC team that looks more and more as though it'll just have to wait its turn for a true shot at the throne.
Nor could anyone have expected James himself to collapse to the court in the middle of a game as he did. The expense of painting a championship-caliber masterpiece proved too much for even LeBron's seemingly infallible body to handle, as so eloquently described by Adrian Wojnarowski of Yahoo! Sports.
It's not how LeBron fell or that he fell at all, though, that made the spectacle on Tuesday night so indelible. Rather, it's how LeBron fought as valiantly as he did to get back up—and did, before settling back on the floor—that will remain, like the battle to restore his good name after the perceived transgressions of his "Decision" and the flurry of failed fourth quarters in his past. It's how LeBron, long saddled with a reputation for shrinking in the clutch, set aside his desire to silence the critics and the naysayers and the Skip Baylesses of the world and, instead, let his teammates finish the job when he physically could not.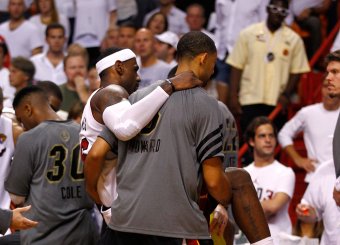 Mike Ehrmann/Getty Images
Juwan Howard came to James' aid when his legs failed him, helping to lift the 6'8, 250-pound behemoth to the bench. Then Mario Chalmers relieved LeBron of his burden on the court, scoring Miami's last five points to seal a 104-98 victory while the three-time MVP watched from the bench.
But not before James launched a 24-footer of his own (off one leg) to give the Heat the lead for good, both in the game and, perhaps, in the series.
The true meaning of that moment, though, won't be set in stone until King James finally takes his throne, until LeBron and his teammates hoist the Larry O'Brien Trophy, whether it be on their own floor at the AmericanAirlines Arena or at Chesapeake Energy Arena in Oklahoma City.
Because, when you're the best player on the planet, your legacy isn't measured in the memorable moments that you accumulate, but rather in the rings on display in your jewelry cabinet.
For all we know, LeBron could go on to seal the deal with an epic performance in Game 5 or Games 6 and 7 (if necessary). Heck, the guy's still only 27, with plenty of All-World basketball left in his body. He may well rack up enough championship highlights to fill a DVD box set before he's done.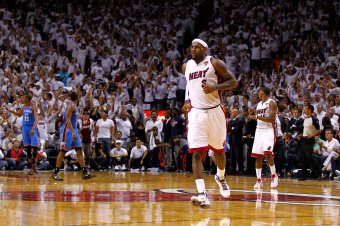 Mike Ehrmann/Getty Images
Assuming such things aren't rendered completely and utterly irrelevant by the time he's retired (or that they aren't already).
Remember, Jordan's "Flu Game", which arguably dwarfs LeBron's "Cramp Game" as far as the sheer brilliance amidst total agony is concerned, came in Game 5 of the 1997 Finals, when MJ was 34 and already had four rings to his name.
But, at the very least, if/when LeBron lifts the Heat to the title, he'll have one of each—a piece of championships jewelry and a YouTube clip worthy of a Gatorade commercial—to put at the top of his soon-to-be-sterling resume.
This article is
What is the duplicate article?
Why is this article offensive?
Where is this article plagiarized from?
Why is this article poorly edited?

Miami Heat: Like this team?