8 New York Giants Who Will Have Make-or-Break Seasons in 2012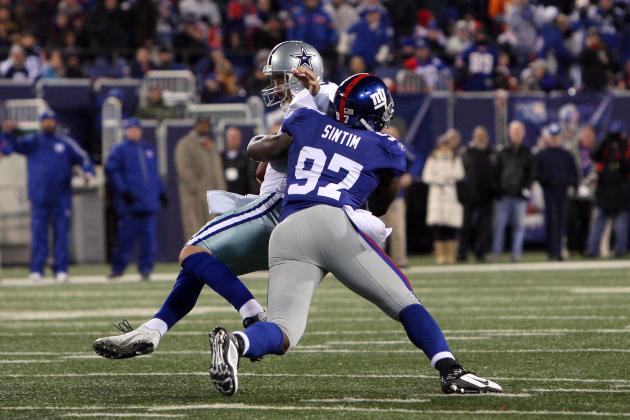 Jim McIsaac/Getty Images

With OTAs done and training camp set to start July 30 at the University of Albany, the defending Super Bowl champion New York Giants have a lot of work to do before they open the NFL season at home against the Cowboys.
However, there are a few players on the Giants' current roster who are facing more than just the Giants' opponents this season. There are a few players who have to prove themselves. Some guys are trying to prove themselves worthy of a contract and some worthy of a draft pick.
Here are eight players on the Giants who are going to have make or break seasons this year.
Begin Slideshow

»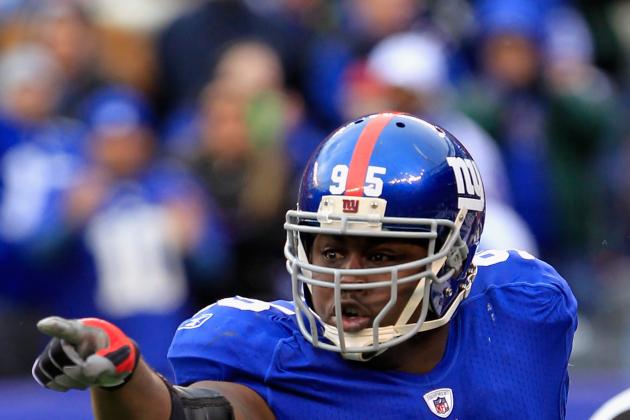 Chris Trotman/Getty Images

When the Giants picked up Rocky Bernard before the 2009 season, they were expecting him to be a stopper in the middle of their defensive line; someone who would take up one or maybe he even two blockers on pass plays to open things up for Osi Umenyiora and Justin Tuck (and now Jason Pierre-Paul) on the outside and to clog the middle on run plays.
He hasn't done that.
Bernard hasn't been as big a part of the defense as the Giants originally hoped. In three years as a Giant he's registered only 70 tackles and three sacks. With guys like Chris Canty, Linval Joseph, Marvin Austin and now Shaun Rogers on the roster, he is going to have to produce much more than he has if he wants to see time.
The other reason he has to produce is because of what the Giants gave up to get him back on the roster. Say what you want about unwritten rules or the front office blowing this situation (which they did), the bottom line is the Giants essentially gave up Jake Ballard to sign Bernard and the Patriots swooped in and picked Ballard up off of waivers.
Do I think the Patriots violated some unwritten rule by signing Ballard? Absolutely not. They saw a good player on waivers and picked him up. Do I think it was a slap in the face by Bill Belichick? 1,000 percent yes. The Patriots have the best tight end tandem in the league and neither of them are hurt or getting older. What possible need could torn ACL Jake Ballard fill?
I think Belichick saw Ballard on waivers and figured it would piss the Giants off and did it just because he could.
Again, the bottom line is this. The Giants took a gamble and lost. That is nobody's fault but the Giants. The problem for Bernard now is that if he continues eating up salary space and not ball carriers, it will have all been for nothing.
Make or Break:
I don't see Bernard's time or production improving to the point where the Giants can justify keeping him on the roster.
Break
Ronald Martinez/Getty Images

When the Giants selected Barden in the third round of the 2009 draft they hoped they were drafting production like he showed in his career at Cal Poly. In four seasons there, Barden played in 46 games and registered 206 receptions for 4,203 yards and 50 touchdowns. Yes it was against FCS opponents, but the Giants thought he was worth trading up in the draft and giving up their third-round pick and another fifth-round pick to the Eagles.
So far they have been dead wrong.
In three seasons with the Giants, Barden has played in 17 games and recorded 15 receptions for 174 yards and a whopping zero touchdowns.
Entering the final year of his rookie deal, Barden is set to make $565,000 as a base salary, with an extra $185,750 of his signing bonus, and an extra $743,000 in extra bonuses. That's an overall salary cap hit of $1,493,750.
While it's not a totally overwhelming number at first, if he's going to continue on this pace of averaging five receptions for 58 yards and no touchdowns, he isn't going to be a Giant after this season.
Make or Break:
With Mario Manningham gone and Hakeem Nicks hurt for a while the third wide receiver position is up for grabs and Barden is definitely someone the Giants would love to put there. The problem is that he isn't fast enough, doesn't create great space and has a hard time catching the ball in traffic.
I don't see Barden improving to the point where the Giants feel like they cannot lose him.
Break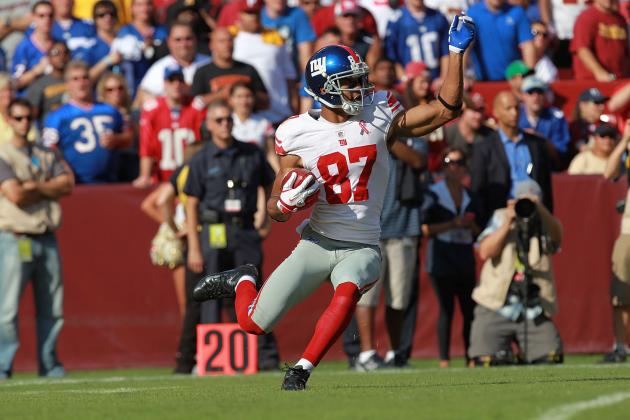 Ronald Martinez/Getty Images

Hixon has a little bit of a different story. Since being signed by the Giants after the Broncos released him, he has made invaluable contributions, especially on special teams, but has had a hard time staying healthy when given the opportunity to shine.
So far in his career with the Giants, Hixon has 63 receptions for 838 yards and four touchdowns despite missing the entire 2010 season with a torn ACL and only appearing in two games in 2011 before tearing his ACL again, making an unbelievable touchdown catch against the Rams.
He's set to make $615,000 this season and as was the case with Barden, he's going to be seeing a lot of reps in training camp with Manningham in San Francisco and Nicks hurt.
Make or Break:
Hixon has certainly shown the ability to make plays when healthy and has also been a huge part of the return game when he can. I think given the opportunity to play, if he can stay on the field—which admittedly is a big if—Hixon will make the organization and Giants fans proud.
Make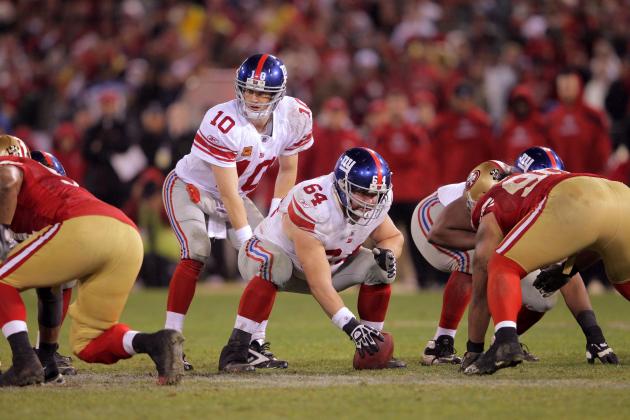 Doug Pensinger/Getty Images

I know it's only the second year of his deal, but after last year, Baas needs to step his game up if he wants to stay a Giant. He signed a mammoth five-year deal worth $27.5 million before last season and let's just say his play was...shaky.
He struggled in both pass and run blocking last year as he had a hard time picking up the Giants' blocking schemes. When paired with Ahmad Bradshaw being hurt and Brandon Jacobs being bad, the Giants run offense struggled mightily last season. If it weren't for Eli Manning going Superman all season, the Giants would have had a rough year.
Make or Break:
When people hear of a quarterback changing offensive systems, a lot of talk is about how he'll adjust to the new offense, mainly because of the terminology and adjusting to the players he is now playing with. The same is true for offensive lineman, except it gets magnified by about 1,000.
If a quarterback and receiver aren't on the same page, sometimes the play can still go for positive yardage, but for the most part it'll fall incomplete and worst case scenario is it gets picked off.
If the offensive line isn't on the same page, nothing works. A team without a cohesive unit at offensive line can't throw, can't pass and their quarterback generally doesn't last long.
Luckily for Baas, another year with this squad means another year to learn the terminology and another year to get used to playing next to them. I think he'll figure it out.
Make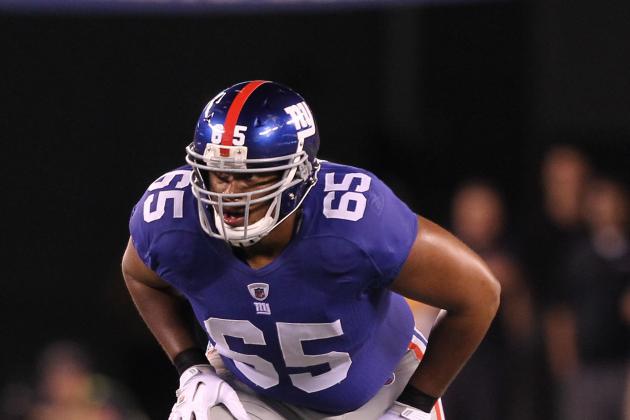 Al Bello/Getty Images

The difference between Baas and Beatty is that while Baas struggled while he was on the field, Beatty struggled to get on the field. He was hurt, like he has been for a decent portion of his pro career and had a hard to working around that.
His development as a player has been pretty decent. The Giants would have liked him to be an option for their starting line before the fourth year of his contract but he isn't making a ridiculous amount of money and hasn't been a locker room nuisance, except that he's spent more time in it than on the field.
He's set to pick up $795,000 this season. If he can stay healthy, that is one hell of a deal for a starting right tackle because he has shown that he is capable of playing the position.
Make or Break:
The problem for Beatty will performing well enough and staying healthy enough so the Giants feel like he has to be in the lineup because, as of right now, he's simply an option.
We know for sure that Chris Snee will be the starting right guard and Baas will be starting at center, so that's two positions down. Assuming he doesn't face any league punishment for his DWI, David Diehl will be at either left guard or left tackle. The problem for Beatty is that the Giants are deeper at guard than they are at tackle, so there's a better chance Diehl will end up at left tackle.
Kevin Boothe and Mitch Petrus both got playing time last season and both performed extremely well considering how little time they had to gel with the rest of their linemates. Not to mention James Brewer, who is progressing nicely into a sure thing at right tackle.
As of this moment, it looks like Beatty might end up being the odd man out.
Break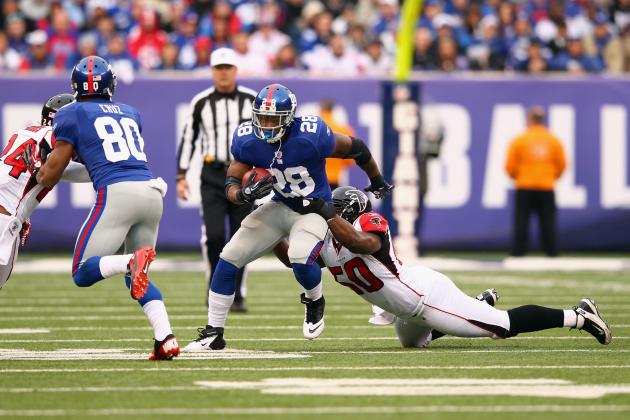 Al Bello/Getty Images

I have long said that Kevin Gilbride is the most predictable offensive coordinator in the league. For some reason I will never understand, he seems to love DJ Ware. On more occasions than any man could ever tell you about and stay sane, Gilbride's go-to play was a shotgun draw to DJ Ware and it worked with a legendary success rate (sarcasm) of probably about 40 percent.
While I won't blame Ware for Gilbride's love for him and terrible play calls, I will blame him for not being that good. Last season with Ahmad Bradshaw out and Brandon Jacobs being...well, Brandon Jacobs, Ware had an excellent chance to put up some numbers and earn a more prominent role in the offense.
The only problem was that the Giants coaching staff didn't think he was good enough and they were more or less proven right with the chances he did get.
Ware got 46 carries last year for a gentlemen's 163 yards and no touchdowns.
He's only set to earn a little over a million dollars this season so it's not like he's a black hole of salary by any means, but it's too much for 3.5 yards per carry and no touchdowns.
Make or Break:
Ahmad Bradshaw is back and healthy(ish?) but you never can quite tell with him. The Giants first-round draft pick David Wilson will probably spell Bradshaw as the number two back and the Giants appear to like back Da'Rel Scott as well.
That's three backs that the front office like and I'm guessing one of them can run a shotgun draw well enough to make Gilbride's love for Ware fade.
Break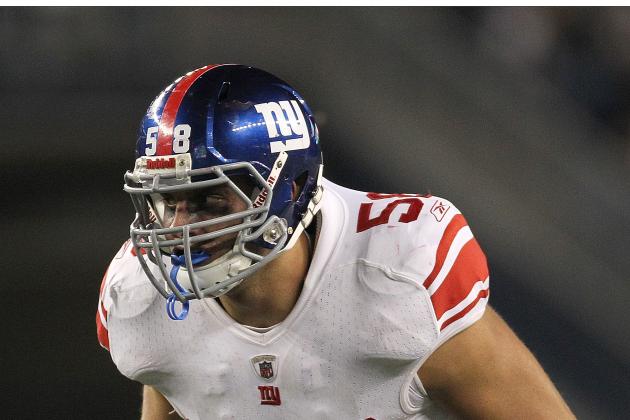 Jim Rogash/Getty Images

Herzlich isn't on this list because he has underachieved. He's on this list for one reason.
Last year, he was still getting himself back into playing shape and adjusting to the NFL game, but that wasn't even really on anyone's mind. His story is so remarkable and such an unbelievable testament to human will and resilience that a lot of people didn't really care all that much how he played, just that he was playing, and that is completely fine.
However, this year he's in a different boat. This year he's competing to be the starting middle linebacker for the New York Giants. Whether he's named the starter or not, he will have to perform when he's given the opportunity.
If he succeeds it will truly be an exclamation point on what has been an incredible story. However, no one would blame him if he fails because he has been through a more painful and arduous journey than many people will experience in their entire lives.
Make or Break:
The one thing that Herzlich has working in his favor is that he has a work ethic that to my eyes is unparalleled. Anyone who disagrees is flat out wrong. Who else could go through intense chemotherapy and battle leukemia, only to come back and play FBS football within a year and NFL football within two? Not many guys can say they've done that.
I'm not sure if he'll be the starter, but when all is said and done I think we'll see an improvement in Herzlich's play and we'll see him produce and contribute at a level that will force the Giants to keep him around.
Make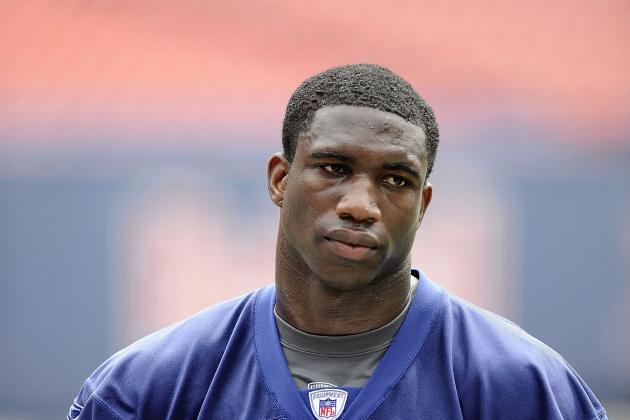 Jeff Zelevansky/Getty Images

Sintim's appearance on this list is not entirely his fault. He's been the unfortunate recipient of a few early season-ending injuries. From every indication it seems like he is a good enough player when he's healthy, he just can't stay healthy.
He's entering the final year of his rookie contract and is set to make $1,125,000 this season. Once again, not exactly burning a hole through the Giants' wallet, but enough that if he doesn't come up huge this season the Giants won't feel the need to have him on the roster next season.
Make or Break:
The problem for Sintim has been that, while there have been a ton of injuries to other Giant linebackers, he's always either been hurt himself, or been playing the wrong position. Now, with the acquisition of Keith Rivers from Cincinnati, the Giants have Rivers, Mathias Kiwanuka, Chase Blackburn, Mark Herzlich, Michael Boley and Jacquian Williams also fighting for time, and all of them have proven that they can be effective in their roles, Sintim has not.
I don't think Sintim is a bad player necessarily; it just hasn't worked out with the Giants.
Break