Miami Heat: Ray Allen and 5 Free Agents Who Would Be Ideal Fits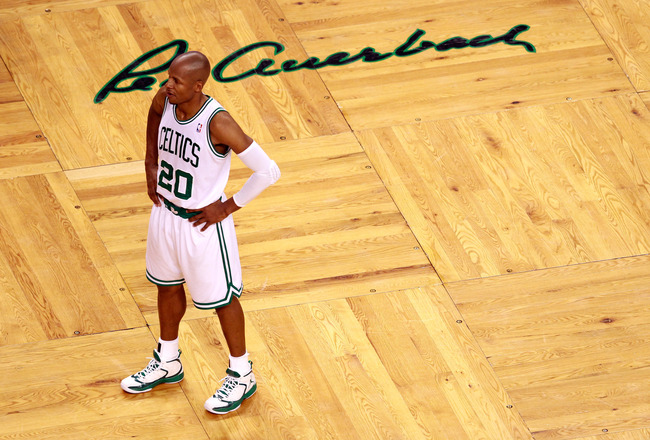 Jared Wickerham/Getty Images
It was only two years ago when the Miami Heat completed one of the biggest free agent coups in sports history and it just may start paying off with a win this Thursday night.
Nowadays, free agency is just another time for the Heat. On account of them putting all their eggs in one basket in the summer of 2010, the Heat don't have the funds to make many large free-agent signings. They've mostly been subjected to signing players mid-season, such as Erick Dampier, Mike Bibby and Ronny Turiaf, because of their limited funds.
Since that memorable summer, the biggest Heat signing has been the addition of Shane Battier, who signed during the previous free agency period. Signing Battier was one of the Heat's best moves, as it added an extremely intelligent player who can hit from the perimeter and play elite defense against the league's top players.
Battier's defense allows James and Wade to rest, as they no longer have to hone in on the opposing team's top player for the entire game.
This year's free-agency period won't be dramatic, barring an incredible comeback by the Thunder. With limited funds and needs on the team that require more than limited funds, the Heat will most likely be on the lookout for players who can address a certain issue for the right price.
Let's just say the Heat will be attempting to sell free agents on their desire to win a title and not the money they'll be making.
We take a look at six free agents who could end up signing with the Heat for the 2012-13 season.
Ray Allen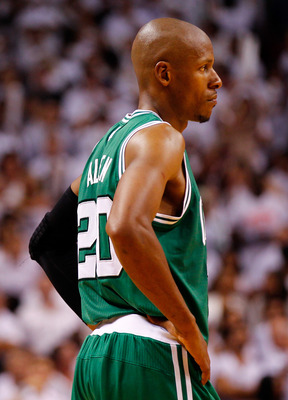 Mike Ehrmann/Getty Images
The Miami Heat are still on the lookout for that knockdown three-point shooter who can consistently make his presence felt from the perimeter.
As good as Shane Battier and Mario Chalmers have appeared lately, they still may not be the pure shooters the Heat need to always pose a threat. The Heat's offense relies too heavily on the drives of LeBron James and Dwyane Wade, which requires a lot spacing.
In order to create that space, the ball needs to move efficiently, the shooters need to stay away from each other and they need to make their shots.
Miami hoped that pure shooter would be Mike Miller. As the games go by, it's appearing that idea will never come to life.
Miller's tenure with the Heat has been ravaged through injuries ranging anywhere from hand injuries to concussions. He's an excellent hustle player who will crash the boards, but the Heat need him to do what they signed him for: making three-point shots.
It would be a surprise to see the Heat keep Miller around another year. He's been beaten and broken so much that you would think there is only so much his 31-year-old body could take. Why keep risking a roster spot when you can wipe the record clean with the amnesty clause?
Thus the reason why Ray Allen is at the top of the list of free agents the Heat need to pursue. Arguably the best perimeter shooter in league history, he will be a free agent this year and is expected to become the first member of that vaunted Boston Celtics 'big three' to depart.
Allen is sure to attract plenty of potential suitors and has already listed the Heat as one of the teams he'd like to join.
Ray would fit in perfectly if he ends up taking Miller's spot. He would most likely come off the bench in relief of Dwyane Wade and would mostly thrive and take advantage of the open looks that come as a result of the attention guys like Wade, James and Bosh attract.
Although his defense may be an issue on this Heat team, his ability to stretch the floor would pay off in dividends.
Marcus Camby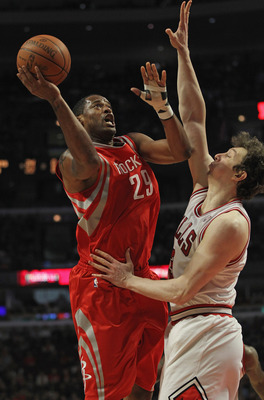 Jonathan Daniel/Getty Images
As far as I see it, the Miami Heat are basically limited to signing centers who can temporarily play the position.
It's too much money for a center these days. When guys like Kwame Brown are garnering $7 million a year to become a backup, you can see just how constricted the market for obtaining big men actually is.
There are plenty of players who stand at 6'10" or taller, but only so few that can actually create a positive impact without getting hurt or getting into foul trouble.
Miami will be on the lookout for a big man once again. Even with Chris Bosh having some success at center, the Heat are still wary over Dexter Pittman and Eddy Curry's progress, as well as Udonis Haslem and his inability to create the same lift he had prior to foot surgery he underwent in November 2010. There is still an obvious need for size on this team.
Look no further than Marcus Camby, who is playing alongside Samuel Dalembert, a free-agent target of the Heat's last year, with the Houston Rockets.
Camby is a temporary answer based on his age. He recently turned 38 in March and will be entering his 17th season next year. Despite his age, Camby still plays some impressive defense and is still managing to average well over a block per game. He recently averaged 1.4 in time split with Portland and Houston.
At 6'11", capable of scraping the ceiling with his knuckles if he stands on his tip-toes and with an incredible shot-blocking prowess, Camby would be the definitive answer for the Heat in the middle.
Rolling out a lineup with him, Chris Bosh and LeBron James would be ideal on both ends of the floor, especially on defense with the length of himself and Bosh.
Hasheem Thabeet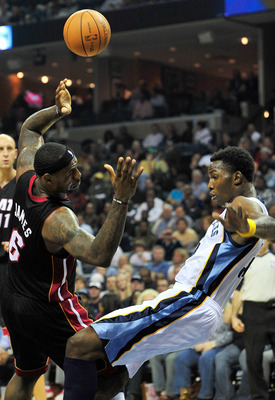 Grant Halverson/Getty Images
Marcus Camby is ideal, but he may not be practical considering the Heat's budget.
I know we're all still excited over this team getting James, Wade and Bosh to take pay cuts, but it doesn't work with everyone else.
That's why the Heat are still looking for a center, because they could have very well picked up Samuel Dalembert last year if money wasn't an issue. Camby, too, may ask for too much, although his desire to win a championship could play a factor as well.
If the Heat are unable to sign Camby, they'll have to look for the next affordable option. There are a few big men out there who can be affordable, but, sadly, it seems that the best the Heat could get on the low is infamous draft bust Hasheem Thabeet.
What? You were expecting Kwame Brown? For the right price, the Heat should go after Thabeet and invest in some youth. Thabeet is 25 years old, compared to Brown who is 30, and still has that youthful, hungry edge to him that a player like Brown never truly had. We can't possibly think that Thabeet doesn't want to better himself after a horrific start to his career.
And how horrific it has been. Since being drafted with the second pick in the 2009 draft, Thabeet has already been on three teams and has played only one full season with one team, that being his rookie year when he averaged three points, four rebounds and a block per in 68 games.
He's currently on the Portland Trail Blazers after Houston sent him away for a 38-year-old who plays the same position he does.
Thabeet is a mystery to me. I haven't gotten enough of a look at him to determine just why a 7'3" that weighs 263 pounds cannot receive consistent minutes anywhere.
His offensive prowess is dreadful, but he at least has the long arms to rebound and block shots. This could bode well for a Heat team that isn't asking for too much from anyone who can fill the void in the middle.
Josh Howard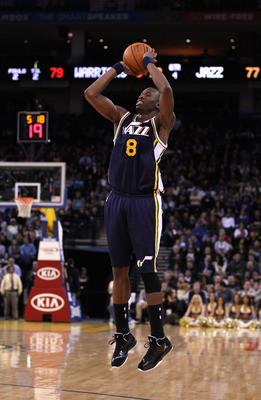 Ezra Shaw/Getty Images
Another practical option who could backup either Dwyane Wade or LeBron James, Josh Howard could prove to be an affordable fit for a team who has lacked depth at the two and three.
Shane Battier has filled in well, but Mike Miller and James Jones haven't been nearly as reliable. Miller could possibly be on the way out, which is going to leave a significant void on both sides of the floor.
As inconsistent and ailed he may have been his first two years, Miller still had the capability to hit shots and fit in perfectly with the Heat dynamic of playing physical defense.
If Miller leaves, the Heat will be looking for a player who could do all the things he couldn't. A ball-handler who can play defense and shoot well enough to draw some attention to the perimeter.
As much as the Heat would like to pick up Ray Allen for that position, he may not be in the Heat's price range with teams like the New York Knicks and Los Angeles Clippers looking to add a sharpshooter.
Howard hasn't been his usual self in the past two seasons. Since departing from the Dallas Mavericks, Howard has dealt with significant injury trouble and only played 43 games this year after only playing in 18 the season before.
It wasn't the first time he dealt with injuries, either, as he played in 70 games or less on three other occasions.
Josh is a risk, but he could prove to be effective for the right price. He has averaged as much as 20 points per game and has shot as well as 39 percent from deep. He also brings about other intangibles such as being able to put the ball on the floor, rebounding and defending.
Injuries will scare away potential suitors, which is one of the reasons why the Heat will be able to afford the 32-year-old.
Andre Miller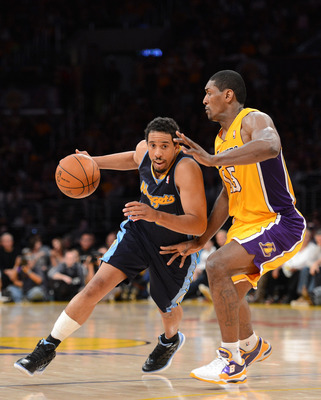 Harry How/Getty Images
After watching the Heat's Game 4 victory over the Oklahoma City Thunder, it's tough to believe that this team has consistently had issues with their pure point guards.
Mario Chalmers joined the team in 2008 after being traded on draft day. He had an excellent rookie season averaging 10 points, five assists and two steals per game, but he regressed over the next two seasons and lost his starting job a number of times. Even after two years of frustrating play, the Heat decided to invest by signing him when he became a free agent.
Chalmers is beginning to pay off; he just shot a career-best 39 percent from beyond the arc, shot a career best field-goal percentage and is back to averaging 10 points per game. He's even beginning to limit the mistakes that engulfed the first three years of his career, which is why he has earned a consistent starting job in the 2011-'12 season.
Of course, there isn't much of a better choice for the Heat. Rookie Norris Cole played extremely well early on, but saw his production and minutes decline significantly following the All-Star break. He was completely dropped out of the rotation, mostly as a result of his play that sometimes gets too out-of-control.
He has plenty of potential on both ends of the floor, but he, along with Chalmers, is not reliable enough to depend on at all times.
If the Heat actively pursue a third point guard, they'll have to either look for players that don't have a firm grasp on running an offense or an aged veteran who is looking to win a title.
Miami will be hoping that Andre Miller is one of those veterans. At 36 years old, Miller remains as one of the NBA's most underrated point guards.
His ability to play with fundamentals, efficiently running an offense and hit big shots would work perfectly with the Heat, as it allows key players like Wade and James to play off the ball and work with a pure point guard who could actually run plays.
The Heat offense tends to stall without a point guard running plays and it leads to isolation plays involving Wade and James that aren't always successful.
Jason Terry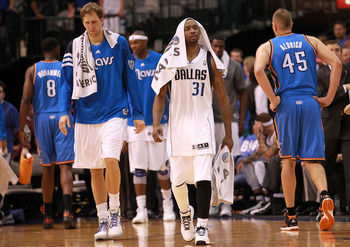 Ronald Martinez/Getty Images
The Miami Heat signing Jason Terry should be one of the last things you hear based on their history.
LeBron James and Terry talked a lot of trash in last year's Finals, and Terry certainly didn't build any bridges with any Heat players with his championship trophy and his overall cocky attitude.
However, it just might happen because of the Heat's need for a consistent shooter who can space the floor. The Heat's offense isn't complex enough to run plays; it relies heavily on the facilitating of LeBron James and Dwyane Wade.
Miami is at their best when the ball is in their hands and scores either result in them making the shot or assisting a shot on account of their passing ability.
That passing ability works extremely well with players who can hit the wide-open jumper. Specifically, a player like Jason Terry who has been hitting that type of shot his whole career. The type of shot capable of winning championships, like it did last year.
The Heat need that type of cold-blooded shooter late in games to not only create space, but to add yet another threat who could beat you.
Even at the age of 34, Terry is still shooting just as well as he ever has. He recently converted a little over two three-pointers per game on 38 percent shooting, while averaging 15 points per off the bench.
The 2008-09 Sixth Man of the Year wouldn't even have to adjust to a role coming off the bench, unlike someone like Ray Allen, who has usually been at his best in a starter's role.
Terry leaving the Dallas Mavericks seems to be highly possible in the future, and he's even admitted to have been thinking about joining the Heat.
Even if the Heat do use the amnesty on Miller, it will still take a lot of convincing to get Terry to take a significant pay cut.
Keep Reading

Miami Heat: Like this team?