Arsenal Transfer News: How Offseason Moves Will Make Huge Impact in 2013
June 20, 2012

Julian Finney/Getty Images
By acquiring two strikers during the transfer period already, Arsenal is gearing up for an ascent to the top of the Premier League.
With striker Robin van Persie returning to the club for at least next season, according to Daily Mail, the additions of Lukas Podolski and Olivier Giroud could bolster an already talented roster.
Arsenal signed Podolski for just under £10million, according to Metro, and he looks as if he could fit the club nicely.
Giroud was rewarded with a £12.8million contract, according to Daily Mail.
Both players fit well with the roster and could provide a boost for Arsenal going forward, but manager Arsene Wenger will need to make a change to maximize his squad's potential.
Wenger must consider using the 4-4-2 formation in order to get the two new transfers on the field to play alongside captain Robin van Persie. Van Persie was deadly in the main role of striker for the club, as he finished with 37 goals, but Giroud could fit as a second fiddle of sorts, to Van Persie.
Podolski fits on the wing nicely, and he will be more of a complementary piece for Van Persie. His strengths, according to Metro, include "making clever runs to the ball" and "playing across the front line," both of which will aid Arsenal going forward.
The jury is out on Gervhino after an up and down inaugural season, but Podolski could fit in nicely along the wing to aid other players.
Giroud's future with the club is not so clear.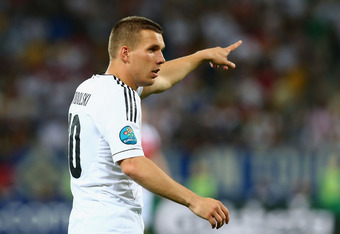 Martin Rose/Getty Images
He could fill in nicely alongside Van Persie, as both of them are prolific goal scorers. Giroud finished last season with 21 goals for Ligue 1 Montpellier.
Arsenal ranked third in goals scored last year, with a majority coming from Van Persie. By pairing the two players, Arsenal may have one of the best front lines in the Premier League.
With the additions of both players, Nicklas Bendtner and Marouane Chamakh could be on their way out, according to The Independent.
Bendtner had an eye-opening performance in Euro 2012, as he scored two goals in a 3-2 loss to Portugal. Bendtner has reportedly drawn interest from Benfica and Borussia Dortmund after his strong showing.
As for Chamakh, Metro reported he was originally offered as part of a deal for Giroud.
With both players perhaps on their way out, both Giroud and Podolski are seemingly destined to make an impact for the Gunners next season.
As Van Persie's contract negotiations will be ongoing throughout the season, Arsenal has already done enough to bolster their outlook moving forward.
Nonetheless, Van Persie will certainly play a major role alongside both Podolski and Giroud, as they look to recapture a Premier League title.