Ronda Rousey vs. Sarah Kaufman Head-to-Toe Breakdown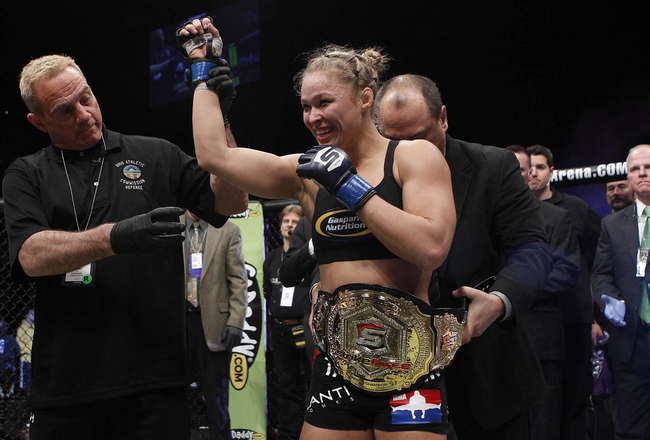 Photo by: Esther Lin/SHOWTIME

Sarah Kaufman (15-1) will finally get her shot to reclaim the Strikeforce Bantamweight Championship when she faces Ronda Rousey (5-0) on August 18th.
MMAFighting.com first reported the date and location, San Diego, earlier this month.
Rousey leapfrogged Kaufman for the March title shot against Miesha Tate after calling out the champion, a much-talked-about topic.
Now, that is old news, and Kaufman will fight for the title.
The undefeated champion has been enjoying new heights of stardom since her March victory, ringing the bell at the New York Stock Exchange, various media appearences and most recently signing her first ever Topps trading card.
On August 18th, she will face her toughest challenger to date.
Kaufman is on a three-fight win streak after dropping the bantamweight title to Marloes Coenen two years ago. The longtime contender has finished over a third of her opponents. She would like nothing more than to derail the hype train of the champion in August in San Diego.
Here is the breakdown of the Strikeforce championship fight.
Striking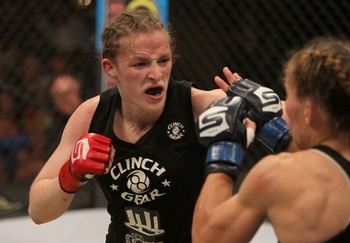 Photo by: Forza LLC
Kaufman loves to have a good old fashioned brawl. And she is quite good at it. She has good power and technique in the stand-up department, which sets her apart from the majority of division.
Her opponent's striking is largely an unknown.
Rousey may have a secret weapon or a major fault in her game. We do not know because she has not had to utilize it in her brief stint inside the cage
6:45 of total fight time in her professional career. Astonishing.
However, top-ranked amateur boxer Mikaela Mayer provided an interesting tweet earlier this month:
Good sparring session with @RondaRousey today. Great skill and strength. Watch out girls! #unbeatable

— Mikaela Mayer (@MikaelaMayer1) June 14, 2012
Without seeing Rousey utilize her stand-up in an actual fight, it makes it a complete guessing game as to where she is in her development. Kaufman, on the other hand, is one of the divisions best and most powerful strikers.
Edge: Kaufman
Grappling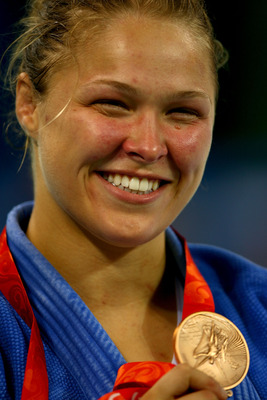 Mike Hewitt/Getty Images
This one is pretty cut-and-dry.
While Kaufman has a good base and suitable wrestling, she is not the grappler that Rousey is. No one at bantamweight is at that level.
Rousey is world-class.
Rousey's judo credentials are much talked about for good reason. She is a marvel to watch. The 2008 Olympian makes it look easy against her competition.
Kaufman will look to keep the fight standing, but she can not be afraid of the discrepancy between their grappling skills.
At some point in the fight, they will come in to play.
Edge: Rousey
Submissions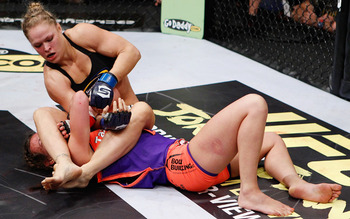 Photo by: Esther Lin/SHOWTIME
Another department solidly in favor of the champion.
Kaufman has never won a fight by submission. That is not to say she does not have any moves in her repertoire, but of her 15 wins, none tapped out.
The exact opposite for Rousey: five wins, five armbars, five first-round finishes.
In Kaufman's lone loss, to Coenen, she was defeated via an armbar. Against Alexis Davis in March, she found herself defending several attempts in the third round as Davis took control and nearly finished the fight.
Kaufman, a brown belt in Brazilian jiu-jitsu, is no slouch on the ground, but it is a troubling place to be against Rousey.
Edge: Rousey
Intangibles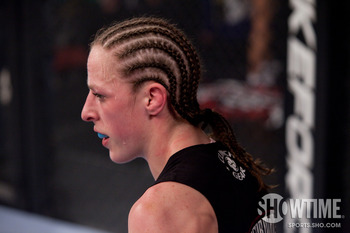 Photo by: Esther Lin/Strikeforce
One unknown that everyone leaps to is cardio. And until Rousey goes deep in a fight, it has to be brought up.
Kaufman has fought to numerous decisions and been in those championship rounds. She knows what it takes and has proven herself deep in a fight.
While one would imagine the world-class athlete could do the same, it is still a question mark that has to be placed.
Perhaps on August 18th, Kaufman can make Rousey prove it.
The intangibles are those indefinable qualities someone has.
Rousey has them in spades. When you watch her compete, it is like watching an Anderson Silva, Jon Jones and so forth. You realize that you are watching something special. She has "It."
Edge: Rousey
Prediction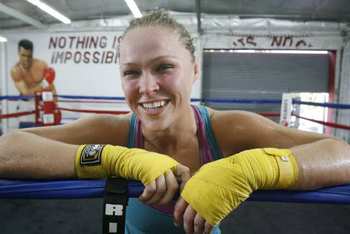 Photo by: Tim Berger/Glendale News-Press
This fight will see a second round.
Kaufman is an intelligent and strong fighter who will make Rousey work.
But it will not be enough.
Rousey's athleticism will be hard to overcome for the challenger. Despite her solid wrestling base and her strength, Kaufman cannot compete with Rousey's level of grappling.
If Kaufman can keep Rousey at distance, she can take the fight. Her stand-up is capable of giving Rousey fits.
Easier said than done.
This will be Rousey's toughest fight, and it will show in the first round.
Look for Rousey to close the distance, utilize her judo to take the fight down and finish Kaufman with another submission.
The star of the division is a far superior athlete, and it will show inside the Strikeforce cage as she retains her strap.
Prediction: Rousey defeats Kaufman by submission in the second round.
Keep Reading